Ready for a chic new timepiece? There are current iterations that are primed to become chronometer staples, Monica Barrett of Right Time Watches assures us. Women's watches are embracing bold designs, while trends for men are based on the philosophy "everything old is new again," with an emphasis on reworking vintage pieces from iconic brands. "The problem with wearing [unaltered] vintage watches is that they are hard to care for," explains the marketing director. "They are much more fragile. If you want a vintage look, it's wiser to get that in a modern interpretation." Consider this a model wish list.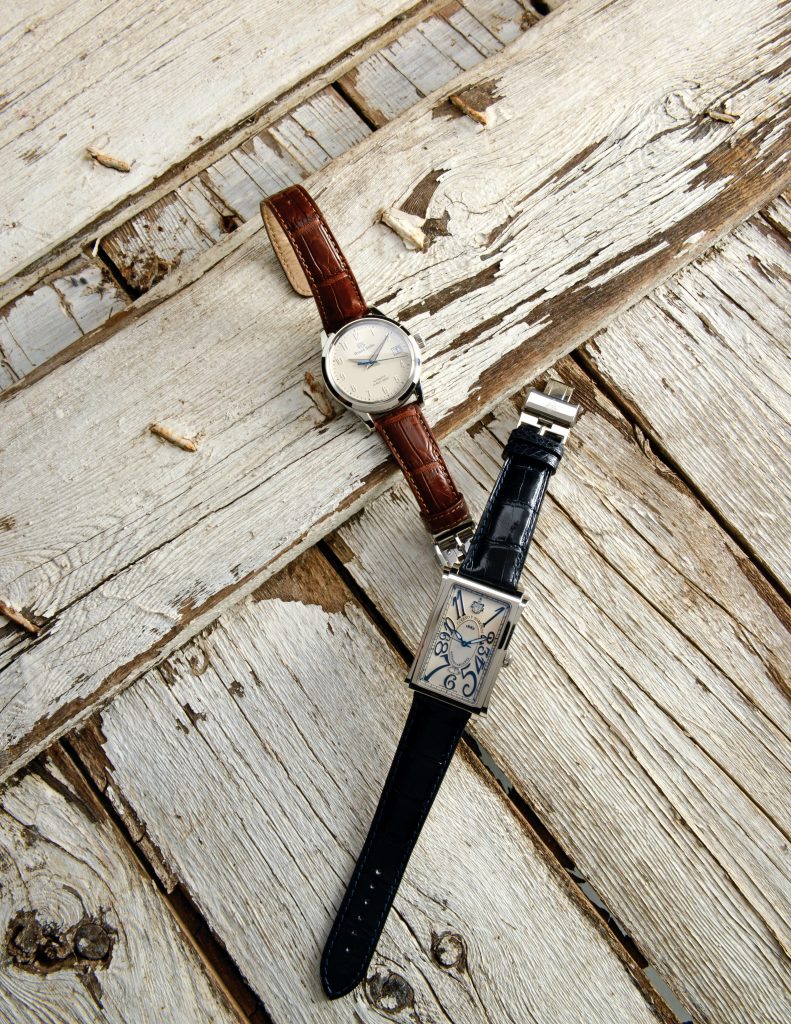 (top to bottom)
OPT FOR AN UNCOMMON CLASSIC
Grand Seiko Hi Beat 36000 Automatic Ivory watch, $6,200
Japanese watch manufacturer Grand Seiko distinguishes itself from other fine watch brands by making every single component for its watches in-house. This men's model is a retreat to the classic watch. It features a brown crocodile-leather band, an ivory-colored dial and clean Arabic numerals. The distinctive mirror-polished steel hands with beveled, satin edges make the hands appear dark against the light dial. The polishing technique, called Zaratsu, is the same method used to polish Samurai swords.
HONOR ICONIC ART DECO
Cuervo y Sobrinos Prominente Solo Tiempo, $3,800
If you appreciate Cuban Art Deco style and Swiss watch-making savoir faire, you'll find much to admire in Cuervo y Sobrinos. "In its heyday, Cuervo y Sobrinos was basically the Tiffany and Co. or Cartier of Cuba," Barrett says. The Prominente collection owes its name to Cuba's cigar-making factory term for "a really big cigar"—which also explains why each watch in the collection is paired with an eye-catching working humidor. This men's watch is made from highly polished stainless steel with a genuine alligator strap, a silver guilloche-textured dial with Mother of Pearl inlay, embossed Deco-style numbers and "blued hands," created by heating the steel for a finish that prevents rusting.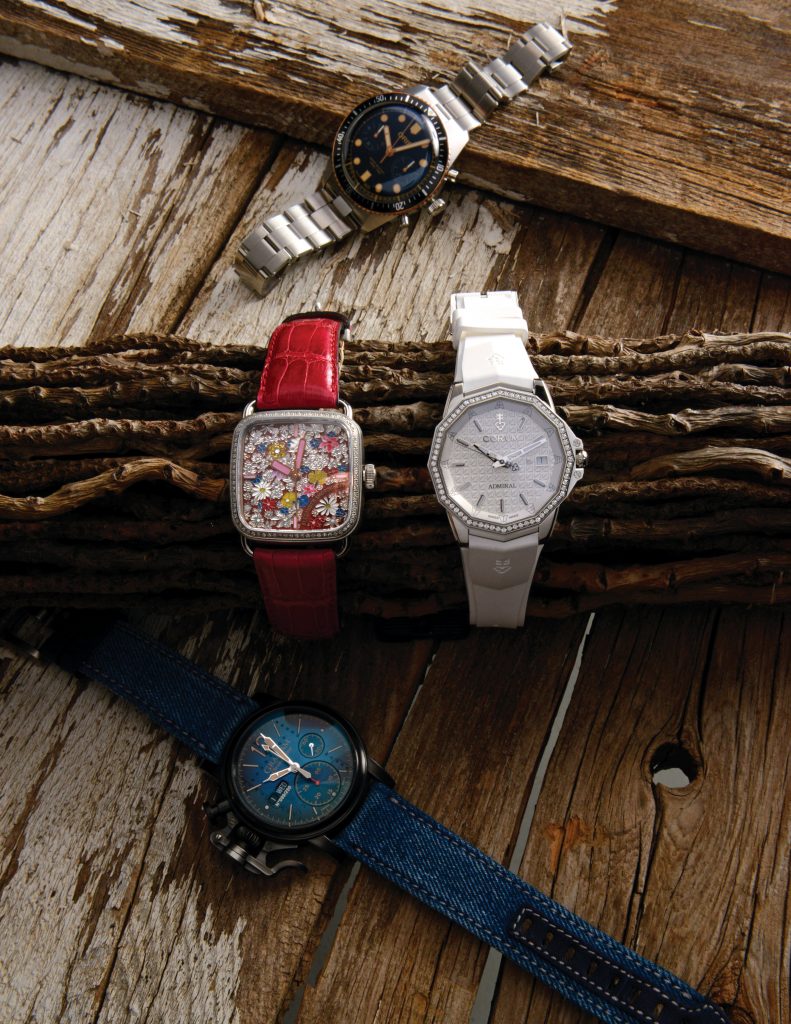 (top to bottom)
PAY ATTENTION TO PATINA
Oris Divers Sixty-Five Black Chrono, $4,250
The differences between this remake of a men's retro Oris 1960s dive watch and its vintage original includes the addition of a scratch-resistant domed sapphire crystal (formerly acrylic), solid links (formerly hollow) and satin finishes with polished accents (formerly all polished). The new combination of bronze patina finishes is much more forgiving when it comes to impending scratches, and has the potential to be entirely unique: "Bronze patinas are different for every single person; the coloration will change for each owner," Barrett explains.
SHOW OFF AN INTRICATE WORK OF ART
Alexander Shorokhoff Camomile Heritage watch, $7,950
Russian watchmaker Alexander Shorokhoff dropped the "h" in chamomile when naming this artistic masterpiece, but the hand-engraved and hand-enameled dial is, nonetheless, covered in a bouquet's-worth of chamomile blooms. A large stainless-steel square cushion case, hand-set diamond bezel and a bright pink crocodile leather strap play up the bunch. It's a rare flower arrangement: Shorokhoff only created five women's watches in this design.
MAKE BRIGHT WHITE YOUR NEUTRAL
Corum Admiral's Cup Admiral AC-ONE 38, $6,800
The maritime-inspired women's timepiece features nautical flag markers on a ceramic dial, a hand-set diamond bezel, stainless steel case and a bright white band made of natural rubber. Forget about cleaning the wristwatch daily: The rubber is treated with a special process so it won't absorb color.
TELL AN UNEXPECTED STORY
Graham Chronofighter Vintage Aircraft watch, $5,950
Your narrative: The Chronofighter Vintage Aircraft collection is based off of large watches British fighter pilots used to strap to their legs instead of their wrists, for easy visibility without removing their hands from plane controls during missions. The watch's movements were flipped upside down (with the crown on the opposite side from a conventional watch) to make it easier to push the trigger through flight gloves. This men's modern stainless steel and black-plated version includes that same trigger detail along with a denim strap, aircraft rivet dial details and an ombré blue-to-black fade for an "aged" appearance. Your plot twist: Only 250 watches in this series were produced, and each one features its respective number on the dial.
LET'S GO SHOPPING
Right Time Watches
East County Line Road
303.862.3900