President, Group Publisher & Partner
A 44-year media-industry veteran, Allen runs all aspects of the business side of Colorado AvidGolfer. Before joining Colorado AvidGolfer as publisher in June 2002, he was the vice president of advertising at The Denver Post and the Denver Newspaper Agency. In addition to the Post, he has held advertising management positions with The Idaho Statesman and The Santa Fe New Mexican. For his contribution to the game of golf in Colorado, Allen has received the Colorado PGA Section's 2008 Todd Phipers Media Award and 2018 President's Award, as well as the 2012 Colorado Open Golf Foundation's Robert M. Kirchner Award. A past chair of Colorado Open Golf Foundation Board, he currently serves as its governance chair. He has also served on the Better Business Bureau, Downtown Denver Partnership and Juvenile Diabetes Research Foundation boards. A native of Stockton, California, Allen moved to Colorado in August of 1988. He and Nancy, his lovely wife of 36 years, have raised two amazing children, Erica and Jason. In his spare time, Allen enjoys playing golf and tennis, dining out, drinking big Cabs, traveling and spending time with family and friends.
720-493-1729 ext. 2 allen@coloradoavidgolfer.com

Chris Phillips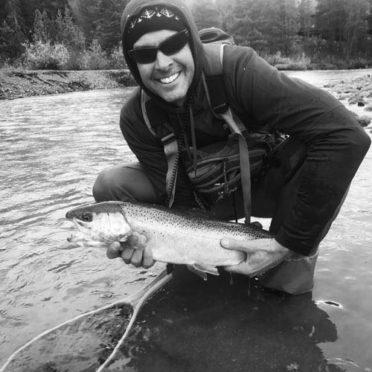 Partner
A CU football nut, avid fly fisherman, big skier, heavy latte drinker and Colorado native, Chris is a savvy 17-year media-industry veteran. Bringing years of experience, creativity and high execution to the table, Chris is responsible for the sales, marketing, and digital development of Colorado AvidGolfer. He takes great pride in helping drive company revenue, elevating brand position and increasing overall profitability. Throughout his time at Colorado AvidGolfer and SKI Magazine, Chris has worked with top brands including Troon Golf, Vail Resorts, Michelob Ultra, Go Pro, Red Bull, Oakley, Bentley, AT&T, Jack Daniels and more. When Chris isn't blowing up cinnamon rolls in the office microwave, singing Samples tunes in his office and or spearheading major company initiatives, you can find him indulging in the state's finest craft beer scene, secretly pretending he was on the creative side of the house and spending time with his awesome wife Holly, their amazing kids, Walker and Lainey; and their quirky Bernadoodle, Ollie.
Lori Perry

VP of Sales and Marketing – AvidLifestyle & Colorado AvidGolfer
Having over 36 years of award-winning marketing and business development leadership experience, Lori has aggressively accelerated revenue streams for a multitude of businesses. Lori's successes in the ad/media industries, business ownerships of two businesses (an 8,000 ft Bridal Store and a partnership in a Power-sports business), coupled with 2 degrees – Sales and Marketing and Accounting have allowed Lori to give the highest client care. A native of Minnesota and avid horsewoman Lori has ridden, rodeoed, competed at a National level in reining and shown horses professionally her entire life. Lori enjoys taking care of her mom and 3 beautiful Blue-eyed Australian shepherds – one miniature Cheyenne and two toys Dakota and Willow and a Parti Yorkie Mercedes. Lori enjoys horseback riding, traveling, dining out
(The best thing she makes for dinner is reservations!) and her work.
320-241-2591 lori@avidlifestyle.com
Heather Shoning


Editor – AvidLifestyle
Heather Shoning is an editor with more than 15 years of experience in lifestyle and home and design magazines. She manages all AvidLifestyle editorial duties and oversees the production of the magazine. In addition, Heather writes home and design and travel articles for several magazines across the country. Originally from Iowa, Heather's work is grounded in Midwestern sensibility. As an editor, she provides thoughtful direction, meticulous management of the schedule and budget, and is a gracious leader and mentor for staff and freelance teams alike.
Heather's writing is polished prose, always delivered on time.
She goes the distance to uncover the ambiguous story and
enlightens readers with engaging
anecdotes and information they can use.
In addition to her magazine work, Heather is an aspiring author. She is currently representation for her first novel while diligently writing her second. She has two adult daughters, Haley Rae and Hanna– and two precious pups– Juniper and Winnie.
When she's not editing or writing, you'll find her hiking, running or traveling (mostly in Mexico, where she gets her fill of tacos!).
Heather holds a bachelor's degree in journalism with an emphasis in magazines from Drake University, where she she was awarded an
esteemed apprenticeship in Meredith Corporation's home and design publications department.
Heather@avidlifestyle.com
Brenna Farrell


Art Director – AvidLifestyle
With over 17 years of design experience, Brenna emphasizes on visual challenges. She pours her passion into art and design. Her job is to take clients visions and turn them into reality on paper. As a Colorado native, she graduated rom Colorado State University and received a Bachelor's degree in Fine Arts with an emphasis in graphic design. Some of Brenna's favorite things are exploring new coffee shops,
traveling, painting and hiking with her boyfriend and pup, Oscar.
Jim Bebbington


Content Director – Colorado AvidGolfer
Jim joined Colorado AvidGolfer in Spring 2023 directing the digital and print content teams. He is a 35-year journalist and was previously editor-in-chief of the Dayton Daily News in Ohio. Jim moved to Colorado – as many do – to follow two of his adult children who had moved here to begin their professional lives. Jim has played golf since he was 8, and was almost driven over by a golf cart at the age of 12 at the Canadian Open that was ferrying Jack Nicklaus and Arnold Palmer and other pros around the course. He has interviewed George W. Bush, Arnold Schwarzenegger, John Kerry, John Glenn and Neil Armstrong in his career. Jim is a Cleveland native and was in the stands of Cleveland Municipal Stadium for The Drive; he met retired Broncos kicker Rich Karlis in 2023 and was able to apologize for calling him bad names for the past 35 years.
937-408-1035: jim@coloradoavidgolfer.com
Chris DeConna

Art Director – Colorado AvidGolfer
Chris joined the Colorado AvidGolfer team in August of 2023 as the Art Director. Chris previously help positions as Creative Director at two private clubs (Valley Country Club and The Ranch Country Club). He lives in SE Denver with his wife, Sara, and daughter, Harper.

CDeConna@coloradoavidgolfer.com


Special Events & Golf Passport Manager – Colorado AvidGolfer
Michael joined the Colorado AvidGolfer team in the spring of 2023 as the Tournament Director and Golf Passport Manager. He is a rare Colorado native who has also lived in Tennessee and Wisconsin. Michael has been addicted to the game of golf since he was introduced to the game at the age of 3 with a red, blue, and yellow plastic golf club. He worked at Valley Country Club and The Ridge at Castle Pines in high school and college then moved up in the golfing ranks and caddied at The Honors Course (TN), Colorado Golf Club, and Castle Pines Golf Club during his semiretirement stint. Michael has a background in content creation, marketing, and project management from his previous work experience. He enjoys (and sometimes hates) all Colorado sports, being outside, and spending time with his wife, Abigail. If you ever need a 4th
to fill your foursome, Michael is your guy!


michael@coloradoavidgolfer.com
Julie Krueger

Operations Manager – Colorado AvidGolfer & AvidLifestyle
julie@coloradoavidgolfer.com
Internship Opportunities
Interested in an internship? Let us know! Spring/Summer Internship Opportunity!
Colorado AvidGolfer is looking for 1-2 marketing/event interns for the summer to help with the Golf Passport coordination, tournament and event management, and marketing promotions. College credit available. Please include a resume/CV and schedule availability.