Plenty of folks fantasize about owning their own private island and living large like Sir Richard Branson—owner of
74-acre Necker Island in the B.V.I.—or Ted Turner, who presided over the 4,680-acre St. Phillips Island and its surrounding marshes off the coast of South Carolina for decades. But palm trees and sandy toes weren't what Bud Knapp and his late wife, Betsy, were after. Instead, the entrepreneurial couple behind tech and media publishing companies (they famously published Architectural Digest and Bon Appétit magazines) and other ventures sought a Rocky Mountain paradise—where they would have snowcapped peaks in lieu of tiki torches, and bighorn sheep and mule deer in lieu of Queen Angelfish and Crayola-bright songbirds. And it was more than a fantasy for the Knapps: like plenty of other things the highly successful duo sought to accomplish in life, they actually did it.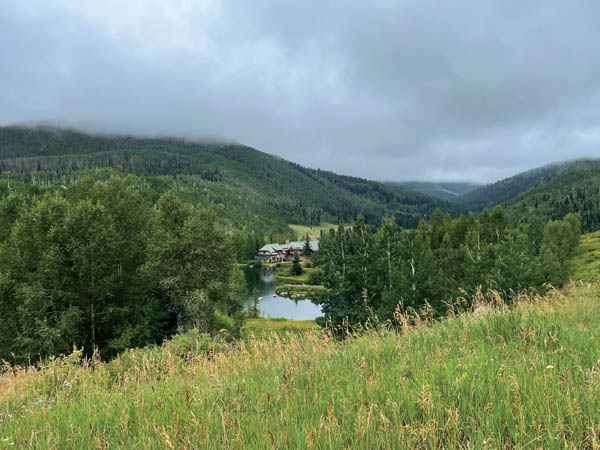 "When we first saw this valley, we were high atop a neighboring ridge, overlooking a panorama of valleys and mountains, forested slopes and rocky peaks. The wildness and solitude of this seemingly uncharted area intrigued us because when you're down in a valley you don't have the perspective of space. Once we saw what was around us, our curiosity was piqued. We knew many hardy souls had been here before, but for us, this was new territory." —Betsy and Bud Knapp
"Knapp Ranch is a 300-plus acre ranch at top of Lake Creek in Edwards," says Cary Hogan, hospitality and event manager for Knapp Ranch (knappranch.com), who has worked there for two years and knew the pair from her former career as a sommelier long before that. "Bud and Betsy Knapp bought the range in the 1990s…they wanted to see what they could learn from the land, rather than what they get out of the land." Notably, the Knapp's "didn't want to build just another big huge mansion amongst the other ones in Vail" on this pristine patch of earth, with its sagebrush-, aspen- and cottonwood-swathed meadows and jagged, snowcapped peaks. "They wanted to honor the land and history," Hogan says. "The valley was formed by glaciers; the Ute Indians traveled those mountains in a sunrise direction for thousands of years, and ended up in [this] meadow every summer for thousands of years, celebrating the summer solstice and bounty of the earth, staying there for months before traveling on."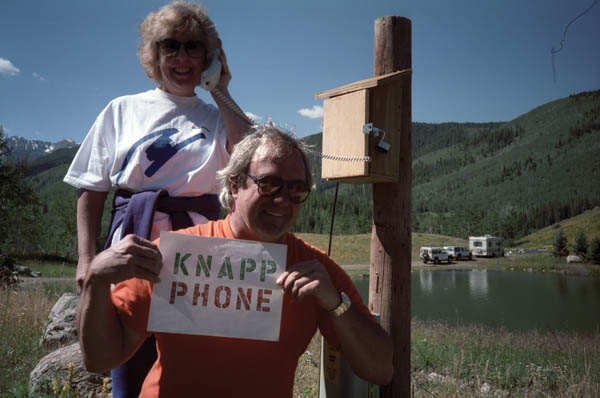 Making any new structures worthy of a place with such provenance and eye-candy panoramas of the Gore Range is a difficult task. The couple and their architects looked to legendary locations that were doing it right, including the "Parkitecture" of America's national park lodges, where open beams, flickering fireplaces and nods to indigenous peoples have stood the test of time. They put up their first cabin "using tools and materials they would have used in 1869," she says—like fieldstone and Swedish Cope and piece-en-piece log walls (albeit with mountain luxe interiors). Included in the collection of cabins they painstakingly built? One inspired by European building traditions and another that echoes the history of anglers in the area.
"Articulating our conceptual ideas was the easy part; learning how to live in a rural mountain valley was more difficult. Our role was to imbue this place with heart and soul, and to reinforce the concepts of quality, simplicity, and responsible use. We let the land, its history, and the experts advise us on how best to accomplish this."
—Betsy and Bud Knapp
"Art offers a confrontation that in the best case brings forth revelations. These revelations are not riddles or stories to be figured out. They are transformations not unlike religious experiences."
—Enrique Martinez Celaya, Artist
And if you think this is just a family vacay spot, think again. The ranch is home to flourishing projects galore. Included among them: gardens that grow everything from beet and amaranth micro greens to squash blossoms for the region's best restaurants, at a whopping 9,000-feet elevation; orchards that produce covetable cultivars of apples (including Sweet Sixteen and FrostBite), plus cherry, pear, apricot and plum; and bees that flit around the greater upper West Lake Creek valley and return to the ranch's Slovenian bee houses to make their toothsome honey. To pick up a particularly buzzing Knapp Ranch product, try a lip balm or body cream from Knapp's Nectar—each one that features a Save the Bee symbol gives a portion of proceeds to the Save the Bee partnership working to protect the vital and endangered pollinators. Additionally, you can savor seasonal produce and artisan products at their retail shop, Knapp Harvest in Eagle.
While the public cannot currently visit Knapp Ranch, Hogan can confirm: it is exquisite. "Animals are everywhere—bears, mountain lions, foxes, deer—that kind of thing," she says. "But also the evidence of glacier activity from these big huge monolithic rocks that are plopped in meadows or next to beautiful streams." And it's as busy making the world a better place as it is beautiful. "We restored a stream bed, part of a the federal Forest Stewardship Program; we are working on cancer [fighting] cream; you could dig into almost any different area [here that] might spark your interest," Hogan says.
As Betsy and Bud Knapp wrote in their recent book, Living Beneath the Colorado Peaks: The Story of Knapp Ranch (The Knapp Press, 2018), "This is a place of incredible adventure and a tiny bit of danger. Lightning strikes on the ridge. Bears nibbling in the bushes. Mountain lions scouting the stream bank. We are more alive here than anywhere else that we have lived. There is a higher power at work here that encourages, even reminds us, to think of our mortality and respect of nature." To top it all off, come autumn, "the leaves are just fantastic," Hogan says. Paradise, indeed.
"Our exploration of design ideas included a complete review of our library of Architectural Digest issues, flagging images we liked, and noting why we liked them. Occasionally, we simply liked the composition. More often, materials, fenestration, indoor-outdoor relationship or the architecture caught our eye. We learned how to describe what we liked, and why. The fact that we could talk about it together resulted in a building program that we both agreed upon." —Betsy Knapp