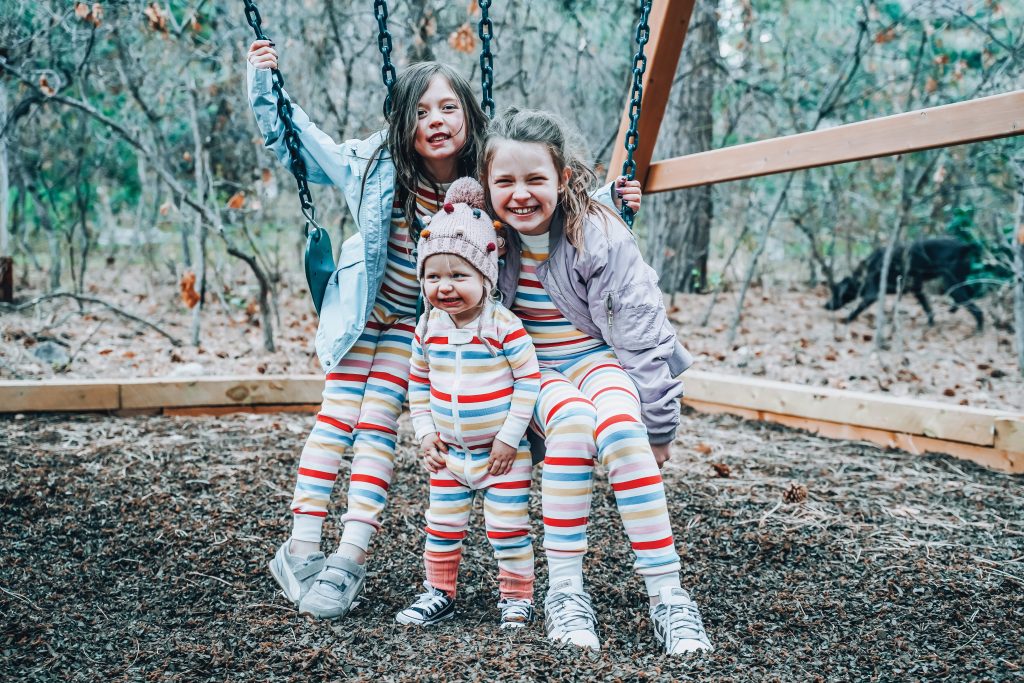 Handmade leather baby shoes. Hair bows. Crib sheets. A set of adorable outfits for a baby girl. This is the list that put the Henderson girls—Ava, Elliott and Collins—on the style influencer map.
In 2014, when Elliott, 6 years old today, was just a baby and Collins hadn't yet grown the Castle Pines transplants to a family of five, Mom—Melissa Henderson—tried her luck at winning baby supplies in giveaways becoming popular on Instagram. The photos she entered of Elliott won them those items right off the bat, and Henderson realized the family had stumbled onto something good.
Now more than 30,000 followers strong (across multiple accounts), the goal to become social media savvy has changed into something much more far-reaching: Followers look to them for styling and shopping advice, Henderson says. And through relationships with coveted children's boutiques, including one of their own, Henderson and the girls are having a ton of fun giving it to them: "They love being in front of the camera; although Ava, my oldest, likes to be behind the scenes."
As Henderson styles, the girls watch and learn. "I'm really into being bold and mixing patterns. Leopard is a neutral," she says. "I run an Instagram account for flat-lays. The girls watch me lay out those outfits, then I go to their rooms and they have their outfits laid out like they've seen me do."
The Hendersons are currently sharing their life across five Instagram accounts, each with a different focus. The largest account, with more than 20,000 fans, is connected to a popular place where Henderson takes the girls' style into her own hands: "After our first account got going, I started a shop called Mimi Makes where I make and sell bows and headbands." Temporarily put on hold when COVID-19 hit, the shop reopened in June.
Still, behind the whimsical getups is a powerful, 21st-century message Henderson hopes to convey well—especially as it relates to Collins, whose loveable sass comes through crystal clear on camera: "I hope people know that we're all the same. It's easy to get caught up in this perfect facade on Instagram, but we're all going through struggles. This outlet has been my sanity through COVID. I work at Boutique Dance Academy, where Ava and Elliott dance competitively, and before COVID, Collins was basically living there. Everyone got to be part of her life. She's changed so much since March, and the only way our dance community was able to experience that was through our photos."
JOIN THE FUN
Instagram: @ourlifeinasquare, @mimi_makes