After a bluebird day on the slopes or snowshoeing in the backcountry, you're walking down Main Street, the snow is piled up along the sidewalk, and the flickering lights glisten off its ice crystals. Your boots crunch on the packed snow as you peer inside the brightly lit shops. The faint sound of carols floats across the crisp air as you meander through the jovial crowd of children and their parents—many still in ski gear, some dressed for dinner. Peals of laughter come from the skating rink. Soft flakes begin to flutter down as you turn, hearing the clip-clop of a pair of gorgeous horses pulling a charming carriage. Trees twinkle from trunk to top with hundreds of tiny lights, and everywhere you turn, you're in awe of the backdrop of a deep purple, pink and orange as the sun disappears behind craggy, snowy peaks.
This is the magic of the holiday season in a mountain town. The experience is surreal and quaint and nostalgic, and no matter which town you choose, you'll make memories to cherish for a lifetime. Here are a few of our favorite places and activities for your magical holiday getaway.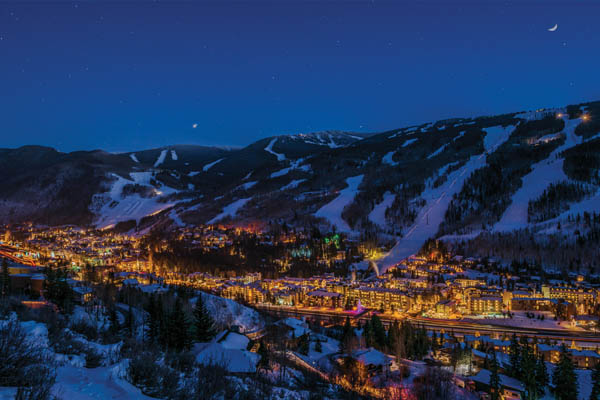 Vail/Beaver Creek
Vail is celebrating its 60th anniversary this ski season. There will be a variety of activities for celebrating, including vintage ice bars and snow bungalows at Eagle's Nest and Wildwood, where skiers can retreat with music, food and signature cocktails. In addition, Vail Resorts has teamed up with 10th Mountain Whiskey & Spirit Co. to create an exclusive batch of mountain bourbon and themed 60th-anniversary cocktails. You can find these tasty creations all winter at Vail Resorts' hotels in Vail and at the distillery tasting room in Vail Village.
The kids will love "Rudolph the Red-nosed Reindeer the Musical" at Vilar Performing Arts in Beaver Creek Village. There are two showings: Dec. 19 and 20. For more information, visit vilarpac.org
Typically, on Thanksgiving weekend, Beaver Creek hosts its annual tree-lighting ceremony. The event also includes a poetry contest, an ice-skating show and a fireworks display over the village. Watch visitvailvalley.com for updated information.
Choose The Sonnenalp for a postcard-perfect stay. This Bavarian farmhouse–inspired luxury hotel looks like a beautiful gingerbread house all decked out in its holiday finest throughout the season. In addition, it hosts a variety of activities on the property. The hotel serves Christmas Eve, Christmas Day and NYE Buffet Dinner along with live music at the King's Club. There's gingerbread house making, snow globe making, ornament and cookie decorating inside; outside, you can enjoy activities such as guided snowshoe tours.
If you're looking for something a bit more daring, The Hythe, a Luxury Collection Resort, Vail teamed up with Adventure IO to offer heli-skiing with an Olympian. Get more information on this epic adventure at thehythevail.com/experiences.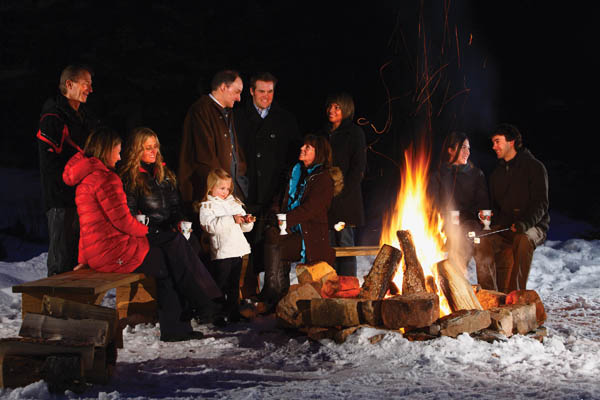 Breckenridge
Breck has no shortage of ski-town charm, and the entire town is practically ski in/ski out with the ski-to-town trails and the BreckConnect Gondola. You can hop off North America's highest ski lift at the top and make a run all the way down to town for après.
Magical experiences in Breck include dog sledding, snowmobile tours, sleigh rides, ice skating, ice fishing and more. The first weekend in December is the time to visit this mountain town as it takes on all its magical holiday glory. First, hundreds of Santa look-alikes will run down Main Street in the Race of the Santas, followed by the grand lighting event that evening. More than 13,000 feet and 250,000 LED holiday lights will transform Breck into a real-life holiday card.
Keystone
What could be more winter fun for the kids—and kids of all ages—than the largest on-mountain snow fort? Two massive snow forts! Yes, Keystone is adding a second snow fort for the 2022-2023 season. The second one will be at the base area so kids can play while parents hit the Last Lift Bar for some après.
Don't want the day to end? No worries. Keystone offers night skiing so you can enjoy a one-of-a-kind experience of cruising under the lights during weekends and holidays, beginning on Thanksgiving. There are two ice-skating spots—Dercum Square and Keystone Lake. Horse-drawn sleigh rides offer breathtaking views of the Soda Creek Valley. Anyone with a sweet tooth will love Keystone Lodge and Spa's Chocolate Village on display from Dec. 20 through Jan. 8. Pastry Chef Ned Archibald leads this annual tradition of crafting more than 7,000 pounds of chocolate into a miniature alpine village. It features a working gondola, a running train, a cascading waterfall and a 6-foot-tall Christmas tree. And there's a new addition each year–see what it is.
Come and enjoy a parade through the village and fireworks over Dercum Mountain on Christmas Eve. For more information on these and other events, visit keystoneresort.com
By the Numbers
Vail
Base elevation: 8,120 ft.
Summit elevation: 11,570 ft.
Number of Lifts: 31
Average Annual Snowfall: 354 in.
Number of Trails: 195
Longest Run: 4 miles/Riva Ridge
Skiable area: 5,289 acres
Beaver Creek
Base elevation: 8,100 ft.
Summit elevation: 11,440 ft.
Number of Lifts: 24
Average Annual Snowfall: 325 in.
Number of Trails: 167
Longest Run: 2.75 miles/Centennial
Skiable Area: 2,082 acres
Breckenridge
Base elevation: 9,600
Summit elevation: 12,998
Number of Lifts: 35
Average Annual Snowfall: 300 in.
Number of Trails: 187
Longest Trail: 3.5 miles/4 O'clock
Skiable Acres: 2,908
Snowmaking: 657 acres
Keystone
Base elevation: 9,280 ft.
Summit elevation: 12,408 ft.
Summit elevation: 20
Average Annual Snowfall: 235 in.
Number of Trails: 130
Longest Run: 3.5 miles/Schoolmarm
Skiable Area: 3,149 acres
Snowmaking: 662 acres