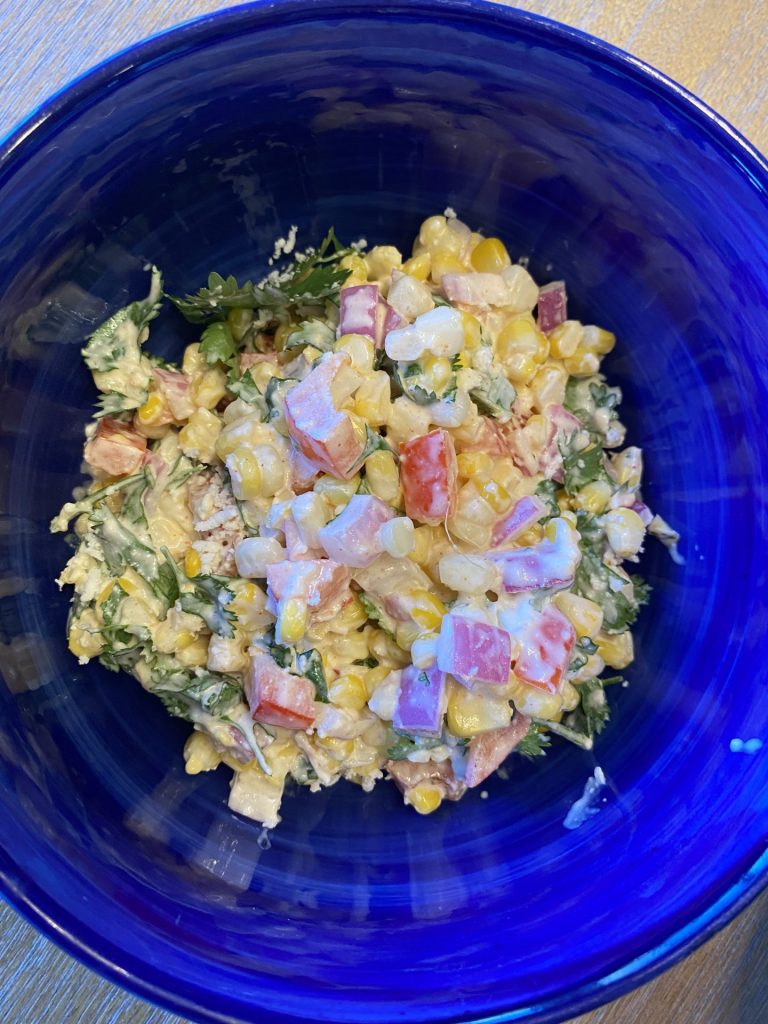 Street Corn Salad
Ingredients:
6 whole corn cobs
2 tablespoons olive oil
1 red bell pepper, diced
1 bunch fresh cilantro, chopped
1 jalapeño, diced (discard seeds)
1/2 large red onion, diced
2/3 cups cotija cheese
For the Dressing:
3 tablespoons sour cream or Greek yogurt
2 tablespoons mayonnaise
4 tablespoons lime juice (or two limes, squeezed)
1/2 teaspoon cumin
1/2 teaspoon paprika
1/4 teaspoon kosher salt
1/4 teaspoon chili powder
Method:
Rub corn with olive oil and grill or roast in the oven at 400-450 degrees for 15-20 mins or until tender. Cut corn off the cob once cooled.
In a large bowl, add red bell peppers, jalapenos, cilantro, and onions with grilled corn and mix.
In a small bowl, add all dressing ingredients and mix well until smooth.
Add dressing and half of the cotija cheese to the corn mixture and mix well.
Top the salad with the rest of the cotija cheese.
Tips for a Successful BBQ, from Chef Brett Newman of Project Angel Heart
Always rub or marinate your meat ahead of time (anywhere from 3 hours to a full day, depending on the type of protein). Bigger cuts of meat will require more time.


If you're making brisket, slice off the dark ends and add these to your beans for extra flavor.


Put your BBQ on a bun! Provide some nice hoagie buns and sandwich lovers can layer the full meal (brisket, slaw, beans, and pickles!) into a sandwich.


Provide an assortment of BBQ sauces. At a minimum, you'll want to have two sauces, one sweet and one more vinegar-based.


Serve foods that are easy to grab and eat with your hands, like sliced and seasoned watermelon. A chili-lime seasoning, such as Tajin, which combines chili powder, salt, and dehydrated lime juice, makes the natural sweetness of fruit pop and tastes great on things like watermelon, mango, and apples.


I always like to serve something pickled with a BBQ meal. Quick-pickle sliced cucumber and onion for a zesty addition to your menu.


While many people prefer beer with their BBQ, I like to serve a nice cocktail. Try a Horsefeather, which is basically a whiskey version of a Moscow mule. Make it with your choice of whiskey (I use bourbon), ginger beer, 2-3 dashes of bitters, and a twist of lemon.