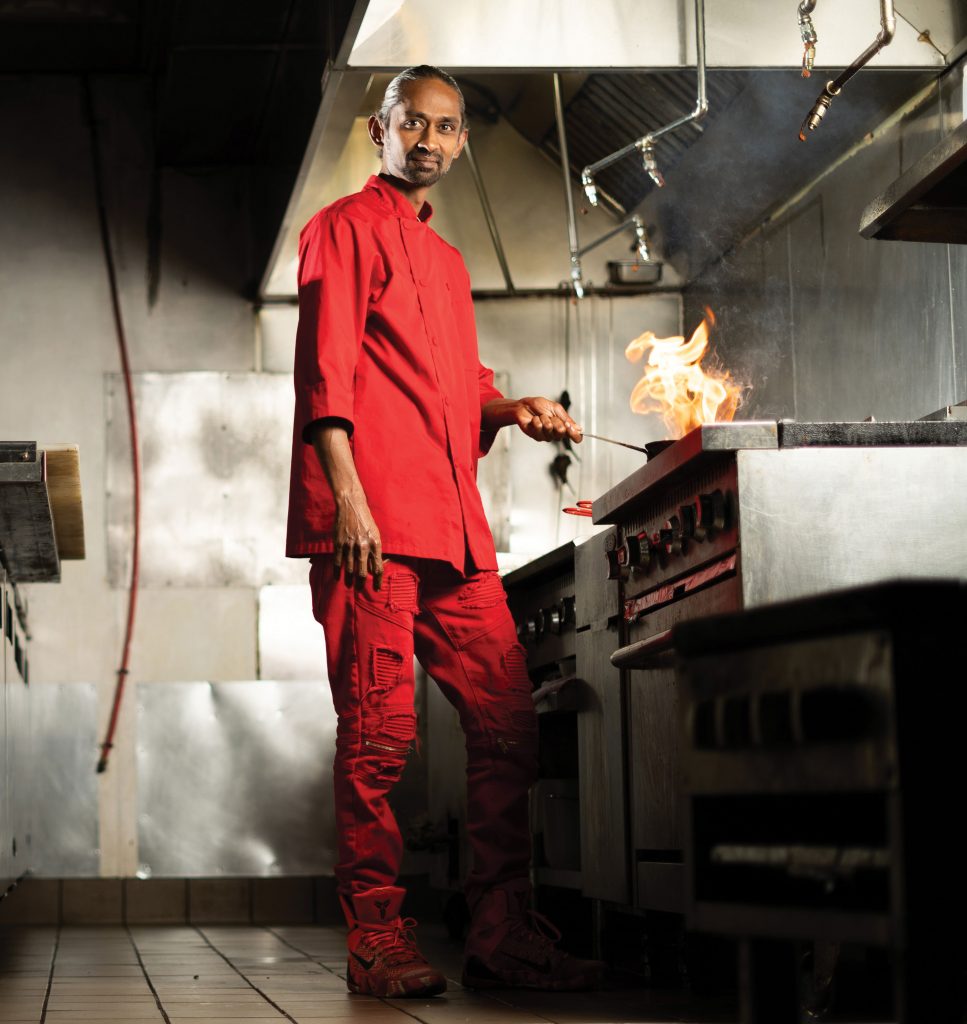 Every table is the chef's table at Lone Tree's new Indian eatery, Urban Village. This is not because nearly every area in the small setting offers a view into the as-open-as-they-could-get-it kitchen, brought out of hiding with two windows. And it's not because the dishes' expert presentations mirror a fine dining experience.
We assign the coveted designation for one reason: Executive chef Charles Mani, who will ask that you call him Charlie, works to chat with every group of guests, bringing life and an electric candor to the unique plates—for Americans, anyway— that sit before them. "Indian restaurants in the U.S. have some of the worst Indian food you can eat," starts Mani as he settles in with our crowd. "The Indian food Americans have become used to has too much cream, too much butter, too much food coloring."
Mani is tired of too much.
The chef's Indian-street-food-inspired menu is changing the conversation. The dishes, which are developed over hours of careful work, are light and even feel, dare we say, healthy. "When people tell me they are worried about how much they are eating, I tell them to look at me," says the slender chef.
THE TEAM
Mani isn't on this mission alone. Owner Ramesh Madakasira, also from India, is with him at the helm. Mani was a continental chef who was wooed by the American dream 14 years ago. He "came to America with $100 in his pocket" and made a name for himself at Indian eateries in New York City before moving to Colorado. They opened Urban Village in September last year.
THE AMBIANCE
"Every single group that walks in become my regulars. … I just put a GPS tracking device on them and pull them inside when they're close." Just like Mani's jokes, Urban Village is friendly and animated. Chef says he doesn't get a second of rest when the place is open, but we felt plenty relaxed in the oversized wicker dining chairs, which pull up to wood tables made from 1930s cart rails. Before you ask (and you will), the well sitting next to the front door is a nod to the contributions Mani and Madakasira hope soon to start making to local organizations. Socialize—the entire kitchen staff is encouraged to mingle with diners—or let the hum of constant conversation lull you into something of a food coma.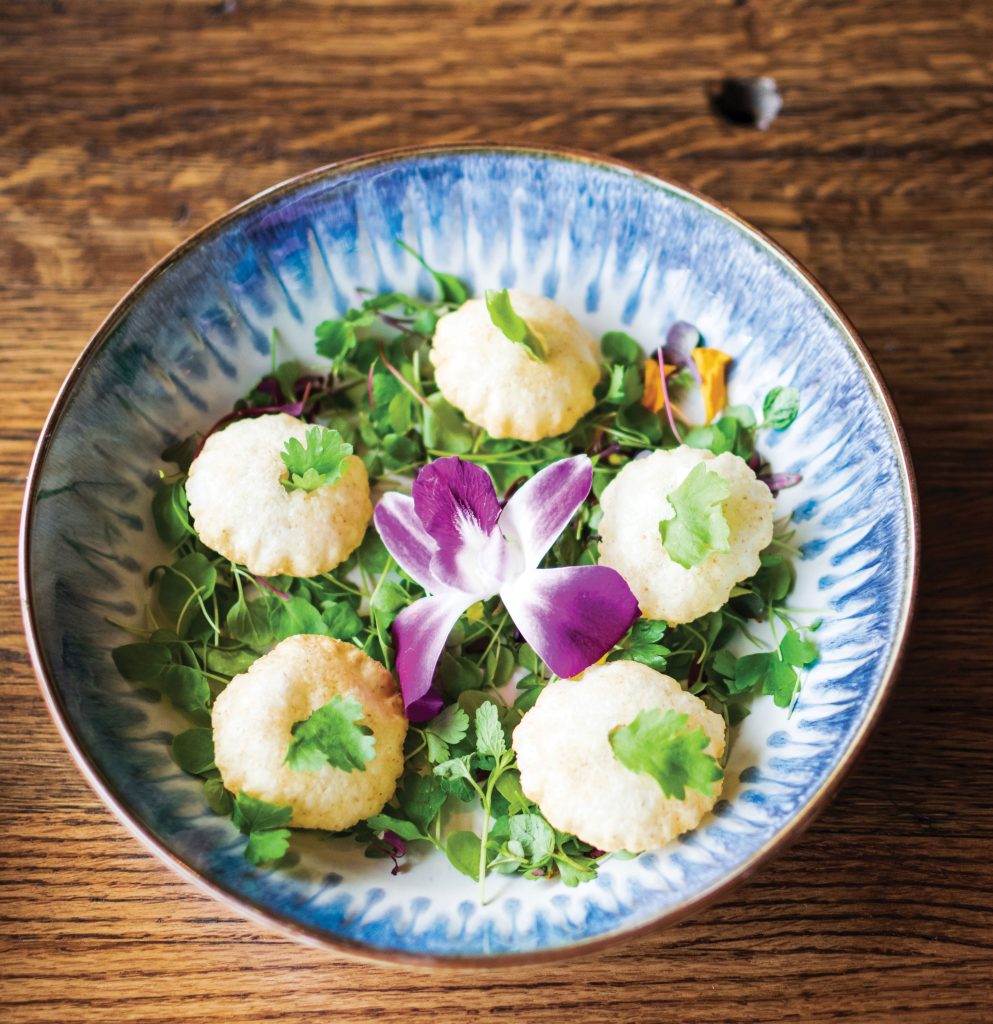 THE FOOD
The relationship with our go-to Indian eatery was in trouble once a piece of Golgappa ($5), a crispy semolina ball filled with tangy sauces, burst with a single bite—the way Mani politely suggests the starting appetizer be enjoyed.

The one-page dinner menu is easy to digest on its own, but when there's a chef's tasting menu that samples most dishes for $39 a person, ordering becomes even easier.
The remaining courses went something like this: First, Kale Mong Dal chaat ($8), with crispy leaves that taste nothing like a bitter vegetable. Then Urban Cauliflower ($9), a dish New Yorkers traveled for when Mani called the city home, that has florets so crispy and coated in a sharp tomato chili sauce they resemble fried chicken. Next up: a powerful boneless Tandoori chicken ($15).
When five "from the pots" tasters came to the table, we surrendered to the rich and addictive Classic Coconut Curry (vegan by itself, like a few other dishes on the menu; starting at $14). The dish also goes by the name Coconut Crack Curry; the cardamom pistachio Kulfi ($5), a textured ice cream treat, deserves similar recognition.
Lunch (served Tuesday to Friday) tackles similar flavor profiles with quicker bites like kebabs and bowls.
WE'RE COMING BACK FOR
Seconds.
EAT HERE
Urban Village
720.536.8150