Photos by Chad Chisholm, Custom Creations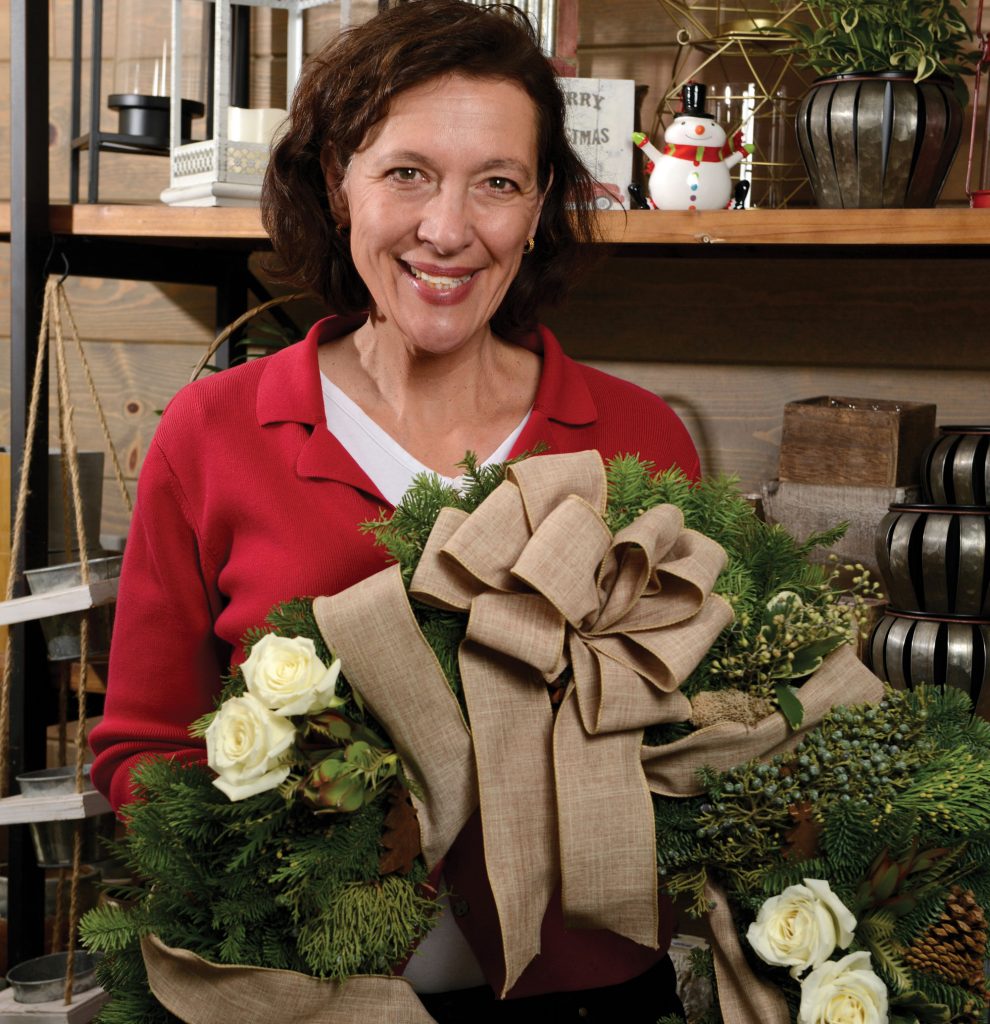 Arapahoe Floral is in the middle of celebrating. The Greenwood Village staple, now home to a new puppy mascot named Wilson, is celebrating its 30th year of bringing blooms to the south Denver community. A few things have helped owner Carol DeStefanis stay connected to area residents: a weekly Friday Flower Happy Hour that features specials on different seasonal flowers from 1 p.m. until closing, a loyalty program and monthly floral workshops. This month's design project: wreaths.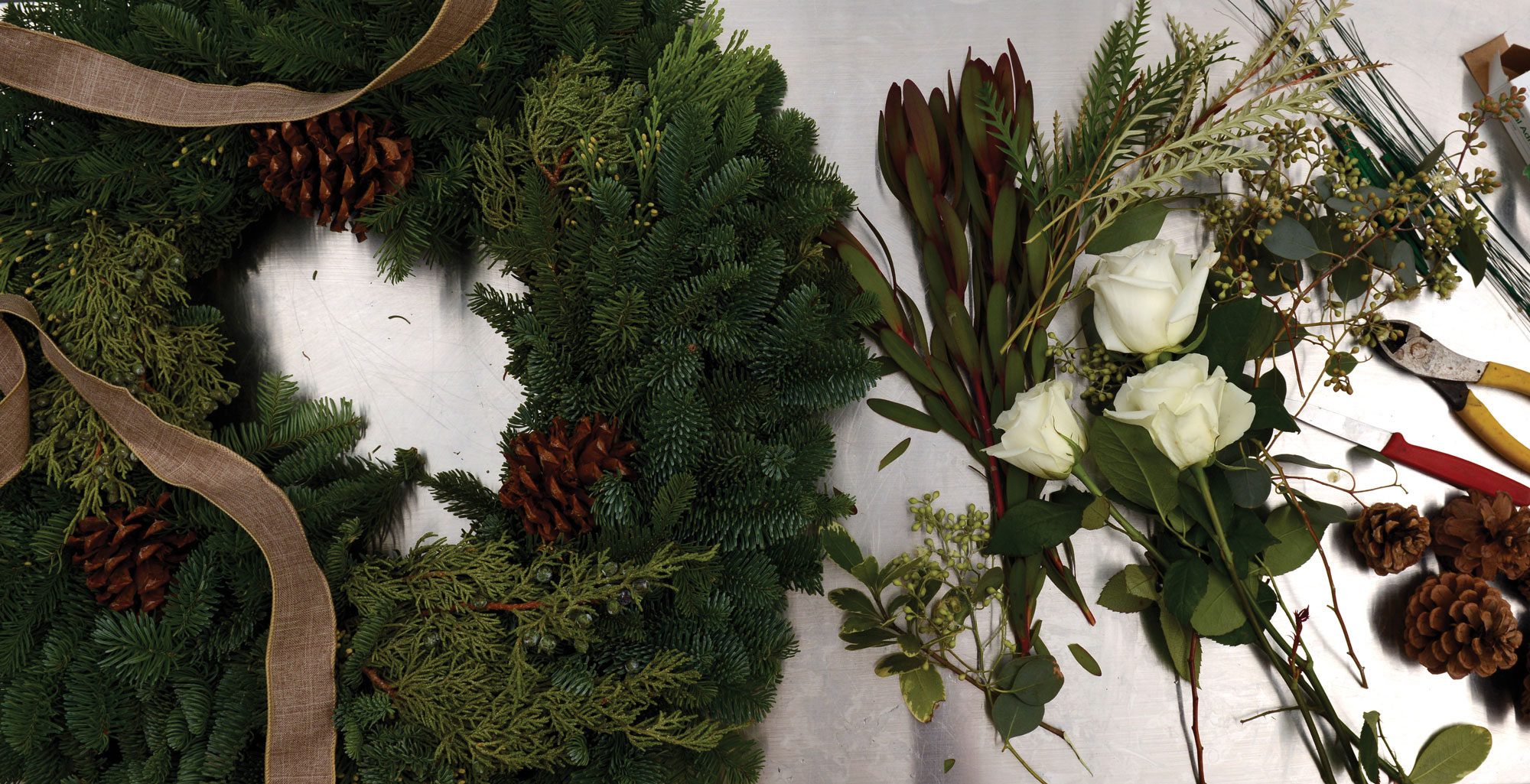 SHOPPING LIST
BEGINNER: A fresh, undecorated wreath from your favorite flower shop
ADVANCED: A wire or grapevine wreath frame and fresh evergreen branches
EVERYONE:
Decorative greenery, like eucalyptus, magnolia leaves, grevillea, succulents and rosemary
Flowers, like protea, roses, mums and succulents
Natural "décor," like berries, pine cones, rose hips and cinnamon sticks
Other baubles—DeStefanis likes ribbon, bows, ornaments, bells, faux birds, silk poinsettias and silver or gold spray paint
18-gauge floral wire
Green water picks (if using fresh blooms)
Glue gun
Spray bottle (for watering once wreath is complete)
STEP 1: PREP THE WREATH
BEGINNER: Soak premade wreath in cool water for 10 minutes to hydrate. Let dry. ADVANCED: Using either a wire or grapevine wreath frame, attach evergreen branches to the frame by the stems with floral wire. Secure each side of branch stems with wire, wrapping the wire onto the frame. Repeat around the wire frame until you have tightly wrapped branches. Make sure to disperse the branches evenly. Soak the homemade wreath for 10 minutes. Let dry.
STEP 2: CHOOSE A THEME
What works best for your home: a traditional holiday wreath, a neutral and natural look or a more whimsical take? Decide colors and ornaments accordingly.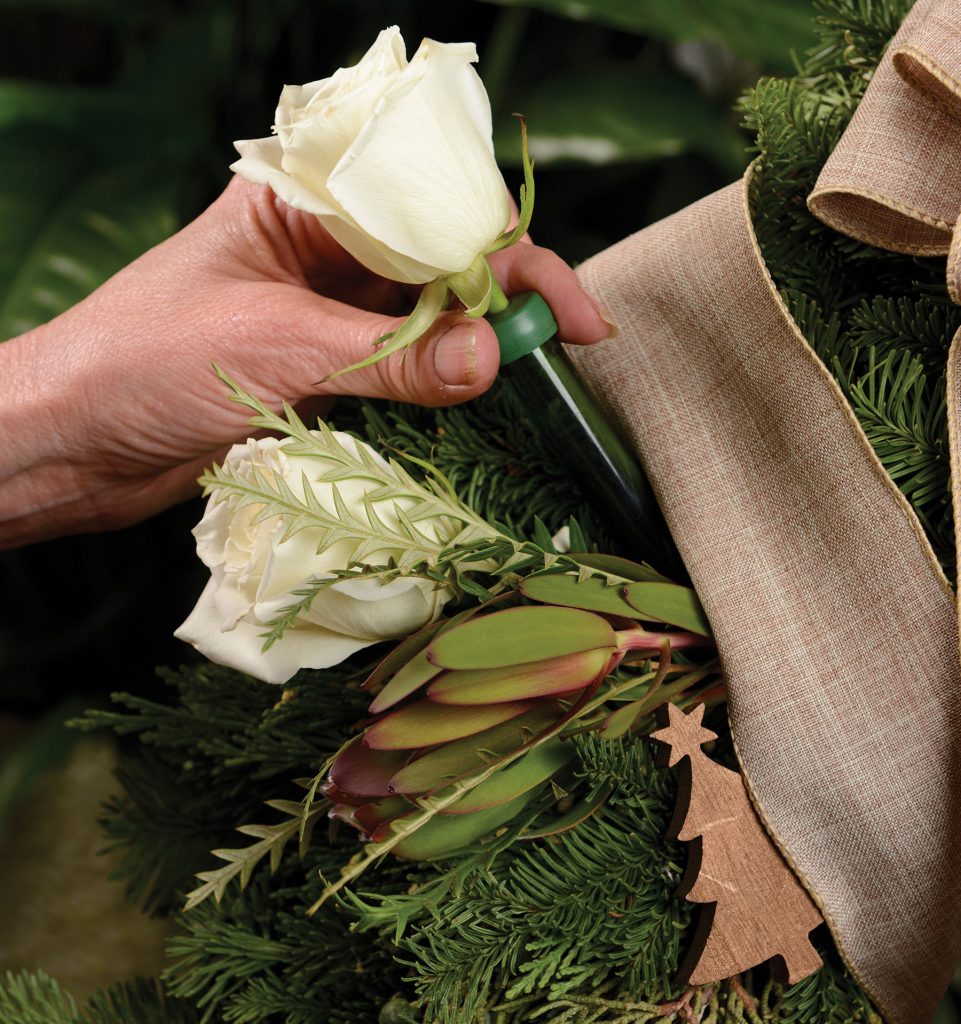 STEP 3: CUSTOMIZE GREENERY
Add more greenery by securing stems and loose pieces to your wreath frame with either a glue gun or wire. Add enough greenery, says DeStefanis, to create depth and make the wreath look full. Then play around with flowers and your other natural elements. Pro tips: Water picks can be placed inside the wreath and be refilled to keep blooms fresh. Place flower stems in pre-filled green water picks (leave room at the top as you are filling with water) and then insert into wreath. DeStefanis recommends using wire, rather than glue, for nonperishables you wish to use again.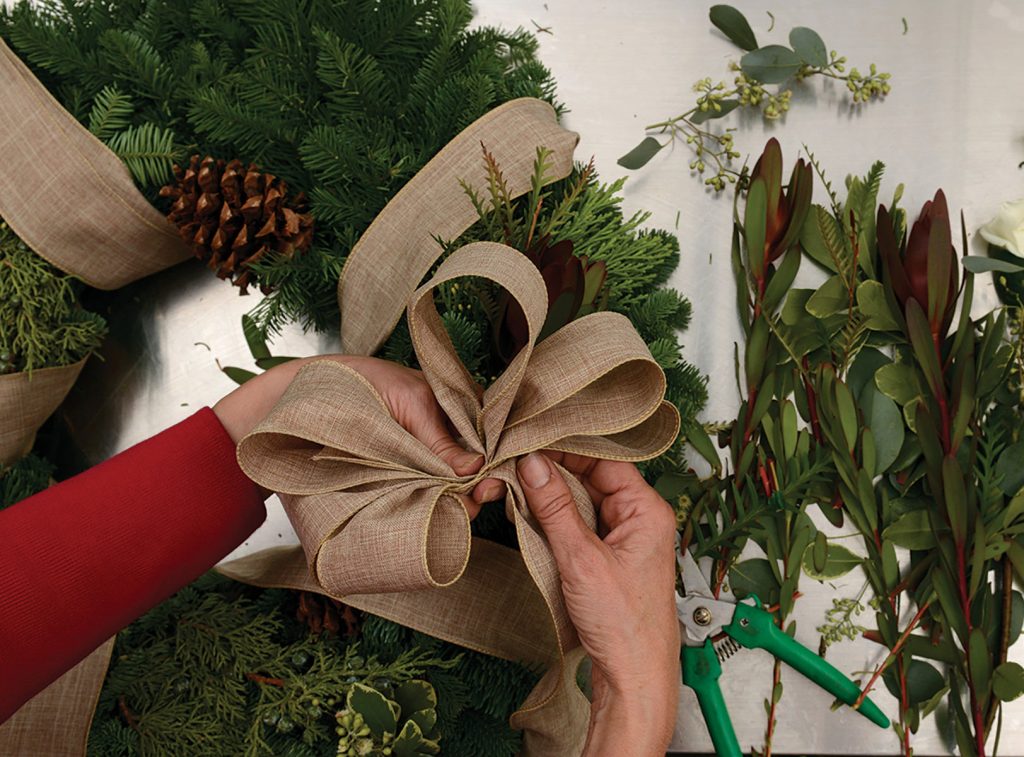 STEP 4: DRESS IT UP
Plan to secure other decorations using wire. Symmetry, DeStefanis says, is your best friend: Treat each side of your wreath equally to create balance. Start by placing your ribbon or major accent pieces where desired, then work your way around the wreath with other adornments. Don't overload the wreath—if the natural elements and greenery are being overwhelmed by trimmings then you've added too much.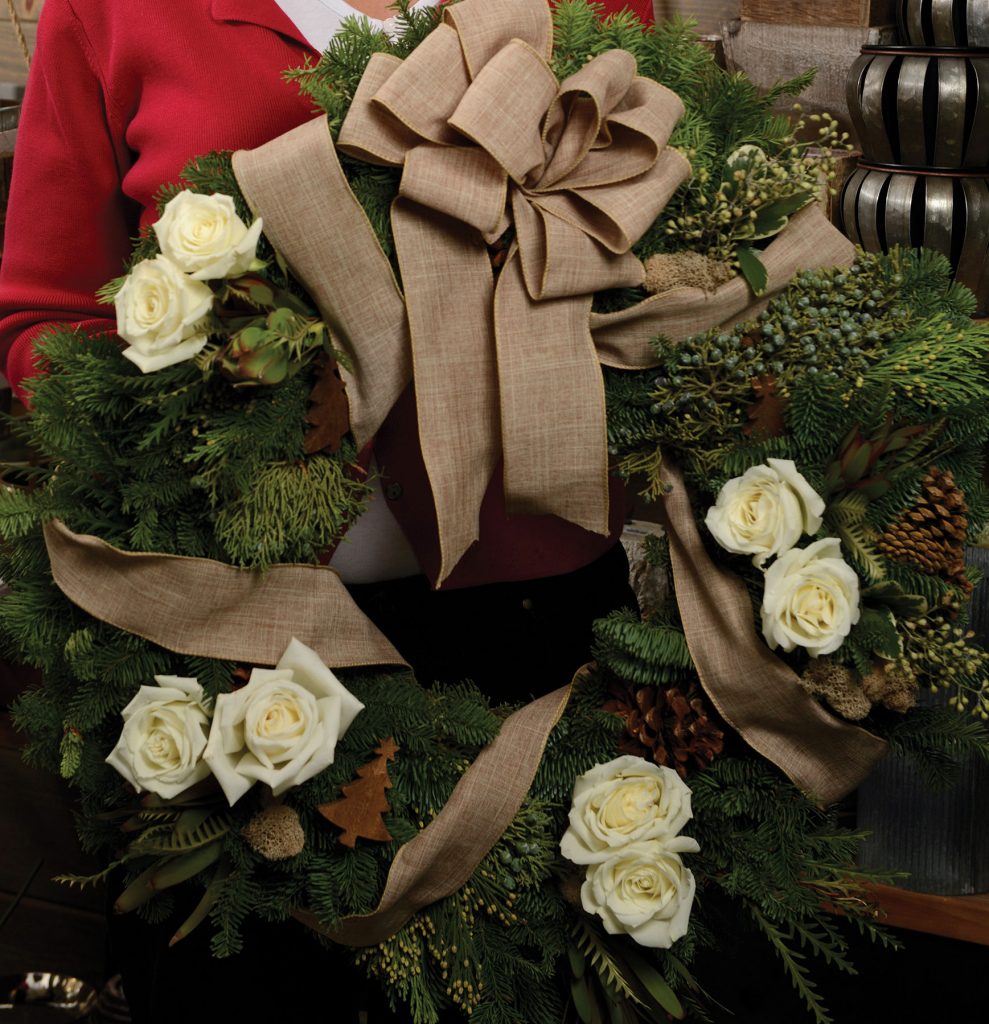 STEP 5: PUT IT ON DISPLAY
If hanging indoors, spritz the wreath with water daily. If hanging outside, spritz with water every few days. DeStefanis says these treatments ensure a healthy design all month long.
LEARN FROM THE PROS
Wreath workshop: Dec. 4, 6-8 p.m.
Arapahoe Floral
Greenwood Village
303.220.7515