By Kim D. McHugh

Rich Karlis, former placekicker for the Denver Broncos, now handcrafts unique wood products to benefit
community organizations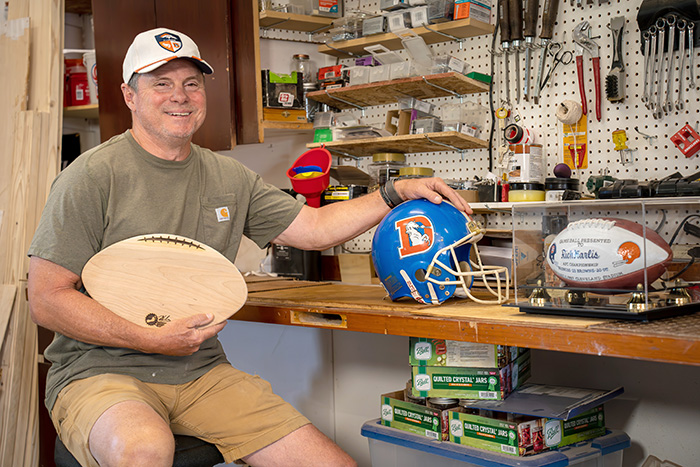 Back in the 1980s, Rich Karlis was wowing Denver Broncos fans with his placekicking prowess. As the NFL's last field goal specialist to kick barefoot, he helped the team make the postseason playoffs seven times and played a key role in securing two Super Bowl appearances over his seven-year career with
the Broncos.
At the age of 32, Karlis retired from the NFL and, after first being involved in several start-up ventures, he stepped into the corporate world, managing the sports marketing programs for Qwest and CenturyLink for 20 years. But when the winds of change started blowing, he was at a crossroads.
"They had new leadership come in and decided that they didn't want to do (sports marketing) anymore, so we shook hands, and they paid me to leave," Karlis says.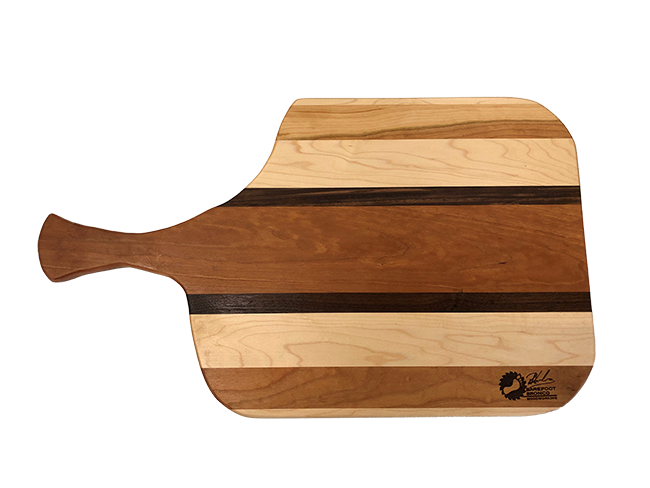 Photos courtesy of Rich Karlis
"At that point, I just wanted to take some time and explore other startups. I also decided I was going to teach myself some new stuff."
Among his new pursuits? Woodworking, beginning by building a farmhouse-style dining room table and kitchen table. Motivated by techniques learned in a class at Rockler Woodworking and Hardware in Denver, he then built a walnut desk, lateral file cabinet and shelves for his office, as well as a dresser and nightstand tables for his house. His affinity for woodworking was sparked as a boy when he and his dad, a general contractor in Salem, Ohio, spent part of the summers sanding and refinishing the gymnasium floors at area schools.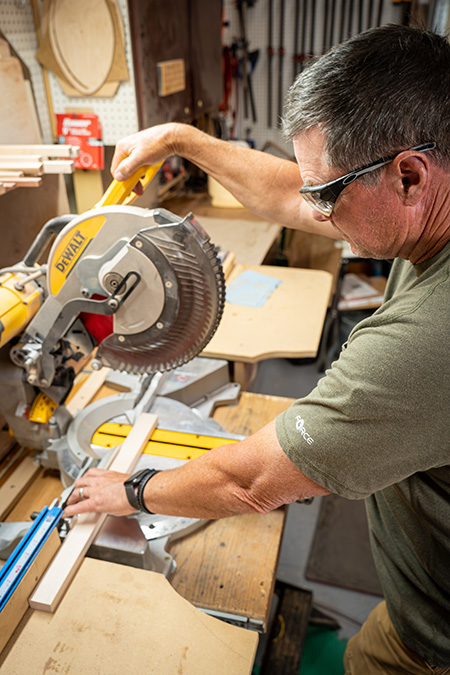 Photo By Christian Marcy-Vega
"We worked with these heavy sanders we'd walk behind. Often, the janitors had pretty much just slapped more varnish on the floors year after year, so they were dark brown," Karlis says. "After days and days of sanding, we'd reveal this beautiful wood. We'd then paint the lines and the logo, and apply the finish coats, which really made me appreciate just how pretty it looked."
That love of beautifully finished wood resurfaced in recent years as his latest venture, Barefoot Bronco Woodworking, found its way into his circle of family members, friends and customers that have discovered that the former field goal kicker is as skilled with his hands as he once was with his right foot. Asked by his niece if he could make her a charcuterie board, he accepted the challenge—and today it is one of the most requested of his hand-made wood products.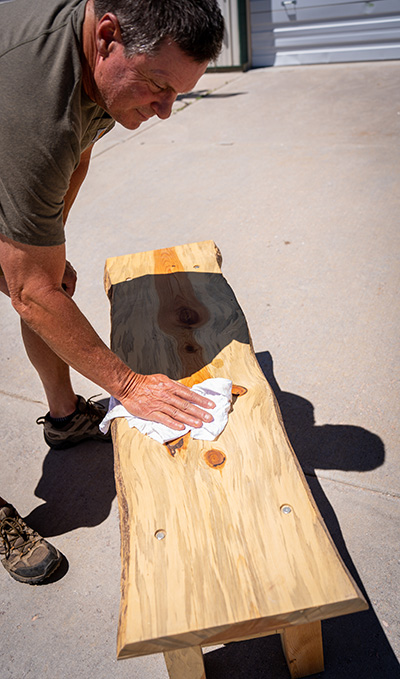 Photos By Christian Marcy-Vega
"I've always enjoyed challenges and working with wood; you really have to be patient as there are plenty of chances to make mistakes. I've been at this for a couple of years now
and people are really liking what I'm doing," Karlis explains.
That is clearly the case given that, in addition to his charcuterie and cutting boards, he also takes on commissioned projects, including custom items like a large tasting table for a local winery. Inspired by the Points for People fundraising program he was involved in as a Bronco, today he often donates products for silent auctions and a portion of each cash sale goes to Family Tree, a Denver-based
non-profit providing services designed to end child abuse, domestic violence and homelessness,
and Winter Park's National Sports Center for the Disabled, where he serves on its board of directors.
Barefoot Bronco Woodworking