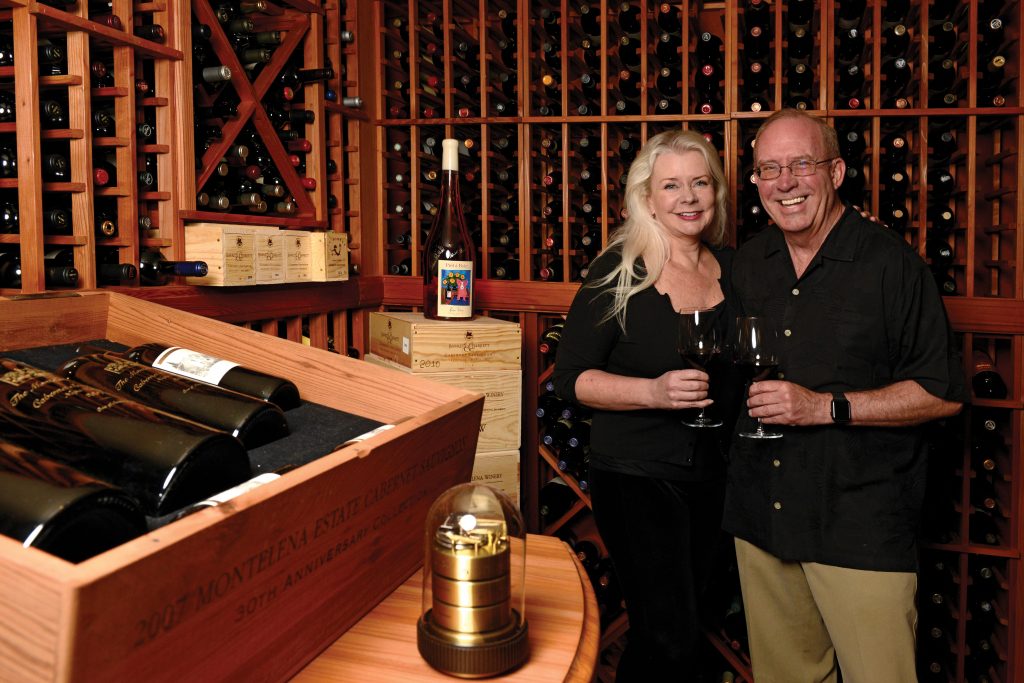 Step inside Ron Wolfe and Lisa Guess' wine cellar, which Wolfe custom-built, and you'll travel the world through fermented grapes. In reading labels alone, you'll become familiar with Bordeaux's Saint-Julien appellation in France via a bottle of 2000 Château Ducru-Beaucaillou; Alba, Piedmont, Italy with a 2010 Barolo; Stellenbosch, South Africa with a 2016 Reserve Chenin Blanc; and what feels like countless other winemaking cities and countries.
For Wolfe and his partner Guess, of course, their array of wine is easy to tally: The south metro residents have thoughtfully curated more than 2,000 wines from around the world.
They know the ins and outs of each bottle—and have no problem rattling off insightful tasting notes as they sample vintages with friends in the cellar's accompanying tasting room, also built by Wolfe. "You can tell a lot about a wine by its color, and smell is as important as taste," Wolfe says, offering the Heitz Cellar Martha's Vineyard Cabernet Sauvignon. The blocks of the vineyard this wine comes from are in proximity to eucalyptus trees that line the road and, while it's not a predominant aroma, you can smell it if you know it's there, he says.
"Lisa and I believe that collecting wine is a way of creating memories of people, places and special times in our lives," he continues. The visit to Stellenbosch, for example, was part of a two-week trip around southern Africa that also included a safari.
Wolfe's love and intricate knowledge of wine runs deep. He began the collection on his own 25 years ago, with Guess joining in when they met in 2005. Along the way, Wolfe has continued to keep things simple and approachable: "I have learned that the best wine in the world is the one you like the most on any given day, and that can be and likely is different for all of us."
The idea for their basement cellar came when the couple's collection outgrew their shelves and fridges. Now, their wine is stored at a set 60 percent humidity and 55 degrees, surrounded by lights on motion controllers that turn on when you enter the room. But it's not just a well-engineered space—Wolfe completed the cellar with personal touches commemorating the couple's journey with wine.
He scored redwood, for instance, that for a century had been in the cellar of Napa Valley's Chateau Montelena Winery, the couple's favorite winery, to use as a rack that holds and displays a prized Chateau Montelena bottle: a 2007 horizontal of Estate cabernet sauvignon valued at $4,000.
To help build their collection and sample new wines, the couple visits a wine region outside of the United States every couple of years. (They are hoping to join in on a harvest during a future trip). They also take wine-focused trips to Northern California wine country at least twice a year.
Wolfe, who works in the telecommunications industry, has thought about pursuing a second career in the wine industry once he retires, perhaps as a sommelier. Speaking of retirement: When that time comes, there's a special celebratory bottle awaiting him—a 1985 cabernet from Chateau Montelena.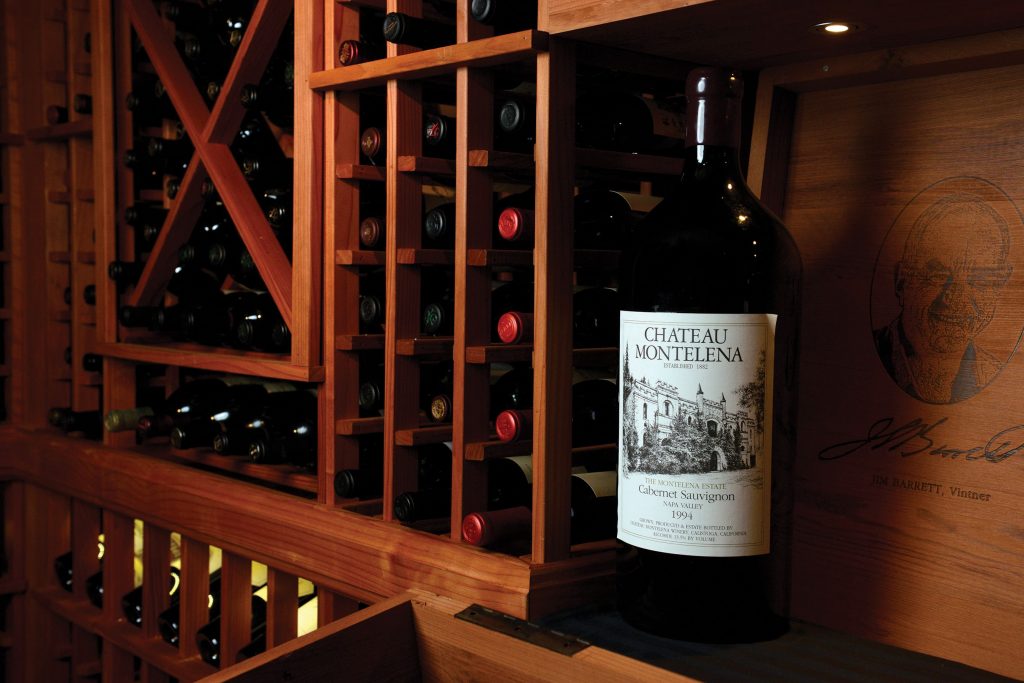 LIGHTNING ROUND!
Wolfe's quick wine advice.

Nearby restaurant with a great wine list: "Del Frisco's Double Eagle Steakhouse."
Best wine and cheese pairing: "Triple-cream brie with either a Brut Champagne or California pinot noir."
Best wine accessory: "A Coravin, which allows you to pour wine from a bottle without removing the cork."
WANT TO START COLLECTING WINE?
Follow Wolfe's five tips.

1. Ask a sommelier for help. "A sommelier is a wine collector's best friend," Wolfe says. "He or she can help by getting to know your tastes and suggesting new and age-worthy wines to try."
2. Make friends with people who appreciate wine. "Not only will they help you learn, but when they realize that you have an appreciation for wine, they just may find something special in the cellar to share with you."
3. Break the rules. Don't get caught believing there are hard and fast ground rules. For example, Wolfe says, "some might consider red wine with fish a poor choice, until you try a cedar-planked salmon with a nice pinot noir."
4. Don't just focus on aged or expensive wines. "Not all wine is made to age. In fact, the vast majority of wine consumed in the U.S. is opened the same day it is purchased, so wine producers make wine for that market, with a much smaller percentage focusing on wines that will be as good or better a decade or more later," Wolfe continues.

And don't immediately go for the most expensive selection on the menu; the price doesn't always justify the quality. "I often find great satisfaction in discovering an excellent bottle of wine at an affordable price," he says.

5. Don't judge a wine by its location. "When given an opportunity to try something new, don't hesitate. Keep an open mind and you will find that good wine can be made in the most unlikely places."