By John Lehndorff
Photos Courtesy of The Rouge Wine Bar & Patio

The Rouge Wine Bar & Patio is a Roaring '20s refuge for good friends, quiet conversations and
flights of great wines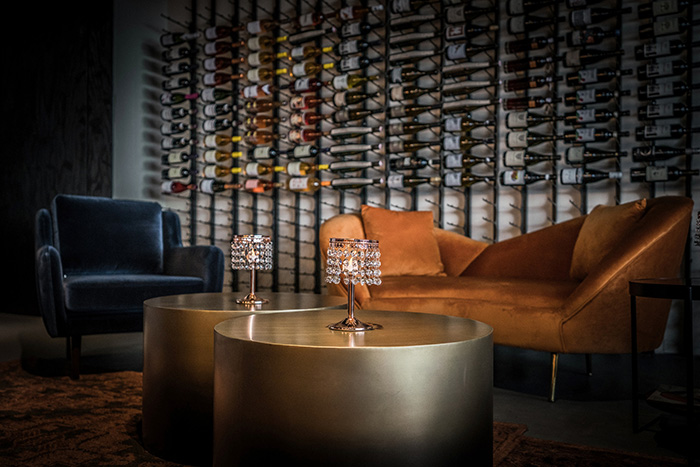 Pinball dings, bowling ball strikes, billiard smacks, rock music and crowds of people grab your ears the second you walk into Pindustry. The popular multi-story Greenwood Village entertainment complex was made to host a party. However, it was evident to guests that Pindustry did lack one critical feature of good hospitality.
"After Pindustry opened two years ago, the one question we got from our customers was: 'Can we go somewhere nearby where it's quiet to talk?'" says Chris Collins, culinary director of The Rouge Wine Bar & Patio. The Rouge is the answer the team behind Pindustry came up with. The wine bar opened recently in Pindustry's neighboring but separate—and very quiet—space.
Everything about The Rouge whispers comfy intimacy, from the sunken bar and multiple fireplaces to the velvet chairs; the gold, crystal and red decor highlights; and lots of twinkling lights. An expansive rooftop patio offers westward views, pergolas for shade and firepits for nighttime coziness.

"We wanted to offer a more sophisticated, quieter space with a great wine program and food to pair with it," says The Rouge's general manager, Ryan Graber.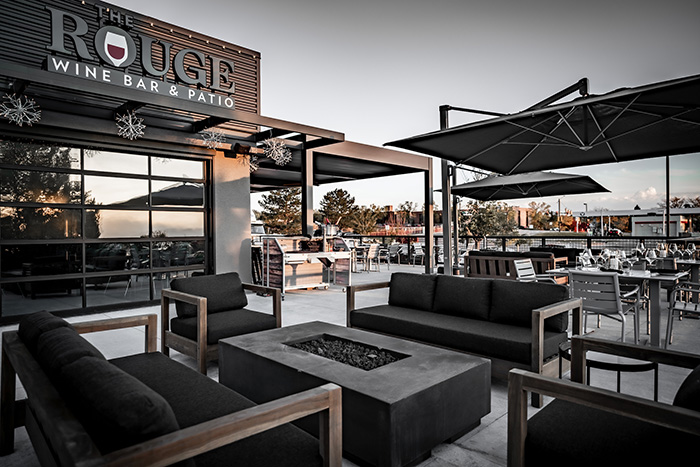 Just-Right Wine
With its retro speakeasy lounge vibe, The Rouge takes a stand against the pretentiousness wine bars sometimes exude. Rather than make guests feel insecure about their red, white and rosé savvy, The Rouge aims to make wine fun and accessible, Graber says. Its extensive list stands out locally because it offers more than 50 wines by the glass. That means there is a wine for almost any set of taste buds.

"One of my favorite interactions with guests is asking: 'What do you drink at home?' From there, I can build on flavor profiles they might enjoy. You want to give them a glass where they say 'Aha,'" Graber says. The key is tasting a few different wines. "If we have a wine by the glass, we're happy to have customers try it first to see if they like it," he says.
The Rouge also stocks an array of serious celebration vintages for big birthdays and business meetings. "We have some great wines for special occasions, some fine Burgundies and Bordeaux-style blends from California," Graber says. Naturally, bubblies of various pedigrees and prices are available chilled with fluted glasses.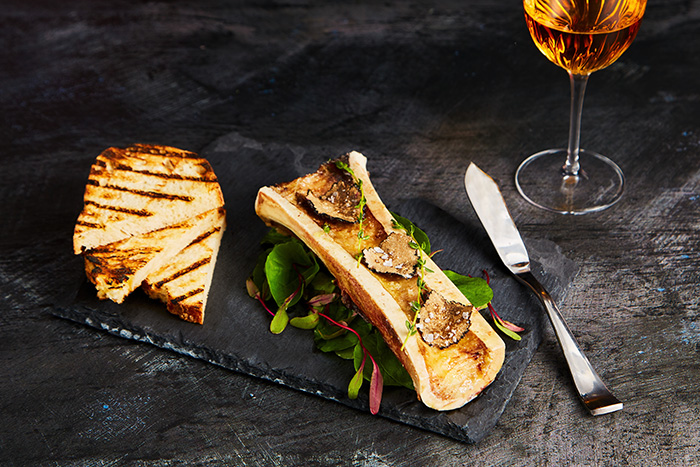 Wine-paired Fare
Le Rouge's shareables, small plates, entrees and desserts are served everywhere in the 5,000-square-foot space, including the comfy dining area and patio. "Our approach is to serve simple, high-quality dishes that are easy to pair with wine or cocktails," Collins says.
Tables can start with a charcuterie board or a series of big-flavor starters such as chile shrimp hush puppies or roasted Brussels sprouts with maple glaze and crispy pancetta.

One small plate is a real standout. Braver diners are discovering the joy of roasted 7X Farms wagyu beef bones served with ciabatta toast. "At the end of the day, it's just delicious beef with butter, and we shave black truffles all over it," Collins says.
The eatery's main plates range from roasted salmon and Bolognese sauce with cavatappi pasta to steak and show-stopping bone-in short ribs with gnocchi.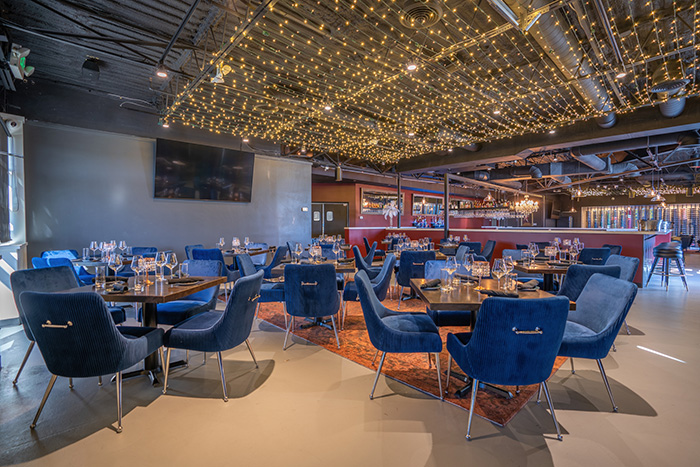 Saturday Brunch and a Big Show
On weekends, The Rouge transforms into a peaceful refuge where the bleary-eyed can tastefully awaken with biscuits and gravy, fried chicken, waffles, prime rib hash and eggs Benedict. The brunch entrees can be paired with wine or bottomless mimosas, bloody marys and micheladas.
The Rouge's Drag Brunch every other Saturday is already so popular that advance reservations are required. "We've got a good group of performers," Graber says. "They are always decked out in '20s-style flapper dresses for the performances. It's a hit."
The Rouge is already tweaking its program to make it even more accessible with Wine Wednesdays, which offers a free 10-inch cracker-crust pizza with every wine bottle ordered. The midweek evening will feature live music, but Graber and Collins promise it will definitely not be loud music.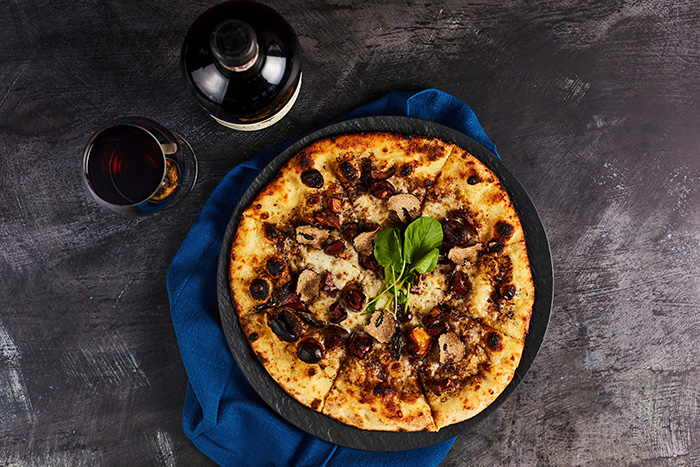 The Rouge Wine Bar & Patio
7939 E Arapahoe Rd.
Greenwood Village
720.864.9463
therougewinebar.com