By Kim D. McHugh

Get a taste of what LUXURY RAIL TRAVEL was like at the advent of the 20th century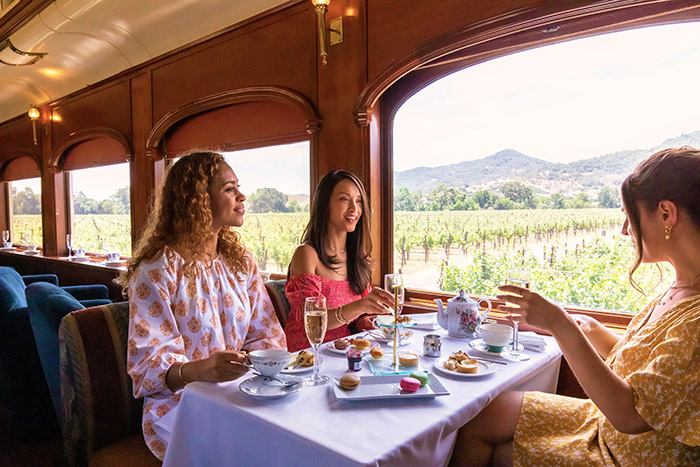 Photo Courtesy of Napa Valley Wine Train
Napa, California, world-renowned for its acclaimed wines and oft-toured wineries, gives visitors a memorable way to learn more about the valley's history and enjoy its bounties—the Napa Valley Wine Train. Passengers boarding this historic train discover that the rail line was funded in 1864 by Samuel Brannen, San Francisco's first millionaire, and built to transport wealthy guests north to his spa retreat
in Calistoga.
The Wine Train offers numerous experiences that take travelers on a three-hour journey from Napa to St. Helena. Stretching 36 miles, the round-trip adventure features elegant lunches and dinners, Murder Mystery evenings and seasonal rides, including Thanksgiving and the Santa Train Jolly Journey. Once you've decided on which trip to enjoy—the Legacy Experience, Gourmet Express, Tasting on the Rails, Chandon Secret Garden Afternoon Tea, Grgich Hills Estate Tasting, Grape Stomp at Grgich Hills or Vista Dome—it's time to board, sit back and savor both the scenery and the culinary delights.
Masterfully renovated to showcase Honduran mahogany paneling, etched glass partitions, beautifully upholstered chairs and tables adorned with white tablecloths, the 1015 and 1100 Pullman dining cars, built in 1915 and 1917 respectively, transport riders on the Gourmet Express trips. Similarly restored to their 1915 glory days are the 1017 and 1018 Pullman lounge cars, with plush armchairs and banquette seating areas inviting patrons to relax and enjoy the countryside while sipping bubbly or locally produced wines. Also stylishly refurbished are the 1013 Pullman passenger car and 1101 Pullman car, with interiors that create a welcoming atmosphere.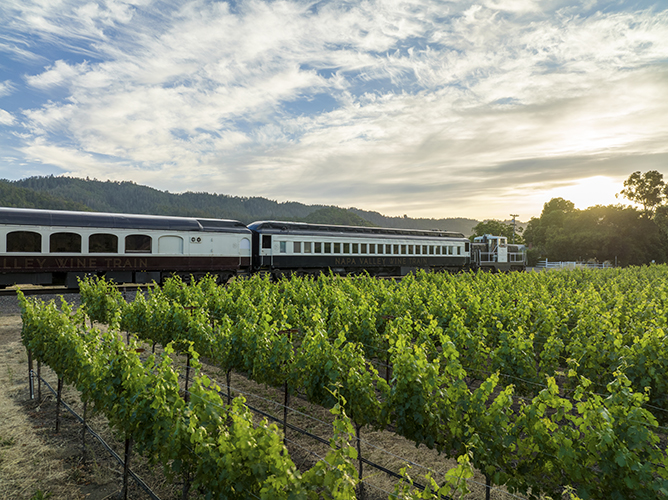 Photos Courtesy of Napa Valley Wine Train
A special treat is riding upstairs in the 1085 Pullman Standard Dome Car. Built in 1952, it, too, has etched glass partitions, tables draped with white tablecloths and banquette seating. Guests traveling by day savor their meals accompanied by exceptional vistas of the vineyards. Regardless of where you choose to wine and dine, prepare to be blown away by inspired cuisine.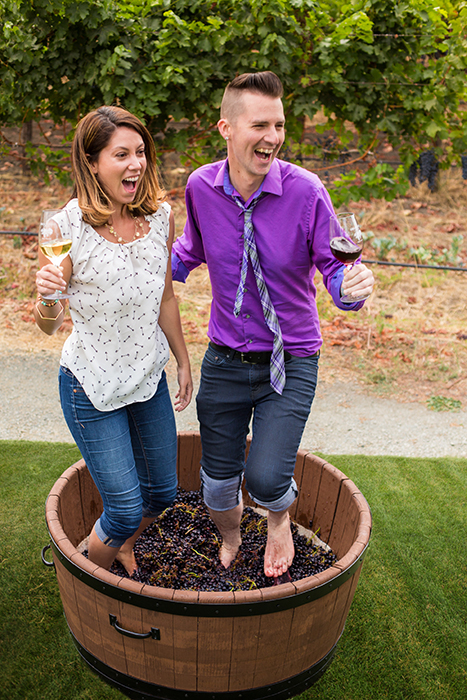 Photo Courtesy of Napa Valley Wine Train
"The Napa Valley Wine Train follows the same fine dining standards you would expect to see at an award-winning restaurant and prioritizes using local and seasonal ingredients. Our culinary team prepares multi-course menus to order in the train's kitchen cars so we can serve dishes the second they are ready," says executive chef Rodrigo Cuadra.
Risotto, pasta with vegetables, grilled beef tenderloin, ricotta cheese gnocchi, roasted citrus garlic chicken, pan-seared duck breast, squash polenta, yam ravioli and smoked salmon crêpes satiate tastebuds. Starters such as cambozola apple salad, soup du jour, bibb lettuce salad with blue cheese and shaved fennel, pan-seared scallops, rabbit confit and a charcuterie board with seasonal veggies, artisan cheeses and finely sliced meats are popular as well.
"Every day, my team and I aim to give guests the best dining experience possible to create unforgettable memories with us," Cuadra says. "The cherry on top for many of our guests is when our team strolls through the dining cars toward the end of meal service to touch tables and show our appreciation for them coming aboard."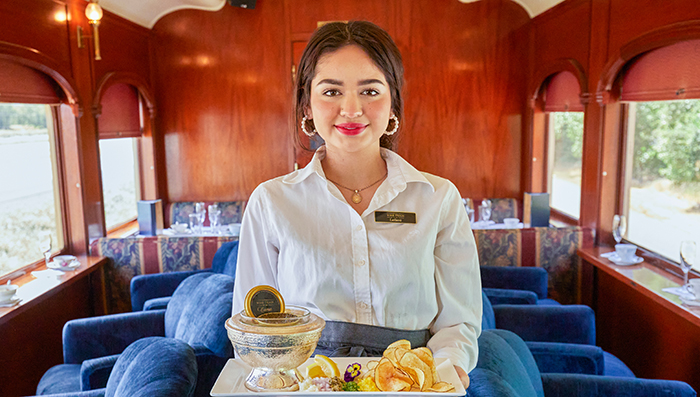 Left: Photo Courtesy of Napa Valley Wine Train | Right: Photo Courtesy of Inn at Salvestrin
MAKING A STAY OF IT
There are a variety of quaint spots to stay during your wine train getaway.
Napa
The Meritage Resort and Spa
707.251.1900
meritageresort.com
Archer Hotel Napa
855-200-9052
archerhotel.com/napa

Yountville
Bardessono Hotel and Spa
707.204.6000
bardessono.com
Lavender – A Four Sisters Inn
707.944.1388
lavendernapa.com
St. Helena
Alila Napa Valley
707.531.7062
alilahotels.com
Inn at Salvestrin Winery
707.963.5105
salvestrinwinery.com
OFF THE RAILS
There's more to see and do when you're not riding the rails.
Di Rosa Center for Contemporary Art
dirosaart.org
Grapes and Gears
napavalleybiketours.com
Cooking Classes
ciachef.edu/cia-california
Even more to see and do visitnapavalley.com