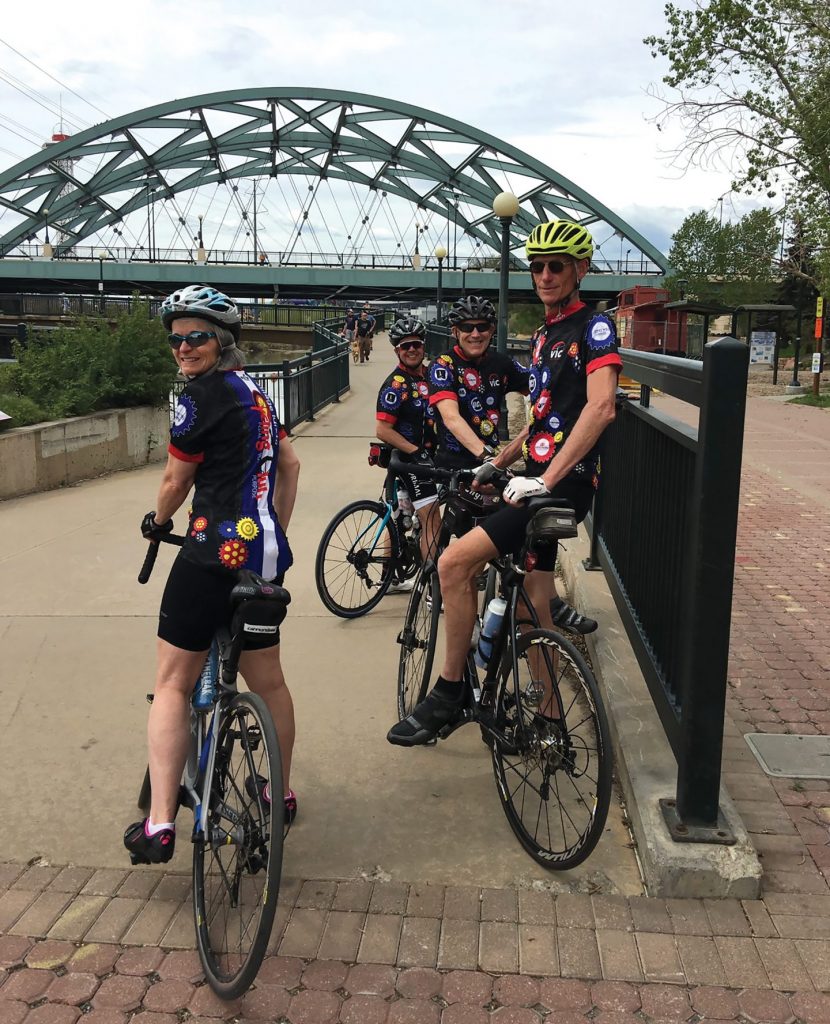 In 2007, a dozen or so friends gathered to ride the annual Courage Classic Bicycle Tour, a three-day ride benefiting Children's Hospital Colorado. In 2020, that same group of friends sit as the founders of something they had no idea would form from that one philanthropic whirl—a proper 501(c)(7) nonprofit that has raised nearly $200,000 for charity while, still roadies at heart, cycling well over 100,000 miles.
Though the organization—named the Village Idiots Cycling Club after The Village at Castle Pines, where its original members and most current comrades call home—has grown immensely over the years, the now 60-plus members are still bound together by three core values: pedal, play and purpose.
PEDAL
The Village Idiots rally for roughly 100 rides a year during peak cycling season (mid-April to early/mid-September, depending on weather), says current president Doug Waltermire. That schedule stopped for about two months during the COVID-19 shutdown, but they've been back at the handlebars since May. "Our group rides provided a great opportunity for people to socialize at a distance while still doing something to maintain their physical health," says Waltermire. "If anything, I'd say that we have had greater than normal participation since we recommenced with our club rides."
In the last 13 years, the group has explored the state's main attractions, like Tomah Road near Larkspur and Lookout Mountain in Golden. Their weekly scheduled rides (new members welcome!) take into account elevation gain, length, difficulty and, you guessed it, fun—with dawn and evening rides, rides for rookies, conditioning and more.
PLAY
When they aren't spinning, the bunch is getting together for ad hoc happy hours and meetups, a number of annual parties and, the event du jour for Waltermire, a yearly four-day, out-of-town biking trip. Over the years, the adventure has taken the throng to destinations like Aspen; Steamboat Springs; Moab, Utah; and Sedona, Ariz. "We tend to be people that are active and enjoy each other's company," Waltermire says. "We like to have a good time, but with an awareness that as a group we can do better things than just play."
PURPOSE
And it's those better things that made the party a 501(c)(7). They started as a cycling crew riding to benefit the Children's Hospital, but when the nonprofit designation become official in 2014, The Village Idiots wanted to contribute to a smaller, local cause where they could have a bigger impact. They found the Help and Hope Center, a Douglas and Elbert counties task force providing assistance to residents contending with economic crises, and haven't looked back. Each year, half of Village Idiots members' fees go to the center and cyclists volunteer.
They also adopted a one-mile stretch of South Havana Street and do an annual bike drive for Project Recycle, which gifts refurbished bikes to underprivileged kids, along with education to inspire giftees to embrace the responsibility of taking care of their own rides.
"Whenever we put out a call for volunteers, numerous members step up," Waltermire says. "People really seem to want to be a part of something that does community good. Whether it's a used bike drive for Project Recycle, helping the Help and Hope Center with their annual food drive or picking up trash along our adopted roadway, members always seem to get a great sense of satisfaction in helping out."