Household appliances have come a long way since Miele introduced its first product—a mechanical butter churn—in 1900. Today, the German company is a household name within the realm of luxury appliances, along with brands like La Cornue, Gaggenau, Dacor, Sub-Zero, Wolf and many others.
"Manufacturers keep adding more and more electronics to their products, to make life easier, like more connectivity and integration with apps," says Libby Hull with Specialty Appliance, "and they're competing with each other to be at the top of that game." Some examples of these creative new products include Dacor's WineStation that holds and dispenses four bottles of wine, using pressurized argon gas to keep the wine fresh, and Miele's dishwasher that uses its own detergent disc, dispensing the right amount based on the cycle you choose so you're not wasting detergent.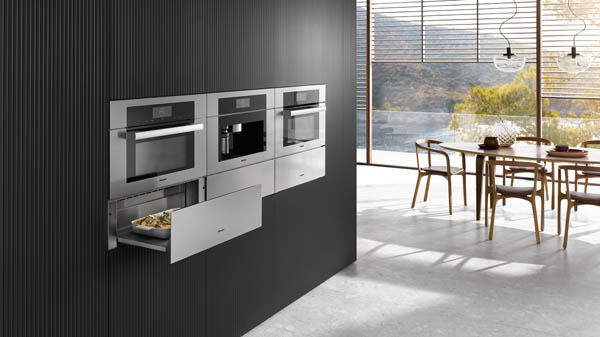 Here's a sampling of other new offerings in luxury appliances:
Ranges/Cooktops
Recent reports about older gas stoves emitting harmful pollutants into the air have consumers searching for alternatives. "I've had many customers talking about getting away from gas appliances due to health concerns," says Hull. "We're selling a lot of induction cooking appliances."
Induction cooking uses electromagnetic fields to create heat, which then transfers to the pot. The induction method cooks food faster, using just 22 percent of the energy consumed by an electric resistance stove. Investing in induction might also mean buying new cookware, though, as pots and pans must be magnetic. (To test yours, see if a magnet sticks to the bottom.) Wolf makes induction cooktops with a "bridge" feature that joins two cooking zones together to create a larger surface area, like to employ as a griddle.
Maureen Ledwell of Mountain High Appliancesays ranges with a sous vide hob, like the one from Signature Kitchen Suite, are also gaining in popularity. "You don't need a separate sous vide unit taking up valuable counter space," she says. Vacuum-sealed foods can simmer in their water bath for 48 hours or more, and you can check the progress from anywhere, using an app.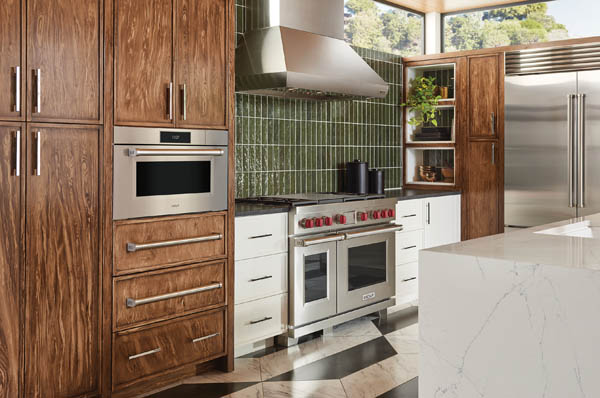 Ovens
Shane Beasley of Mountain High Appliance loves the electric hearth ovens from Monogram; he even created a pizza-making video for the company's YouTube channel. "With a hearth oven," he explains, "you're getting a wood-fire experience, but inside, not out, and there's no wood or fire." At temps reaching 800°F or more, a Neapolitan-style pizza takes only 2 to 3 minutes, but you can also use it to cook other foods, like lasagna, whole fish and bread.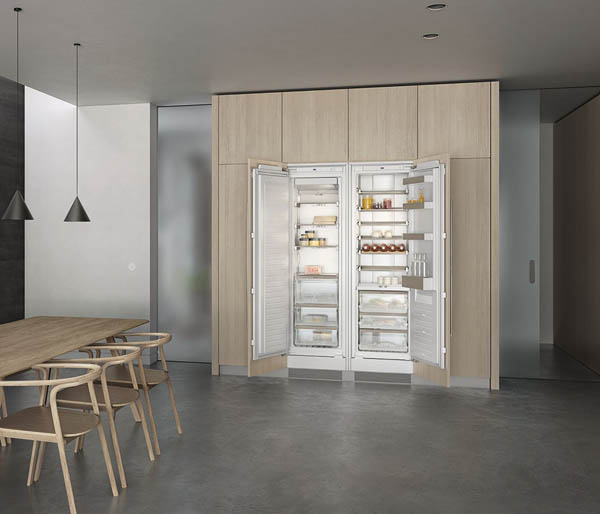 Refrigerators
"Smart" fridges continue to be popular, says Beasley. He especially likes Dacor's Heritage Column Refrigeration Collection, which has two cameras inside that snap photos each time the door is closed. "Using the app, you can look inside without opening it," he explains. And when you see you're out of something? Just tap that ingredient to add it to your grocery list or send it directly to your favorite grocery ordering/delivery app.
Newer fridge technology also helps keep food fresher, says Hull: "Sub-Zero offers an air filtration system that makes it possible to store your food two to three times longer than in other refrigerators."
All of these new, advanced-technology appliances are great for consumers, but the problem now is pandemic-related delays. Because luxury appliances have more features and components than the lower-end ones, many are taking 9 to 13 months to come in, so it's best to order them far in advance of when you think you'll need them. "Get in line now," advises Ledwell. "Don't wait until yours is broken."
6905 S. Broadway, Littleton
8775 E. Orchard Road, Greenwood Village