The best way to discover just how much there is to swoon over in the South Suburbs is to talk with neighbors who have explored where you haven't. Lend an ear to these three locals.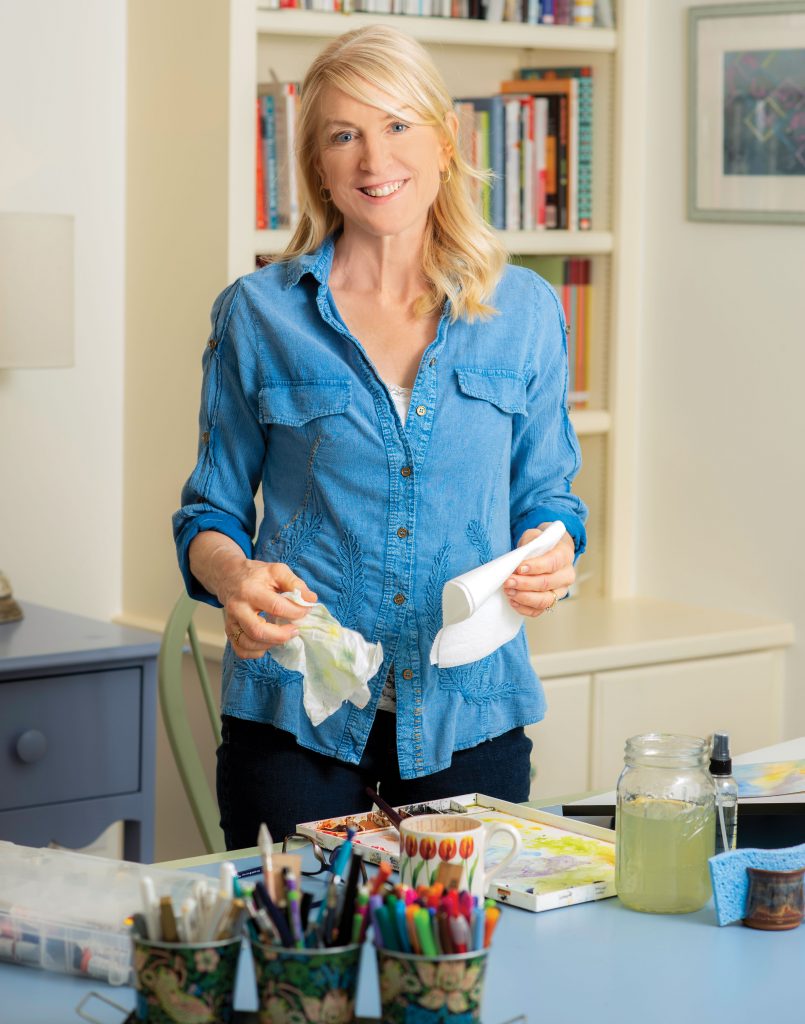 RENÉE REESE, GREENWOOD VILLAGE
By Laurel Thompson
Artists of all mediums flock to Colorado for the scenery and endless sources of inspiration. As far as Renée Reese is concerned, Greenwood Village is that ideal creative space. The watercolor artist, calligrapher and instructor at Curtis Center for the Arts and Curate: A Local Mercantile decided to call Greenwood Village home with her husband in 2014 when he took a job at Coors Brewing Company.
Of all the things the area had to offer, Reese says it was the warmth of the people, the overwhelming sense of community and, of course, the arts center that has kept the couple here after her husband's retirement.
ONE WAY YOU MEET YOUR NEIGHBORS
"I actually carry my Hopscotch Art greeting cards with me so when I really connect with someone new, I can give them a card. It's a nice way to form relationships."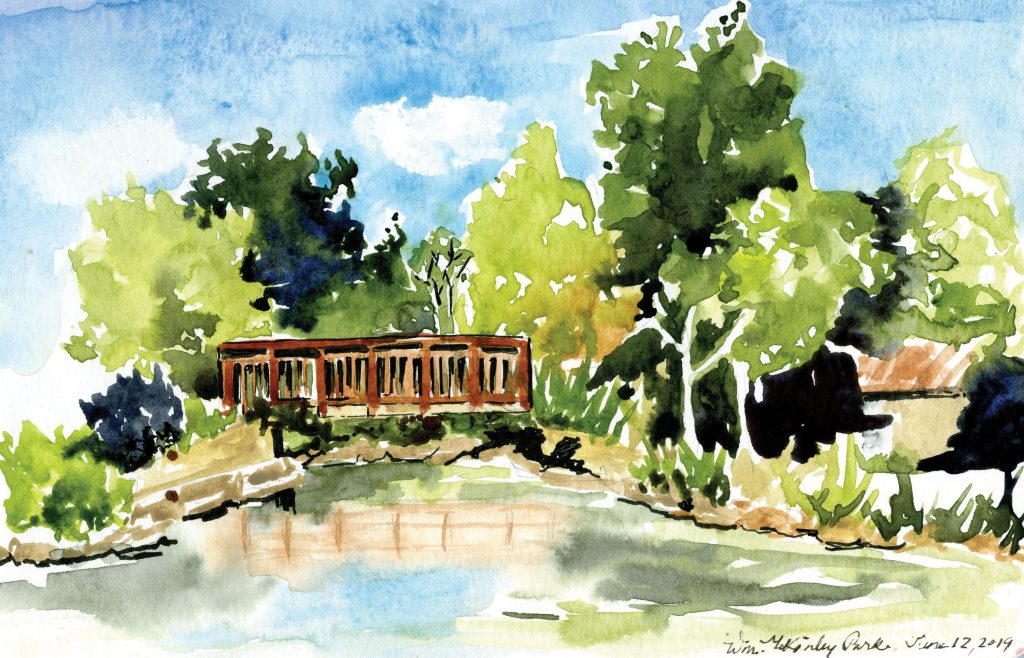 THE NEARLY PERFECT PARK
"William McKinley Carson Park is a beautiful gathering place. I teach a watercolor sketchbook class there every April, May and June. Students can draw the gazebo, goslings, the water under the bridge, the people and an urban environment, because you can see the Denver Tech Center. You can also see the mountains."
WHEN YOU WANT TO GO ON A SERIOUS HIKE, YOU HEAD TO …
"Saint Mary's Glacier trail near Idaho Springs in Arapaho National Forest. It's so exciting because you're hiking through evergreens and can't really see where you're going until you reach the top—you go over a hill and there is this massive glacier."
BEST VIEW IN TOWN
"When I'm running errands in Greenwood Village, I find the view at East Belleview Avenue and South Holly Street captivating. You look west and get a humbling scene of the Rockies. You really have to try and keep your eyes on the road—or pull over to take it all in."
THE CHOICEST CUP OF COFFEE IS …
"At Caribou Coffee off of East Hampden Avenue, which has a warm and cozy atmosphere. My favorite order is the Mint Condition Mocha. The drink tastes like a hot version of mint chocolate ice cream. It's wonderful on a cold winter day."
WHAT'S YOUR GARDEN SPOT?
"I find myself at The Hudson Gardens and Event Center often. I go in the summer with a sketchbook to draw lily pads. It has a lot of the same things Denver Botanic Gardens has, but on a smaller scale."
BEST RESTAURANT
"I'm a super casual person who enjoys simple plates. Sazza has so many tasty pizza combinations I wouldn't think to make myself. I also have celiac disease and they have a really good gluten-free crust, which is hard to come by. One of my go-to items in fall is the seasonal pizza topped with pumpkin, but my year-round dish is the Verdi pizza with garlic oil, four cheeses, spinach, sun-dried tomatoes, artichoke hearts, pine nuts and roasted criminis, finished with a balsamic reduction."
TASTIEST DISH IN GREENWOOD VILLAGE
"If I had to pick one thing, I choose the Blackened Shrimp Risotto at YaYa's Euro Bistro [available seasonally]. To follow up, I like to order the gluten-free Crème Brûlée Trio with chocolate, vanilla and seasonal berry."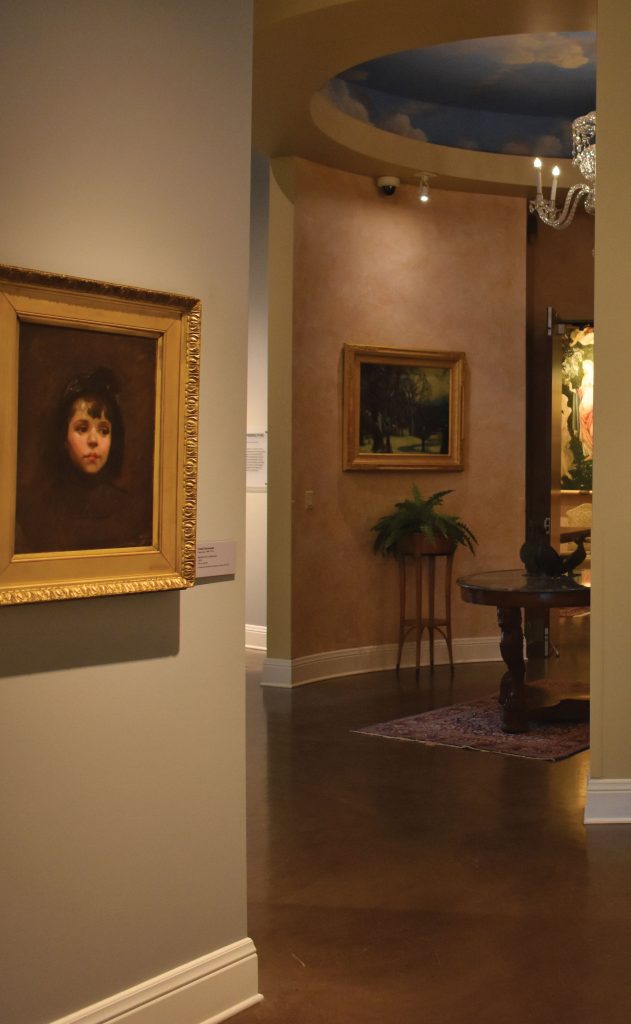 YOU GO TO DOWNTOWN DENVER TO …
"Browse Larimer Square. My son used to live downtown, so we'd get together and grab a bite to eat, drink coffee and do a little window shopping."
HIDDEN GEM, REVEALED
"Everyone should experience the Madden Museum of Art near Fiddler's Green Amphitheatre. If you're going to a concert, get there a few hours early (before parking is taken) and check out the exhibits. Right now the museum is showing In Motion: Selections from the University of Denver Art Collections, on display through May."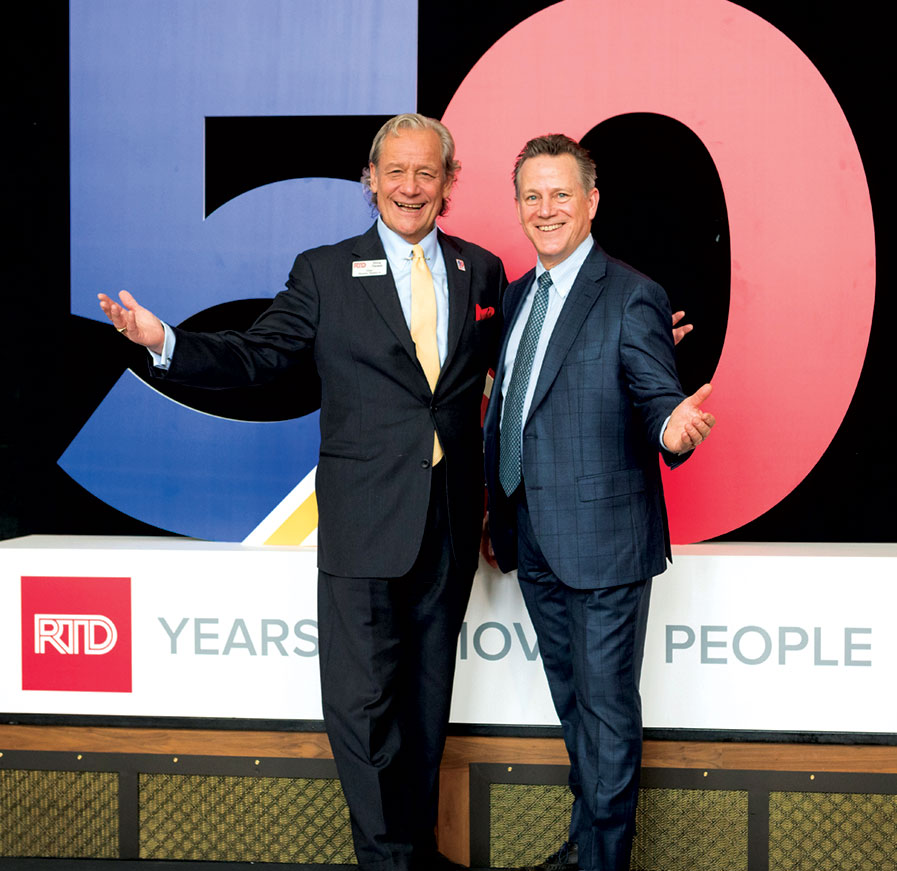 DOUG TISDALE, CHERRY HILLS VILLAGE
By Kendall Kostelic
It was St. Mary's Academy—and snow— that made one of Doug Tisdale's childhood dreams come true. Back in 1987, Tisdale, his late wife, Patricia, and their son and three daughters lived in Arvada. The Tisdales had enrolled their three girls at St. Mary's, but a harsh winter was making it nearly impossible to get the trio to class. "Because of snowstorms, their bus would often be two to three hours late," Tisdale recalls.
The solution: move to the suburb Tisdale has fancied since he was young to get the girls closer to school. "When I was a boy, my parents and I took a road trip from Detroit to Denver. My parents had friends in Cherry Hills Village, who took us to the Cherry Hills Country Club for lunch," he says. "Sitting out there, looking at that view, I decided I was coming back here."
Tisdale has called Chez Patrice, his abode in Cherry Hills Farm, home for more than 30 years. He's been on the Cherry Hills city council, served as mayor and is now the Regional Transportation District director for District H (which includes Cherry Hills Village, Greenwood Village, Centennial, Littleton, Columbine Valley and Highlands Ranch) and executive vice president of the South Metro Denver Chamber of Commerce. He spends his free time auctioneering at charity events, performing on the theater stage and reveling in the uniqueness of his city.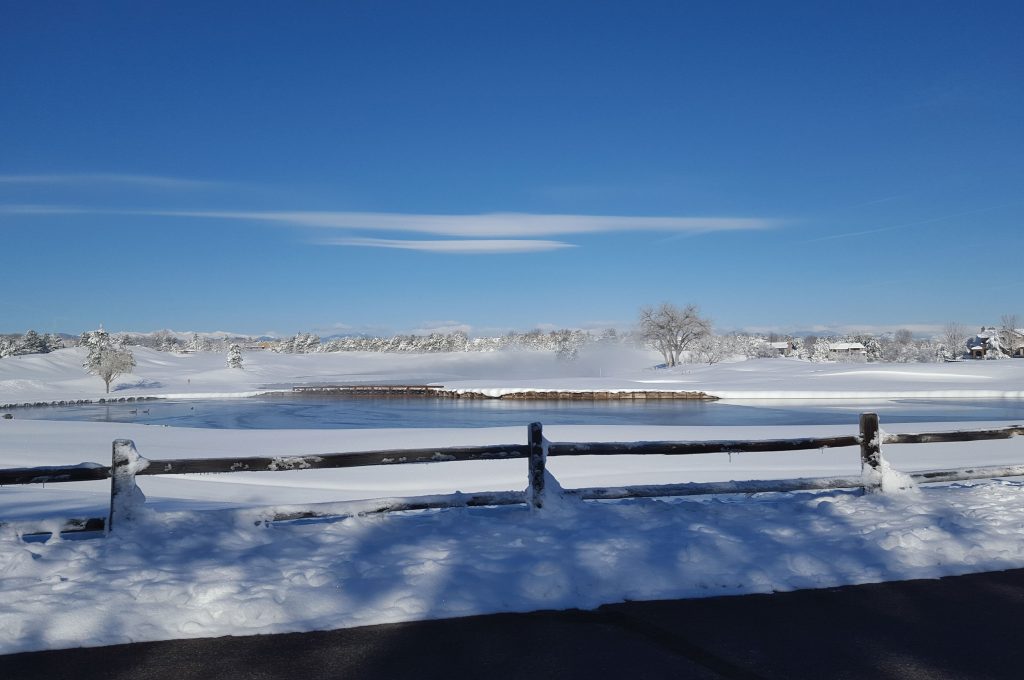 THE NEARLY PERFECT PARK
"The Alan Hutto Memorial Commons, in John Meade Park, is something I'm proud to say I was able to negotiate as mayor. The Huttos lost a son from disease at a very young age. He was an enthusiastic young boy who was very into the arts. The Huttos also owned acreage by city hall that was vacant. I came to Mr. Hutto wanting to use that land to create a simple performance venue in Cherry Hills so, for example, other kids could have an open-air space to put on shows. We named it after his son."
BEST VIEW IN TOWN
"It's always fun to fly back into Denver at night because you see all of the city lights and then this sort of black hole, and that's Cherry Hills Village. We have very few city lights—only about six streetlights to be exact. We have a nice view of the stars."
FAVORITE WINTER ACTIVITY
"My home sits on a hill at the edge of a park. Shortly after we moved in, I found out neighborhood kids like to sled down that hill. Before I ran for city council, I was the Grumpy Old Man about it. When I got into government, I'd bring the kids hot cocoa, give them my card and say, 'When you go home, tell your parents the mayor said you can come here anytime you want, but just be very safe.' It still happens today."
BEST RESTAURANT
"Pino's Place. Pino is from Italy and used to have a restaurant in Miami, which was the restaurant for the Miami Dolphins. Pino's has great food, but also a fabulous wine collection: If you're looking for a good meal but even better wine, Pino's is the place."
THE CHOICEST CUP OF COFFEE IS …
"The Campfire Mocha at Caribou Coffee."
WHERE DO YOU GO FOR DATE NIGHT?
"For that, I go downtown to The Palm. It's where I enjoyed one of the last meals with my late wife. I'm a member of the 837 Club. One of the perks is, when I go to any other city that has a Palm, I can call Denver's Palm and have them make a reservation for me. When I get to the new location, it's like I'm family."
PEOPLE WOULD NEVER GUESS THAT CHERRY HILLS …
"Has a shopping center. The stores across South Lafayette Street from the Cherry Hills Medical Plaza create the only retail base in Cherry Hills Village. Most people figure that the area is in Englewood because it's off of East Hampden Avenue, but it's actually a little corner of Cherry Hills. I changed the green Englewood street signs to red Cherry Hills signs when I was mayor. You can also see a sign on the intersection's lamp post that indicates the city limit."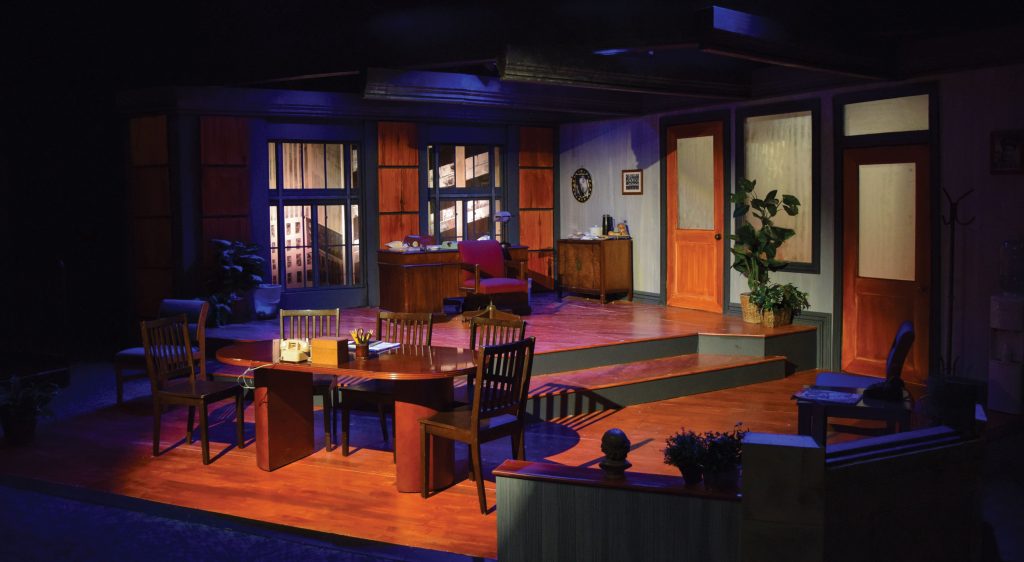 A MEMORABLE STAGE
"Parker Arts' The Schoolhouse on Mainstreet. It's tiny, but I've performed my favorite role there: Two years in a row I played Ebenezer Scrooge in A Christmas Carol."
HIDDEN GEM, REVEALED
"Cherry Crest Seafood Restaurant and Market has a special New England Style Steamer Bucket. They want you to call to order the pot 24 hours in advance. The dish has two lobsters, shellfish, another fresh catch or shrimp, corn and potatoes. You take it home, pour in two cups of water—or I prefer a can of beer— let it cook for about 25 minutes and enjoy."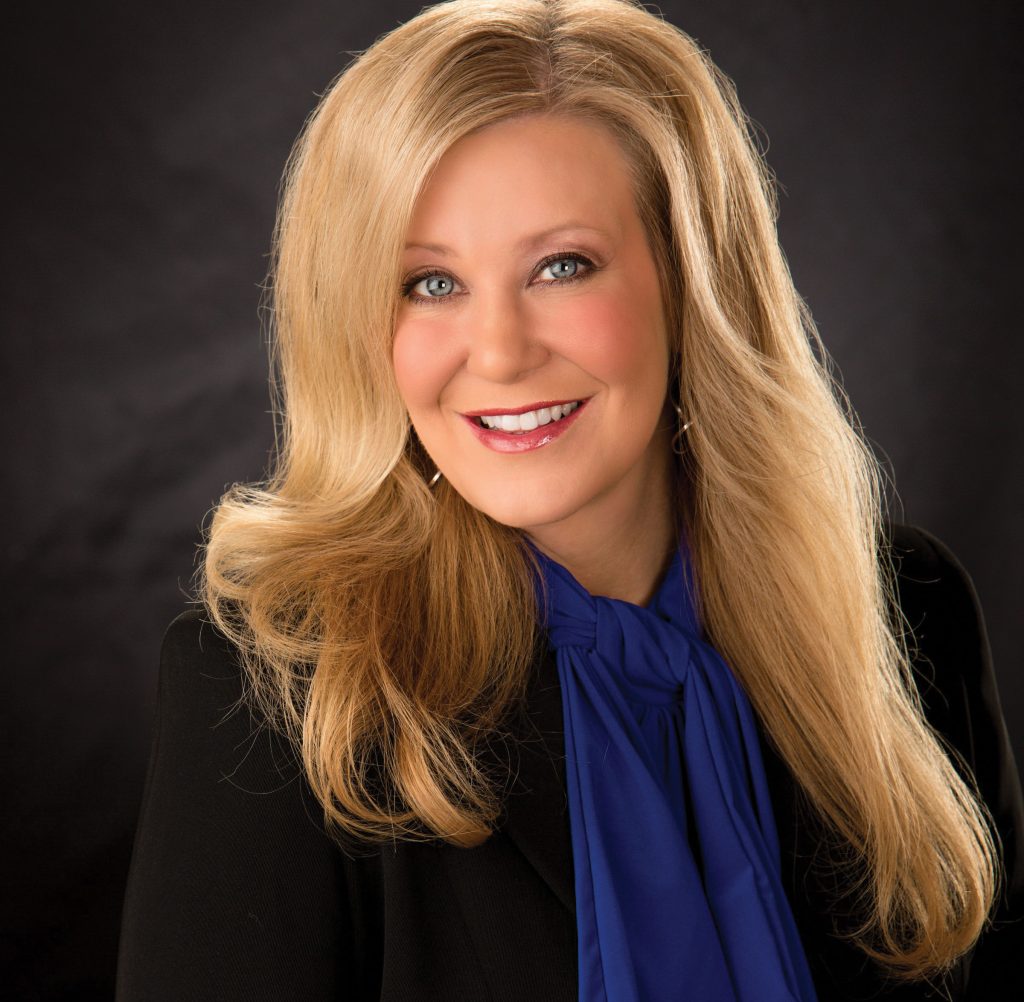 KRISTI STEARNS, CASTLE PINES
By Brittany Anas
Suffice it to say Kristi Stearns knows her neighborhood (and neighbors!) well. Every month, The Village at Castle Pines resident organizes several neighborhood activities—happy hours, movie outings, rounds of golf, you name it—for more than 550 members of her Castle Rock Social Gatherings group. Stearns, an insurance agent and mother of twin girls, started the get-togethers in 2016 for women of all ages so, together, they could explore everything the area has to offer.
"I tell everyone this is my favorite place to call home and I am so glad that I settled down here," says Stearns, who moved from Manhattan Beach, Calif. to Castle Pines in 2011 for her job. She's accumulated quite the local treasure map.
FAVORITE WINTER ACTIVITY
"Sledding on the big hill at the corner of Monarch Boulevard and Castle Pines Parkway. It's the best hill in the neighborhood and has become pretty popular. My twin two-year-old girls are a little too young for sledding this year, but I'll be taking them next winter."
WHAT'S YOUR GARDEN SPOT?
"Serenity Garden inside The Village, cared for by The Village Castle Pines Garden Club, looks gorgeous all summer long. It's right by my house: I push the girls' stroller around there often. The xeriscape garden has a variety of plants and flowers, like Colorado Gold gazanias and Sunset foxgloves. They label everything, which is great if you're a novice gardener and want to see what grows well in Colorado. There's also a pond where people can fish and a nice picnic table."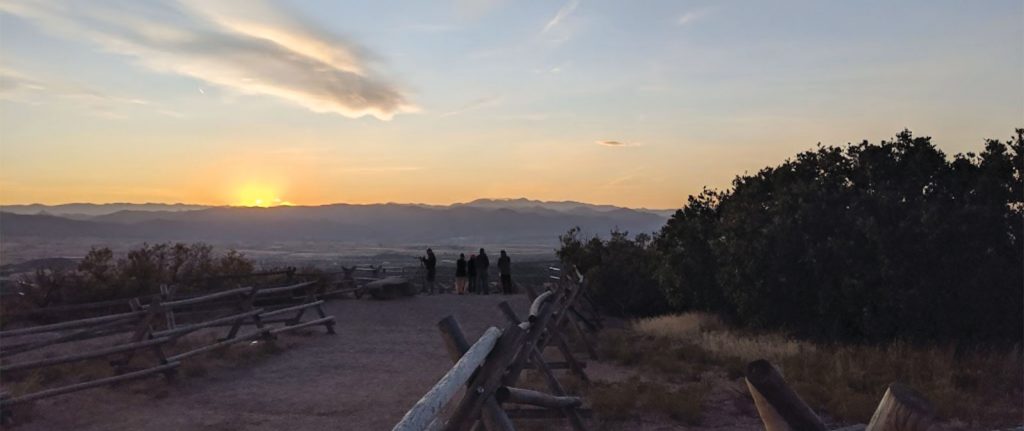 THE NEARLY PERFECT PARK
"Elk Ridge Park is probably the best park in Castle Pines, but Retreat Park is a bit of a hidden gem. Both have fun playground equipment for kids. Elk Ridge Park simply has everything: There's a splash pad and plenty of paths to take a nice walk, spots to set up a picnic and a pristine athletic field."
WHEN YOU WANT TO GO ON A SERIOUS HIKE, YOU HEAD TO …
"The path from Coyote Ridge Park that follows along Monarch Boulevard down to Highlands Ranch for either hiking or a bike ride. My favorite time to go is in the fall. It's a little cool and you get to see some vibrant fall colors."
BEST VIEW IN TOWN
"I like the lookout in Daniel's Gate Park. You can head to the edge of the hills there and see the entire valley, all the way out to Roxborough State Park. There is also a spot on Hess Road between Castle Pines and Parker where you can see past the Denver Tech Center to downtown in one direction, with the Rocky Mountains behind it all, and Pikes Peak in the other direction."
BEST RESTAURANT
"Duke's Steakhouse for dinner. The Seafood Pasta with shrimp and scallops is to die for. I also love Miyo Café for breakfast and lunch. I usually end up there a couple times a week before work for eggs Benedict."
COMMUNITY EVENT YOU ALMOST NEVER MISS
"Castle Pines' Party in the Park. It's a family-friendly event held every August in Elk Ridge Park that even has fireworks."
CASTLE PINES VS. DENVER
"Castle Pines all day long and twice on Sunday! I do like to go to Denver for the zoo, though."
CAN'T MISS HAPPY HOUR
"Castle Rock's Union has great drink and food deals. The margaritas are a go-to, as are the mussels."
*Correction: This article previously stated that Doug Tisdale moved from Aurora to Cherry Hills Village. He moved from Arvada to Cherry Hills Village.