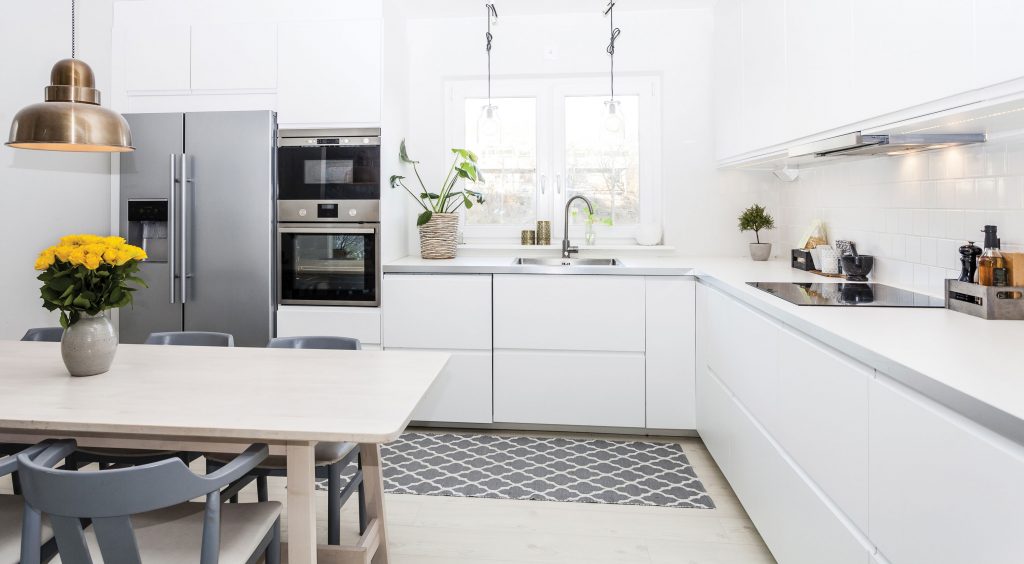 Keeping an organized kitchen can seem like a never-ending battle—one that lost Tupperware lids win far too often. So what is the secret to creating and maintaining a clean, efficient cooking and eating space? First, seek out a professional personal chef like Ire Evans, who cooks daily meals and dinner party menus for residents across the south metro area and Denver through her company Green Cuisine. Next, ask for tips: Working in multiple kitchens every week has taught Evans a lot. Then, take your kitchen by storm.
OVERALL, LESS IS MORE
We tend to crowd both our cabinets and counters with things we don't actually need. Rather than housing loads of special equipment and an endless amount of dishware, Evans recommends sticking to the absolute essentials. Her primary cooking toolkit at home, for example, consists of just pots, pans and mixing bowls in small, medium and large sizes. Same goes for the countertop: Evans prefers hers unadorned.
DONATE WHAT YOU DON'T USE IN THE NEXT 30 DAYS
If you cook often and haven't used a piece of kitchen equipment in a month (such as a pasta machine), seriously consider handing off the tool to someone else. For sentimental pieces you only bring out on holidays, have a set spot to store them where they won't get in the way of daily kitchen use.
GET CLEVER WITH CABINET SPACE
Store the items you cook and bake with on a regular basis closest to the stove, even if that means rethinking your current setup. "This allows for efficient preparation and will make clean up easier," says Evans.
With spices, for instance, Evans knows that most meals use a combination of a few seasonings—thyme, oregano, rosemary, basil, cumin, paprika and garlic powder—so she ensures those are always close by. For the rest of the kitchen, follow the phrase like goes with like. Also think: How can I make this space work for me? Efficient cooking is all about strategy. In your kitchen, you are the operative.
PLAN AHEAD
Avoid buying in bulk unless you are preparing for a big event. Also, expiration dates are your best friend, Evan says. Label and date anything that goes in a storage container (leftovers, flour, etc.) to ensure you use it before it goes bad or, for dry goods, stale. Back to spices: Most only have a six-month shelf life, so be ready to replace the necessities. Haven't used a spice within that time frame? Toss it.
TO TEST YOUR SETUP, CLEAN
"Organization is all about creating habits," says Evans: If everything has a designated spot, cleaning should be simple.
GO TO THE PRO
Green Cuisine
720.746.8641