Vintage bridal gown trends with a new twist… I mean lace
The historic romance of bridal lace is as potent as ever. It is bridal's biggest mainstay, and to reinvent its traditional wheel proves challenging. But designers are up for the task with laser-cut laces and graphic embroidery to statement motifs and all the re-embroidered and three-dimensional options in between, there are countless new ways for brides to wear lace.
Whether you're a boho, modern or classic bride, there's a new take on lace that's far beyond basic Chantilly to suit any style. One brand that's been turning heads since 2010 is Grace Loves Lace. Created by Megan Ziems, these gowns are flowy, with easy-to-wear fabrics. Mixing comfort with style, the brand ensures breathable fabrics with stretch and versatility through details like elastic waistbands and bias-cut fabrics. Her unique, free-spirited and timelessly sophisticated luxe wedding dresses handmade from only the finest French laces and silks and are ethically made in Queensland, Australia.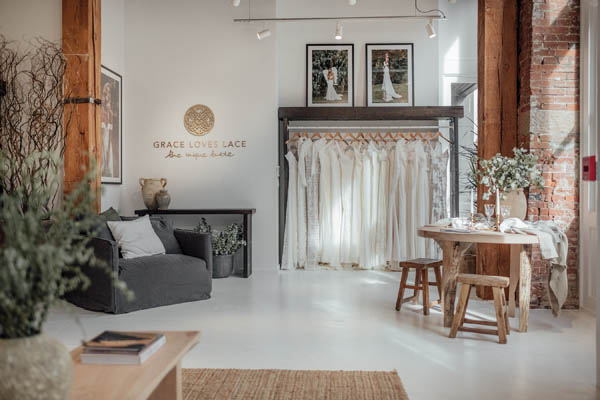 Plus, with its new Dairy Block location, dotted with bridal industry retailers like Sarah O. Jewelry and Pickletown Flower Co., the showroom is a shopping destination for Colorado brides-to-be. "Coupled with the many bridal industry partners throughout Dairy Block, this is the ideal bridal shopping destination for any bride," shares Sara Chojnacki, Grace Love Lace's Denver showroom manager. "With crisp linen, leather in neutral tones, timber floors, rustic tables, oversized clay pots and chandeliers. It exudes a true Australian vibe, laid-back living at its finest, a parallel to the Colorado, and Rocky Mountain, lifestyle."
From patchwork to Guipure, Alençon to Chantilly – consider how each lace makes you feel. According to The Knot, "every bride wants to feel beautiful on their wedding day. The gown should speak to a bride's personality, help set the tone for the wedding itself and exude confidence." Nature-inspired and floral laces feel outdoorsy and effortless, while more graphic options feel like a modern take on metropolitan wedding dressing. Bring the feel of your gown into your veil for an even larger impact—but when you do, be sure the look still feels authentic and soft, rather than overwhelming.
In addition to these new and old trends with lace, one thing that critics are loving is the body positive approach to bridal gowns. Grace Loves Lace is just one example of a bridal gown company offering sizes from XXS – XXL so no one has to settle on their wedding day. What a refreshing concept!