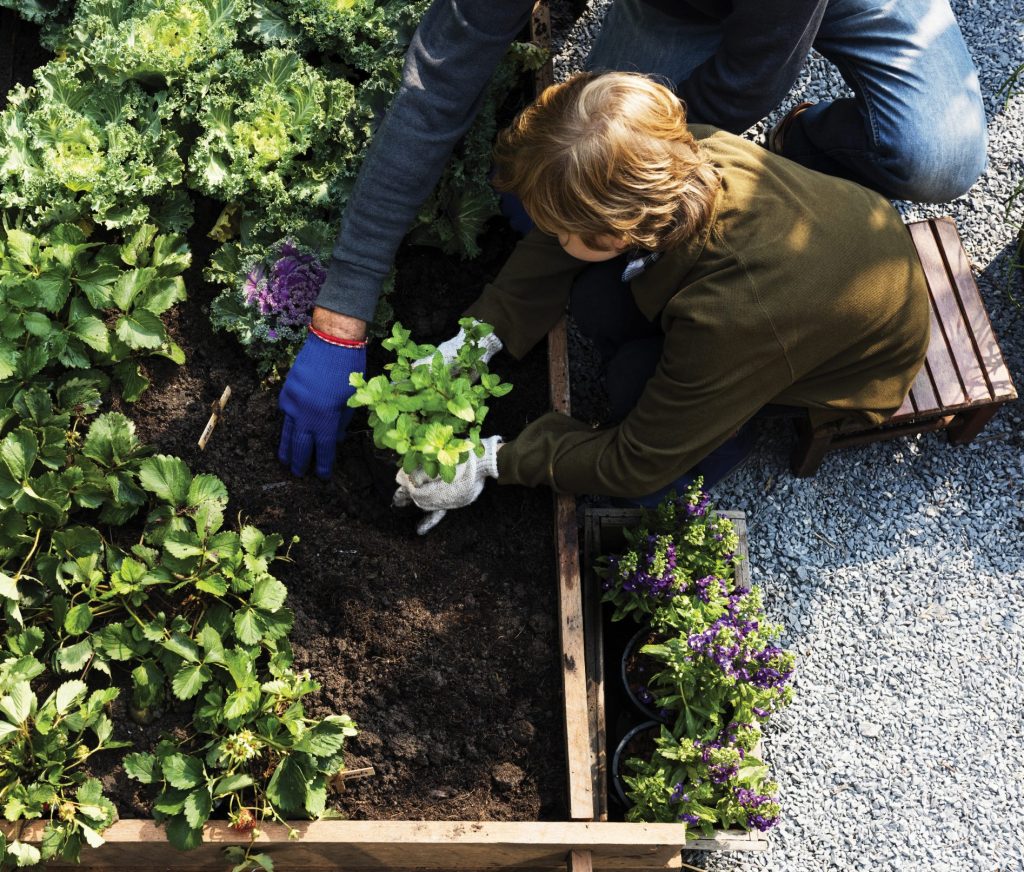 It's been 103 years since Charles Lathrop Pack organized World War I's National War Garden Commission to encourage Americans to grow food and prevent mass starvation in what became known as victory gardens in
WWI and WWII. Think he would be surprised to learn that we're on round three of practicing his life-saving tactic?
"In WWII, the Denver metro area was one of the quickest communities to respond to Eleanor Roosevelt's call for victory gardens," says Barbara Masoner, co-director of Grow Local Colorado, a group of volunteers that encourages growing local community, the local economy and local food. "That first WWII season, we had 41,500 gardens. … Current times are
very similar in that there's a big concern about what people are going to eat. We partnered with Slow Food Denver and The Table to celebrate Earth Day by giving seed packets away. Within 24 hours of posting our signup sheet for picking up seed packets, we filled almost every single time slot—which is one car for every minute for two hours."
"There's this stark reality that people really do need food—some people use our community gardens because they are food insecure," adds Violeta Garcia, executive director of Denver Urban Gardens, an organization with more than 180 community gardens in the metro area. Hobby horticulturists in Lone Tree, Cherry Hills Village and more who use DUG plots for the fun of planting "are now looking out for areas that aren't as fortunate," Garcia continues. "We're encouraging anyone who can produce food to increase production by 10 percent."
There's proof that we may be in it—gardening for our own tables and, as such, creating a better food chain—for the long haul. The good news? "Interest in growing food has increased over the past few years," says Luan Akin, garden ambassador at Tagawa Gardens.
"We weren't ready for this," Garcia says. "If we had local food systems in place, things would look a little different. But we don't, so it's a crisis. We're hoping we're essentially changing history in how we look at food production here."
Let's take a look at two people already personally planting this idea.
THE HOME GARDENER
Normally, Marcia Tatroe would be one of the last people on the planet to leave her two 8-by4-foot raised garden beds empty come spring. A retired journalist who wrote about gardens for Sunset and authored a gardening column for The Denver Post, she learned to grow plants from black and white Sunset books and her mom when she was young. The activity has been an irreplaceable part of her life since: "I thought gardening was like cooking. It never occurred to me there are people who don't garden."
But the dinged paint and siding that have been on the exterior of her Centennial home do not fall under normally. "Our house was very badly
damaged by hail two years ago and, because I have a garden around the house, nobody wanted to paint it," she says. "So now, my husband is out
there painting and a relative, who's a contractor, is replacing the siding. Because of that, my normal vegetable garden is gone right now."
So, Tatroe is restrategizing to meet produce basics in the wake of COVID-19's food shortage. "I was just thinking about this," she says. "I heard a story on, I believe, NPR about how there might be shortages of greens and things here because they can't find people to harvest. So, I'll put vegetables in the large pots and whiskey barrels I usually put flowers in."
Really, says the gardener, current needs align with the values consistent gardeners already live out: "I always grow extra to share." And mentally, people who garden or can garden are lucky, she continues: "Most of the time when you're gardening you either have a plot or property. When the stay-at-home order happened, it didn't change my life much—this time of year, if it's not raining I'm gardening. We can have this instant escape.
"This is likely going to last for a year," Tatroe adds. "And there's only so many puzzles you can do. I say that because I tried to order puzzles online and you can't get one right now."
THE ADVOCATE
"My wife and I were ahead of the curve," Tom Abood says of his home garden in Centennial. "Since I'm so local and climate change oriented,
six years ago we retooled our whole yard with a combination of permaculture and drought-resistant plants. We had grass and lawn, which
was driving me crazy because of the water consumption and energy waste. So we got rid of it.
"My goal was to have edibles or perennials wherever you walk. In the front we have a combination of drought-resistant perennials, black currants, lovage—which is kind of like celery—and rhubarb.
"Then you walk toward the back and get into probably 50 yards of strawberry beds. We planted a peach, sour cherry, sweet cherry and plum
tree. And we have two apple trees and planted grapevines that produce incredible white table grapes. And then I have six raised garden beds
where I grow a variety of vegetables."
Abood believes in sustainability and supporting local food efforts. He vested out of Wall Street roughly a decade ago to put his investments towards local food through organizations like Slow Money and, for a time, his own LLC, Local Matters Investments. "Slow Money—similar to Slow Food, which I'm also involved in—was created to bring our money back to Earth: to devest out of those global casinos like Wall Street and really try to create a good local economy. At Local Matters Investments, a group I started with about 24 locals, we tried to help farmers and food producers. By the time Local Matters closed, we probably moved more than $300,000 to small food producers."
Abood also detests food waste: Last year, he shared something like 300 pounds of squash with food pantries. At home, "what's really been
gratifying is to see neighbors start emulating what we've done," he says.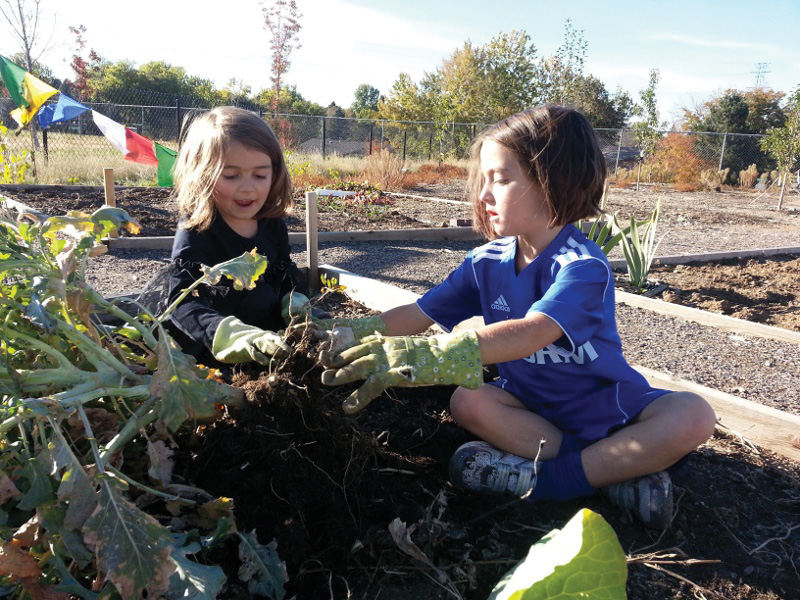 YES, YOU SHOULD START A PRODUCE GARDEN IN JUNE
"A lot of people tend to think they missed the gardening boat in June, but last year we had to replant a lot of our gardens in early June because we had an unusual frost," says Barbara Masoner. Here, helpful tips and tricks for your plot.
TIPS
SET UP in a very sunny spot
START SMALL: "Otherwise it can get overwhelming," Masoner says.
ALWAYS WORK ON YOUR SOIL: "Soil is essential," Masoner continues. "Incorporate compost and organic matter."
PLANT THESE NOW:
☐ Basil
☐ Beans
☐ Beets
☐ Carrots
☐ Celery
☐ Cucumbers
☐ Greens (kale, bok choy, spinach, lettuce)
☐ Onions
☐ Pumpkins
☐ Tomatillos
☐ Tomato and hot pepper seedlings
☐ Winter squash
☐ Zucchini
TRICKS
TALK ABOUT YOUR PLANTS (and, if possible, test
your soil): "CSU Extension has offices in every county in the metro area," Masoner says. "They are an incredible source of information. Their lab
in Fort Collins tests soil samples. However, they aren't doing as many tests this year because of COVID-19. CSU Extension does usually have a
hotline. So, if you have an insect on your crops or your leaves are yellow, give them a call to find out what you need to do."
CHANGE UP YOUR TECHNIQUES. Luan Akin's recommendations:
"This year, I'm trying Roots Organics [ready-to-use grow bag]. It's a big bag of soil that you can plant a tomato plant directly into, using the bag as your container. We're hearing it gets really good results."
"A few years ago, I started planting in conditioned straw bales.
"I think people underestimate the value of putting a trellis on something and growing up."
HAVE A PROTECTION PLAN for bad weather: "Do you have spare tomato cages you can throw over your plant or some cloth you can clamp down?"
Akin says. "I've been known to put empty trash cans over something. Try laundry baskets.Or back your patio chairs up to your plant and lay
something over the chairs."
START WITH HELP: "DUG has always specialized in community gardens," says Violeta Garcia. Part of the nonprofit's COVID-19 response has been to
expand that focus to include backyard gardening with new To-Grow Boxes. Launched in April, the boxes are gardening kits designed to provide
nearly everything needed to grow food at home (excluding soil and tools).
A "pilot" program of 1,000 boxes were up for grabs in April, ready to distribute May 12. Each set included two custom 10-by-10-foot plot layouts,
20 seedlings, 10 seed packets and a succession plan to provide food into fall. For every box ordered, DUG donated a To-Grow Box to an area family fighting food insecurity. Boxes could also just be bought and donated.
More To-Grow Boxes could be ready soon: "For now, we want to see what's needed in the community to decide where we need to grow," Garcia says. What is open to the metro public: "Our online gardening tools, launched May 12 with the boxes, are available for free for several months," Garcia says. "Anyone can become a member to gain access."