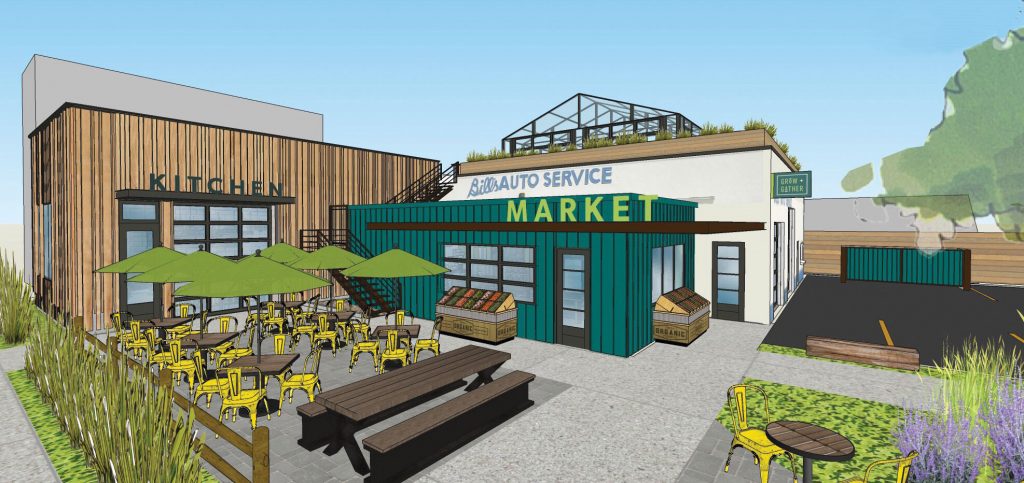 George Gastis is crazy about three things: urban farming, a quality plate of food and the community around him. "I love digging my hands in the dirt and growing food," he says. "And I love cooking with that food and sharing the dishes with my family and friends."
And we, it just so happens, are head over heels for what he does with that passion.
Cherry Hills Village is getting a new neighbor: Grow + Gather, a multifaceted all-things-nosh concept that serves as a sustainable place to eat, learn and shop. Housed in a revamped auto repair shop, the eatery and marketplace is expected to open to the neighborhood in December, with a grand opening in January 2020.
Gastis didn't always envision his urban farm taking root in such an industrial space. But when he saw the 1950s-style architecture of this Old Hampden building, he knew it was meant to be. His goal: "We're trying to grow and provide as much food as we can as close as possible to those who will consume it. Our design team helped us create a space that preserves this building's vintage legacy while enhancing the property for a fairly sophisticated operation. It's a rather small space for what's going on inside."
EAT
The on-site restaurant, The Feedery, will be open for breakfast and lunch, with dinner operations following soon after. Chef Caleb Phillips, previously of the Village Cork, has designed the menu to reflect the rich tapestry of food growing just down the hall—the rotation of house-made sandwiches, salads, soups and flatbreads are all dependent on what's in season.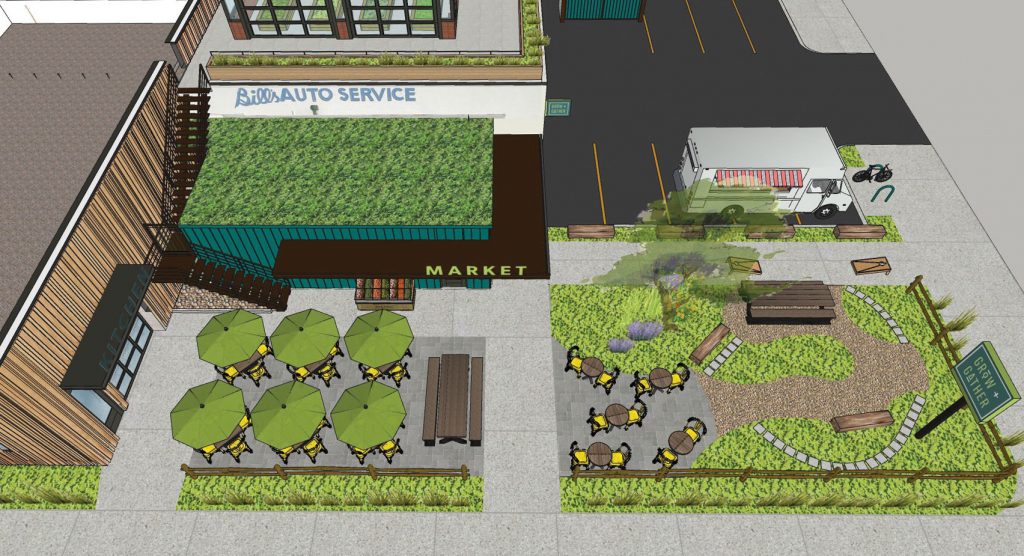 GROW
Gastis worked in tech and marketing before deciding to pursue his love of gardening. In the Grow + Gather garden, he's surrounded himself with a team that mirrors his drive.
Margie Frey, dubbed the official grower and gatherer, is the full-time farmer lending her wealth of experience (which includes managing the horticulture department at the Western Colorado Botanical Gardens) to help facilitate the rooftop greenhouse, indoor hydroponics and additional gardens at Gastis' house just a few blocks away.
The staff farms a variety of leafy greens, herbs, tomatoes, cucumbers, peppers, root vegetables, garlic and onions and even maintains a small orchard on the roof. All of the magic happens behind the scenes, but private event space allows select parties to see the hydroponics and greenhouse operations in action.
SHOP
The gardeners utilize hoop houses (large plastic coverings) to extend their outdoor growing season as weather gets dicey. Add that to what's growing tall in the hydroponics room and you've got more food than the restaurant can handle. The produce that doesn't get used at The Feedery is available to buy in the market, alongside coffee, grab-and-go snacks and fresh honey from rooftop beehives.
WHAT'S SUSTAINABLE?
Grow + Gather has chosen to go green in its business practices. Solar panels generate 75 percent of the location's energy; energy-efficient LED lights are used for hydroponics; the staff recycles rainwater and does their own composting; and there is minimal packaging at the market.
Gastis hopes to allow for more educational opportunities down the road, such as cooking and gardening classes. "We want to inspire people to do similar things to what we are doing," he says. "Want to cook, grow your own food or learn about bees? We're not trying to hoard that knowledge; we want those skills to spread."
EAT HERE
Grow + Gather
Old Hampden
PLEASE NOTE: A previous version of this story stated Grow + Gather planned to open in October. Due to extended construction deadline, the opening is now expected to take place in December and January.