We've sunned ourselves on patios, in urban backyards, on decks next to the 18th hole and on rooftops with stunning views to find the best, buzz-worthy alfresco spots in the south suburbs. Swipe through this list to find an outdoor destination suited to just about every mood for nibbling, sipping, sunning and smiling under the stars this summer.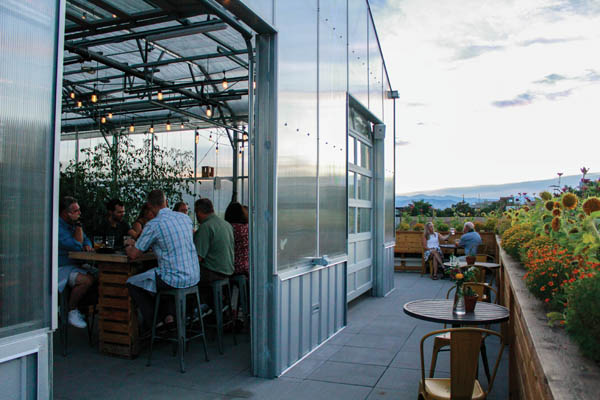 The trip from farm to table doesn't get any shorter or more sustainable than it does at The Feedery at Grow + Gather in Englewood. The spacious rooftop patio next to the working greenhouse is a welcoming spot to enjoy 2-for-1 pork carnitas tacos with fresh salsa, cilantro, pickled onion and cotija cheese. The Grow + Gather concept includes an urban farm, the restaurant plus a market and coffeehouse. Swing through the market for some to-go food dishes, sauces and even plants on your way out.
Did someone say they want artisan bacon, craft brew and a stunning view? Take off with the Bacon Flight at Bacon Social House. That's six substantial slices of the best bacon from pecan-smoked to barbecue to candied, nibbled on from the rooftop looking across Littleton to the mountains.
We're always happy when we're headed to see some standup at Comedy Works South. What better way to get ready to guffaw than grabbing a bite upstairs from the club at Lucy Restaurant? Our favorite pairing is Lucy's roasted salmon on sautéed spinach with mashers matched with a Dirty Arnold Palmer cocktail.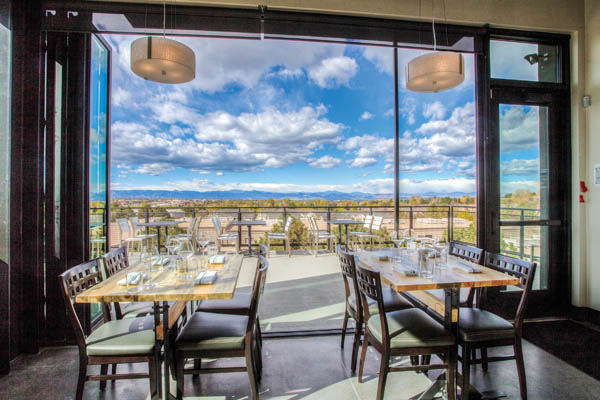 Simply put, Uncorked Kitchen crushes wine with a view. To match the dramatic sunsets, the Centennial wine bar suggests craveable Maryland deviled eggs (made with Old Bay-accented crab meat) paired with a pour of Albet i Noya Brut Rosé.
Take a break from your backyard weeding and kick back with a German-style Helles, Radler or Märzen in the Biergarten at Prost Brewing in Highlands Ranch. Add warm, soft, salty pretzels with mustard for authenticity. 
We always get that king-of-the-hill feeling when we meet friends on the deck at Lone Tree's Sierra Restaurant. At twilight, we like to grab a table watch the city lights start shining. Our go-to happy hour choice is Monterrey-style beer-battered halibut tacos with jalapeño pickle slaw and a salt-rimmed Herradura silver margarita. 
With peaceful foothill views and the sound of freight trains in the distance, the Tuscan-inspired, flower-decked patio of Gabriel's Bistro Patio-Bar is a great urban escape. A big Italian red wine calls for crispy arancini, crunchy bruschetta and loaded prime rib sandwiches. 
We love to start Sundays slowly on the cool, tree-shaded patio at Danielle's Scratch Kitchen. The Castle Rock eatery takes brunch (and its name) very seriously with a true destination dish: warm fluffy house-baked biscuits with real gravy and juicy fried chicken.
Spice Trade Brewery & Kitchen takes the tasting room up a notch with signature chef-inspired beers and international snacks. Try a plate of the chef's house-made pickled vegetables with Vino Rosso Grape Ale or sip a Chai Milk Stout while munching churro brioche pudding with chocolate and dulce de leche. The brewery's shaded patio is fitted with sofas and comfy chairs.
For pure people-watching pleasure, we head to Le French in Belleview Station on a hot summer's night. It's great to settle in on the street-side patio for light bistro classics like a classic salad Niçoise washed down with a Blueberry Lime Ricky mocktail. Top it off with a simple, sweet lemon dessert crepe.