Where Music, Art, Food and Culture Intertwine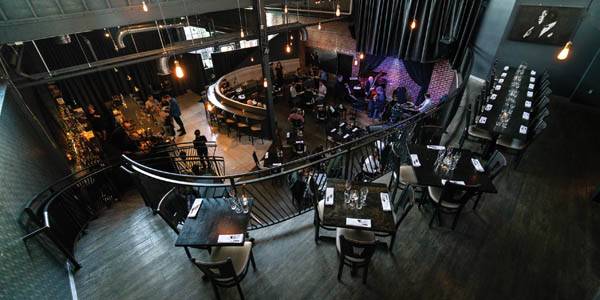 Stepping into Nocturne is like stepping into a portal in time and space, where all your senses are alive with the sights, sounds, smells, tastes and movement of this unique jazz supper club experience.
Although the original supper club era began in the 1930s after Prohibition ended, the original immersive experience has left a permanent mark on society, and we're sure lucky it did. During the 1930s and 40s, the golden age of supper clubs, Hollywood royalty and high society frequented New York's famous Rainbow Room, Copacabana and El Morocco. They enjoyed fine American cuisine and performances by some of the world's best-known jazz artists like, Louis Armstrong and Tony Bennett and, big bands like the Tommy Dorsey and Count Basie Orchestras.
Can you imagine? Well, Nicole and Scott Mattson did, and they've hit a high note with Nocturne Jazz and Supper Club, where the hospitality, drinks, food, décor and, of course, the live music–come together for a truly spectacular evening. Since 2015, Nocturne has influenced Denverites with an upscale experiential night out. Not only is it a place to hear great local jazz, but it's also an unassuming foodie destination with their "Dinner and a Show Reservations" offering a three-course dinner with hand-selected wine and cocktail pairings. Dishes such as a Spring Vegetable Vignole and a spin on classic Veal Scallopini are crafted with a focus on seasonality and local products which go hand-in-hand with the fragrant libations.
"In the past six years, it's been so great to watch our local talent grow. It's a collaborative scene, so many times you'll see musicians of one band also working with other bands, shares Nicolle. "It's cross-generational so we often get to see younger musicians in their 20s and 30s playing alongside their mentors. Post-pandemic, it's been great to see the enthusiasm from both the musicians and the audiences for live performance." And now that we're in the "Post Covid Roaring 20s" Nocturne is the perfect place for a dress-up date night, a special celebration, or at long last, a memorable evening with friends and family. "We're booked almost every night and it's been really rewarding to see the return of jazz in a live setting on our stage."
The nostalgia of the songs played is formidable. I was taken back in time to when my grandparents and parents set the needle on our old record player and those memories were brought to life right in front of me. Yet, at the same time, there was something fresh and even innovative about the experience. "That's the magic of jazz," says Mattson. "It has the power to pull at those nostalgic heartstrings when you hear some of the great classics. While some musicians focus their performance on a particular artist or collection of music from the past, we also have many that are bringing their original works to life on stage. Those performances are often very personal, and you can hear the emotion in the compositions, from the joy of a song written for the musician's own wedding to the reflection of a song written after the loss of a friend. Music helps us connect on a very human level whether you are hearing a song for the first time or hearing a version of a song your grandparents played for you."
The acoustically designed room in the heart of Denver plays host to live jazz nightly (Wednesday through Sunday) and their distinctive Artist in Residency programming is at the core of their lineup. Most artists who perform at Nocturne engage in a four to eight-week run that focuses on the exploration of a musical icon, the study of a jazz genre, or the exhibition of an artist's  original work. This old-school approach to programming combines the unique opportunity to hone one's craft with regular stage time, while also establishing an elevated rapport with Denver music fans while being the only venue in Colorado that features jazz exclusively. But that's not the only reason to book your reservation—the food and the drinks are on par with the top establishments in Denver.
"We want Nocturne to be a great night out all around, so when we look to add items to our menu, we're looking for seasonal and modern takes on classic dishes. We work with great purveyors to try to keep it as local and seasonal as possible. Altius Farms is one example. They're an aeroponic farm located just a few blocks away doing urban farming in a rooftop greenhouse. We also have a small plot of land rented on an organic farm in Boulder that our teams at Nocturne and Noble Riot (their sister wine bar next door) are farming on their days off. It's a great opportunity for the staff to get to see the work that goes into growing our food. And on the beverage side, Scott curates a lot of smaller boutique wines and Champagnes so our wine list is distinctive. The bar team makes great classics like a Sazerac or French 75, but they are also crafting seasonal cocktails like the "Lady of the Lavender Mist," inspired by a Duke Ellington song and incorporating lavender, rosemary, sherry and gin."
Does it get any better than this? I think not.
Nocturne Jazz and Supper Club
303.295.3333, nocturnejazz.com