By Jessica Hughes
Grab your girlfriends and plan a STAYCATION WINE EXPERIENCE right here in South Denver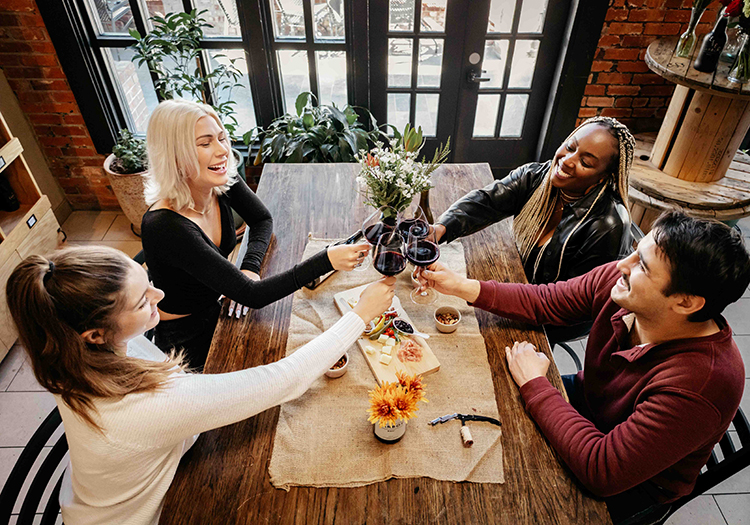 Although it would be fun to do "Wine Country" with Amy Poehler and Tina Fey, you can plan a special girlfriends' wine getaway in your own backyard. The south Denver area has a mix of wineries, tasting rooms and wine bars that will keep your glasses full and have you toasting all night—or weekend—long. When you plan a private tasting tour through some of south Denver's top-notch wineries and tasting rooms, you'll enjoy the ultimate wine experience from sampling some of Colorado's finest wines to creating your own varietals. And by all means, if you know Amy or Tina, please invite them, but otherwise, grab your besties and go!

Ladrón Cellars
Located in Englewood, Ladrón Cellars is an artisanal winery specializing in producing premium wines with grapes sourced from some of the best wine-producing regions in the world. Sourcing their grapes from vineyards in California's Central Coast and Washington state, winemaker Richard Crockett focuses on selecting varietals that highlight each unique climate, creating incredibly complex wines.
"Ladrón Cellars was created for this purpose of sharing our same passion for wine with others," says Tracy Crockett, partner and owner at Ladrón Cellars. Sip your favorite varietal, sample some of the best vintages and explore what you love about the wine in the relaxing tasting room.

Ladrón Cellars | 11435 E. Briarwood Ave., Unit 100 Englewood, CO | 303.526.8895 | ladroncellars.com

InVINtions
Located in The Shops at Greenwood Village, InVINtions leads the way in wine innovations and experiences. "InVINtions is unique because the customers can be involved in the wine-making experience," says Tristan Bailey, general manager at InVINtions. "Customers can buy batches (28 bottles) of wine and put the wine into initial fermentation." Once the wine has made it through the rest of production, you can come back in a few months to bottle and label your wine.
InVINtions also offers a tasting room with all its wines (roughly 70 to 80), available for tasting in a variety of different ways including flights, one-hour tastings, by the glass or by the bottle.
InVINtions | 9608 E Arapahoe Rd., Greenwood Village | 303.799.9463 | invintionswinery.com

Carboy Winery
If you live in Colorado, Carboy Winery hardly needs an introduction. The award-winning winery has made a name for itself up and down the Front Range as one of the biggest wineries in the state. "Carboy Winery is uniquely Colorado," says Carolyn Schwartz, director of marketing for Carboy.
With four locations in Colorado including Palisade, Denver and Breckenridge, Carboy's Littleton location is the flagship winery and tasting room. The large-acre property offers expansive space to sample wines both indoors and outdoors. "The experience at Carboy can best be summed up as 'fun,'" says Schwartz. "We make wine for adventurous people and serve it in a way that is unpretentious and welcoming."
CARBOY WINERY | 6885 S. Santa Fe Dr., Littleton | 720.531-5252 | carboywinery.com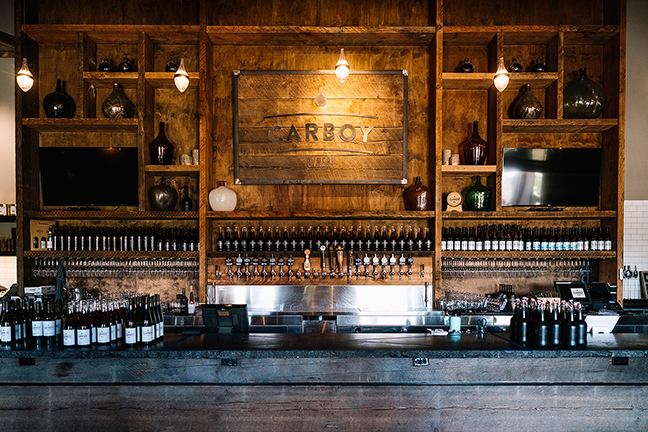 Purgatory Cellars
With two locations—Parker and Castle Rock— Purgatory Cellars makes a name for itself in South Denver's suburbs using Colorado grapes and old-world winemaking techniques such as using European oak barrels and Georgian clay pots. Purgatory Cellars is the only winery in the U.S. that makes a sparkling wine in clay pots.
Enjoy a cozy setting with wood and brick details and a fireplace to add to the ambiance. Find your favorite with their wine flights or sample some of their most popular pours.

PURGATORY CELLARS
18921 Plaza Dr., Ste. #100 | Parker | 303.600.8209
611 N. Wilcox St. Unit C | Castle Rock | 720.524.7241 | purgatorycellarscolorado.com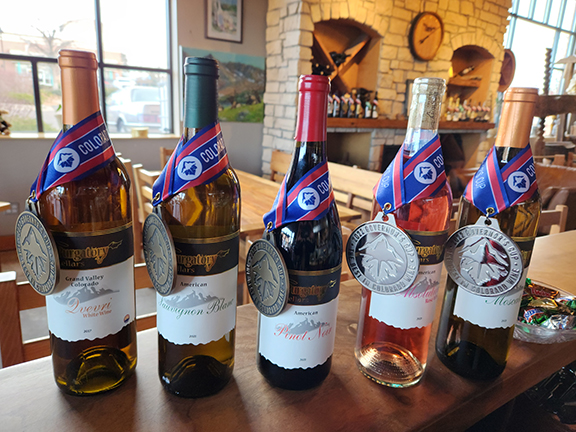 Crush Wine Bar
Started by Castle Rock locals, Crush Wine Bar is a family-owned operation that offers a wide range of wines from all over the world. Hand-selected by co-owner and sommelier James Lewis, the wines reflect his personal taste and expertise. "We carry wines provided to us by winemakers/importers with whom we've had relationships for years," says Lewis.
Whether you are looking for a wine to pair with your favorite dish or want to experiment with several wines, you can choose from more than 50 wines either by the glass, half glass, 1/4 glass or the bottle.
CRUSH WINE BAR | 3911 Ambrosia St., Ste. 101 | Castle Rock | 720.361.2121 | crushwineandfood.com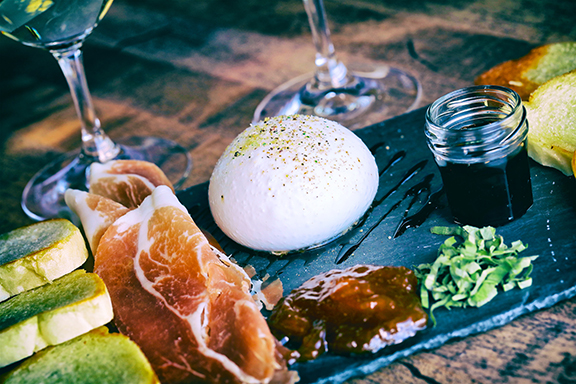 The Rouge Wine Bar & Patio
Feel like you've stepped back into the roaring 20s with a visit to The Rouge Wine Bar & Patio in Greenwood Village. A quiet and relaxing space, The Rouge offers a place where you can leisurely enjoy a glass of pinot and charcuterie board. And for those who don't enjoy wine, they also serve classic cocktails and a beer menu to satisfy everyone's drink of choice.
THE ROUGE WINE BAR & PATIO | 7939 E. Arapahoe Rd., Ste. 190 | Greenwood Village
720.864.9463 | therougewinebar.com
Uncorked Kitchen and Wine Bar
What goes hand in hand with cooking? Wine, of course! Guests at Uncorked Kitchen and Wine Bar can sharpen their cooking and winetasting skills through group cooking classes, baking classes, wine tastings, and more.
Take in the sweeping city views from the Centennial location in the upstairs wine bar as you savor a selection of hand-picked wines and seasonal small plates in one of Uncorked's wine-tasting classes. Sample between six and nine different wines, each hand-selected by an expert sommelier. For a more casual self-guided wine experience, visit the wine bar and order from the carefully curated menu by the glass, flight or bottle.
UNCORKED KITCHEN& WINE BAR | 8171 S Chester St., Ste. A | Centennial | 720.907.3838 uncorkedkitchen.com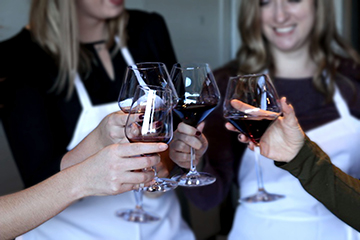 MAKE A WEEKEND OF IT
Make a true "Wine Country" weekend of it by booking a stay at the Hilton Denver Inverness, where you can continue the wine-tasting fun. Throughout March, guests will receive a complimentary glass of wine with any 80-minute spa service. The onsite Fireside Bar & Grill is an ideal location to enjoy a post-spa beverage and savory bites. Enjoy panoramic views and a cozy fireplace.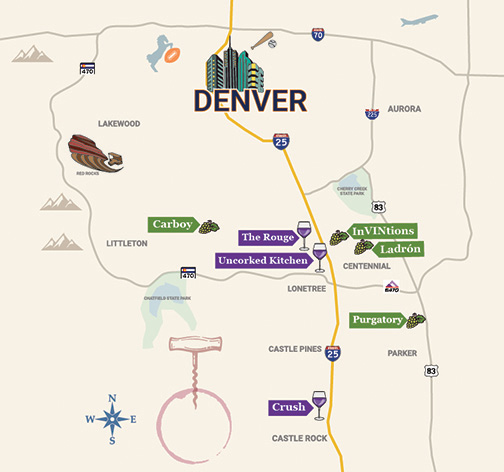 HILTON DENVER INVERNESS
200 Inverness Dr. W.
Englewood
303.799.5800
hilton.com/en/hotels/denirhh-hilton-denver-inverness