By Lexi Reich
Photography Courtesy of Aspen Woodshop
The story behind the craft at ASPEN WOODSHOP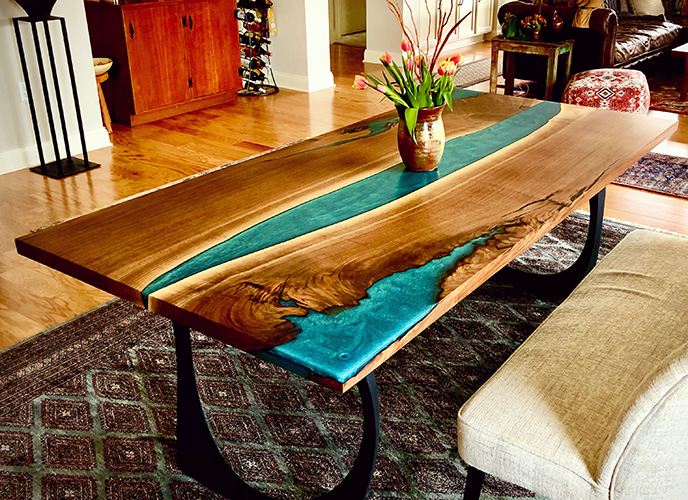 In a society dominated by mass production, hand-crafted furniture stands out as a testament to artistry and quality. But shaping raw materials into functional works of art is no easy feat. Self-taught Bennett Ostroff uses wood and other organic materials to create unique pieces with timeless charm at his woodshop in Denver—and each project takes him anywhere from 20 to 80 hours. Now, more than seven years in business, his one-of-a-kind tables, desks, countertops and bookshelves can be found in homes throughout the state.
Ostroff is not a woodworker by plan. In fact, he stumbled upon the craft because he was looking to upgrade his wobbly IKEA table when he moved to his first Denver home in 2013. The $5,000 price tag for a farmhouse table wasn't feasible on a young therapist's budget, but he wanted a statement piece to complement his home's Victorian architecture and 1890s exposed brick.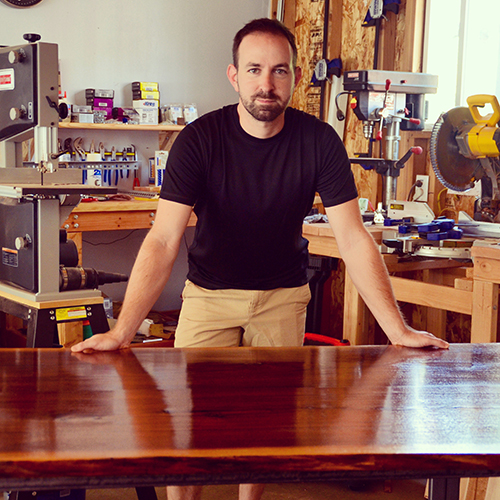 "By this point in my life, I wasn't the least bit handy, and I had certainly never built anything with my hands," Ostroff says. He thought there was no chance he could make a similar one himself. Or could he?
Little did Ostroff know his mission to build a farmhouse table launched what would later be his full-time career. Today, Aspen Woodshop is a one-man shop that focuses on every aspect of the creative process—from concept and design to assembly and finish. Plus, sustainability is key to his business; Ostroff chooses locally harvested and/or milled wood as much as possible.
"I believe that I was destined for this work—that I tapped into a dormant potential,"
he says.
After acquiring essential tools and converting his garage into a makeshift woodshop, Ostroff spent a month crafting his dream table. The final product was so impressive that even
his grandmother didn't believe he made it from scratch.
He realized he could probably make another table to sell on Craigslist and use the profit to cover the cost of his new tools. When that worked, he made another and then another. Inquiries began flooding in for different styles and types of wood.
"I turned nothing down," Ostroff says. "Each new project required research and trial and error. Many mess-ups became firewood. But in the end, I always figured it out. With each piece came more knowledge and more photos for my Craigslist listing. Most important, I was thoroughly enjoying it."
Slowly, Ostroff cut back his therapy practice and added more orders to the whiteboard hanging in his shop. Dining tables, desks, coffee tables, bookshelves, countertops, even a spoon rack. He refined his craft to include live-edge pieces, which he specializes in today. Each natural slab is transformed into a highly individual piece of furniture while retaining the wood's natural look and feel.
"It's an unmistakable reminder that this came from a tree," he explains. "I source my live-edge slabs from environmentally-friendly mills. Instead of clear-cutting forests, these mills recycle trees that were removed from yards or downed by storms."
River tables are another core element of Aspen Woodshop's offerings. This style continues to grow in popularity and features resin as the "river." Ostroff says it's a unique piece for the home but requires an immense amount of labor.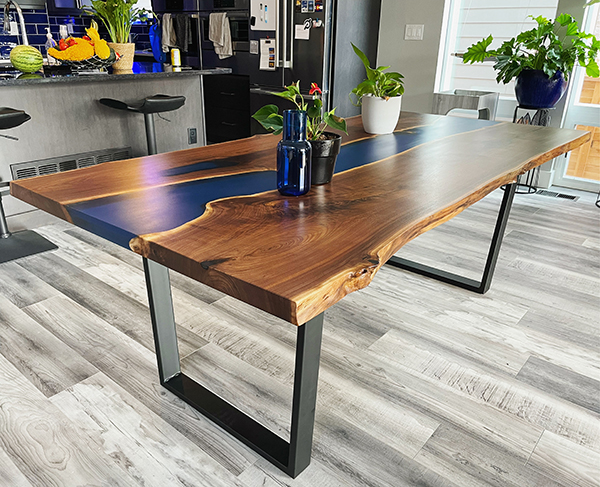 "It's an involved process requiring patience and expertise," he says, "but done right, river tables can be real showpieces."
Ostroff delivers larger pieces in his shop truck, a 1965 Ford pickup named "Loretta" after his grandmother, who, as Ostroff puts it, eventually came around to accept that her grandson was not making furniture from kits.
"While I'm not healing therapy patients full-time as originally planned, I like to think I'm bringing happiness into homes in an entirely different—yet still meaningful—way," he says. "When I deliver a piece and see the joy on customers' faces, it is deeply fulfilling for me. I consider it a lucky bonus that I'm able to support myself doing it."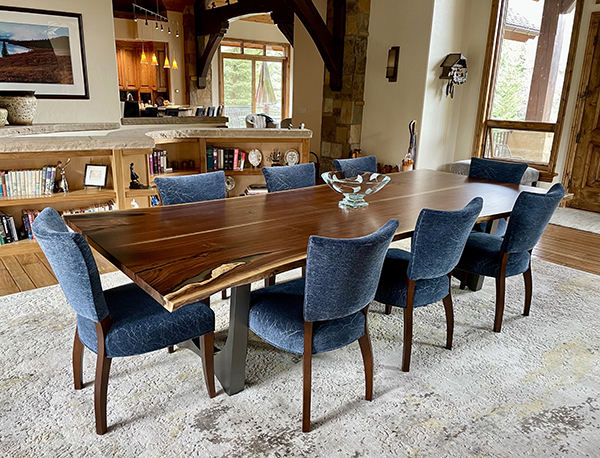 Aspen Woodshop
215.901.6793
aspenwoodshop.com