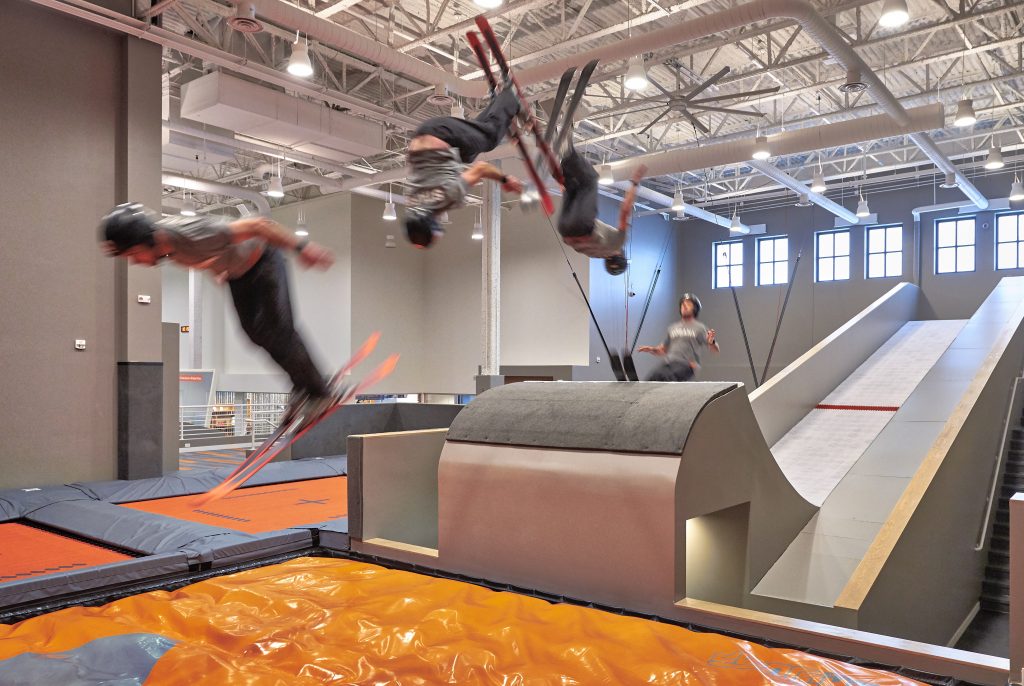 Have you ever watched professional, freestyle skiers and snowboarders at events like the X Games flip and fly through the air and wonder, how on earth did they learn how to do that? With its latest addition, Snöbahn, the indoor ski and snowboard center in Centennial, is giving spectators a new view into the training life of these expert athletes—who also now have the ability to practice year-round.
Snöbahn, which opened in June 2016, added a freestyle section in March 2018 that includes an air bed, five performance trampolines, a parkour area and, the pièce de résistance, a mega ramp. "While the revolving slopes that we primarily use for teaching skiing and snowboarding are very popular, they don't necessarily appeal to the adrenaline driven athlete or to those skiers and snowboarders who may already be proficient in the sports. The freestyle area was built with these athletes in mind," says owner and founder Sadler Merrill. "The trampolines and the mega ramp provide a fun, safe place for these athletes to come and train."
Spanning nearly 16 feet in height, 8 feet in width and 60 feet in length, the mega ramp earns its name. It was designed by two former professional skiers, now engineers, to simulate a jump that you might find in a terrain park or freestyle mogul course. For parents waiting for a child's lesson to finish, novice skiers and snowboarders of all ages and any other bystanders, this is the sweet spot.
On this ramp, professionals can be caught perfecting everything from their grabs and spins to inverts such as flips and corks. The most exciting trick Merrill has seen someone nail on this lofty piece of the freestyle course? A double backflip.
According to Merrill, athletes build their strength and air awareness for new tricks on the trampolines, then graduate to the ramp, where they can try the moves wearing their ski or snowboard equipment: "This progression prepares them to then try the new trick on snow. Athletes who practice here have had a lot of success stomping those tricks on snow—on their very first attempt."
Before you grab your own gear to tackle the structure, know that you might need to train. The ramp is only meant for expert skiers and snowboarders who are at least 8 years old. Any new client who fits this description is required to first take a two-hour freestyle introduction class (costing $30).