Before Christmas trees were considered must-have holiday décor, they were simply fragrant evergreens that served as a of joy during the harsh winter months. The true Christmas tree tradition began in 16th-century Germany, where Christians began to decorate trees and even adding candles to the tree branches to mimic stars in the night sky.  Today, the Christmas tree symbolizes yuletide around the world, so we wanted to take a look at tree trimming traditions and offer ideas to add joy to your own family tree.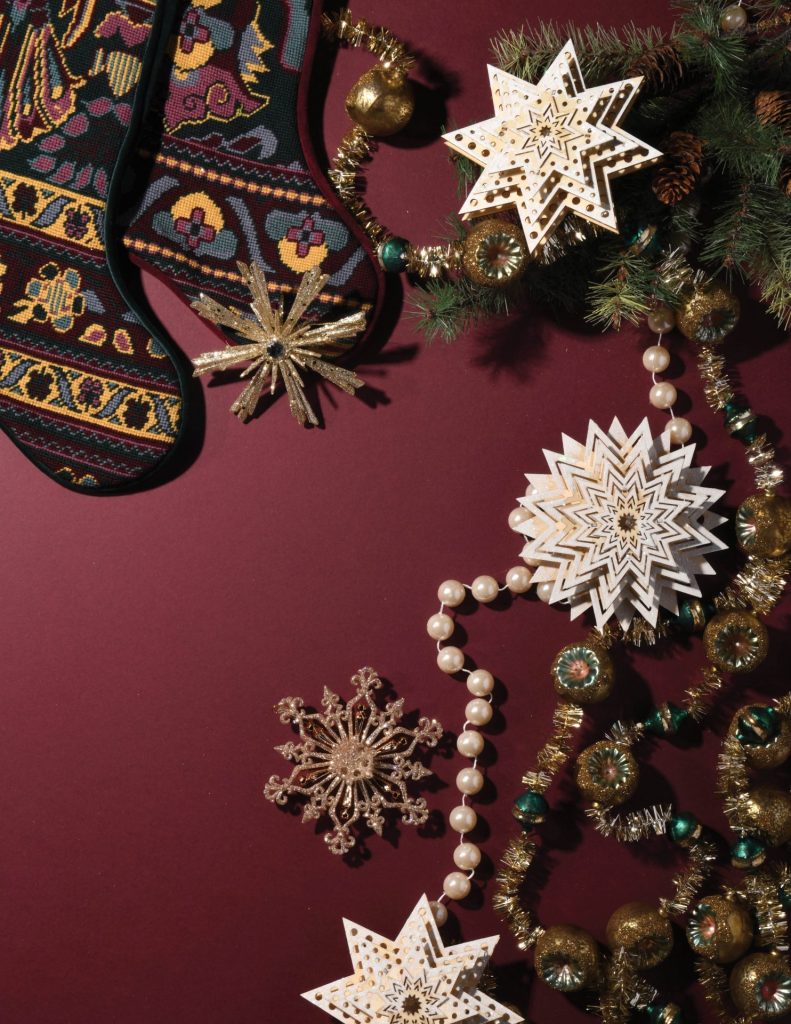 COLLECTOR'S EDITION
Personalize your tree with ornaments that represent some part of your children's lives. A rainbow trout for your fisherman, a shell symbolizing a family trip to the beach, a dog that looks like your new puppy or even a masked Santa to remember 2020 (as if we could forget). Your kids will love looking back on these and even sharing them with their kids one day.
Pro Tip: Invest in a good quality pre-lit tree. You'll be able to put it up earlier and enjoy it longer — even through the Stock Show as per Colorado tradition. Plus, you won't have to fret over getting each strand just so. And make sure all of the lights are working before you start decorating.
PERSONALIZED PINT-SIZED TREES
Themed table-top trees are a fun way to personalize your décor throughout your home. Think cookie cutters and bakery ribbons for a kitchen tree, themed craft ornaments for your kids' rooms representing their passions like sports, dinosaurs, LEGO or ballet.
OLD WORLD CHARM
Garlands are a fun way to decorate your tree or your home. Put your own spin on traditional handmade garlands and let the kids in on the fun with ribbons (vertical or horizonal), pom poms, colored popcorn, glitter pinecones, dried fruit slices, cut-out stars, knotted fabric bows or something unexpected like action figures or ruffled coffee filters and doilies.
ROCKIN' AROUND THE CHRISTMAS TREE
Whether you prefer traditional merriment like the champagne cascade at The Brown Palace or the contemporary holiday décor at The Art Hotel, come rain or shine, pandemic or peace, we all look forward to festive lights and over-the-top decorations each year. To help get you in the mood, we've rounded up some of our favorites to set the tone for a winter wonderland. Please note these are subject to change based on current Covid-19 rules and regulations.
Light
Christmas Drive-Through Light Display
When: Open from 6 p.m. to 9:30 p.m. (closed during services) through
December 22nd
Where: Cherry Hills Community Church
Experience the story of Jesus — the "Light that Leads You Home" — through a spectacular Christmas light display. Cars will able to drive the entire campus where there will be multiple scenes that share the story of one family's Christmas traditions through the generations. This event is free, but we suggest reserving your tickets ahead of time for timed entry.
Trails Of Lights
When: November 27, 2020 –January 3, 2021
Where: Denver Botanic Gardens Chatfield Farms
Stroll through the Colorado countryside along a winding path glistening with lights. Features this year include a three-sided light tunnel, illuminated antique and model tractors, a children's play area and warm holiday food and drink. Visitors must purchase a ticket online for a specific day and time.
It's A Wonderful Light
When: Throughout December
Where:  4822 S. Picadilly Court, Aurora
With 45,000 lights, this display is inspired by the family's two young children who have autism. It's an inspirational holiday tradition that also helps raise money for the Autism Society of Colorado. Visitors can text "BRIGHTLIGHT" to 44321 to make a secure donation.
Historic Downtown Littleton
When: Throughout December
Where: Main Street, Downtown Littleton

All along historic Main Street, millions of multi-colored lights adorn the trees and shopfronts, creating a nostalgic Christmas scene. Complete with vintage shops, local bakeries, clothing boutiques, specialty food stores, charming restaurants and even carolers to get you feeling warm and bright.  
HEIRLOOM ORNAMENTS
Old World Christmas ornaments are mouth-blown, hand-painted glass collections of unique designs. Every year, collectors from all over come to St. Nick's Christmas Shop to see the year's exquisite selections. Plus each glass ornament comes with its own legend, making it even more special for gift giving and curating a unique tree.
Another line that is very collectible is Christopher Radko Christmas European ornaments. These works of art are truly heirloom quality and most pieces are retired each year to make way for new designs to delight collectors.
Finally, personalized ornaments are very popular tradition for gift giving as well as any celebratory reason you can imagine. Families love to choose a new ornament each year to memorialize milestone achievements, celebrations, eventful trips or honor loved pets. Unique
for 2020 is their selection of pandemic ornaments. These are some of their bestselling personalized ornaments and they add a little bit of humor which is always good.
St. Nick's Christmas Shop
303.798.8087; stnicks.com