"Let's go eat dinner at the airport," said almost no one ever, especially when they aren't flying anywhere. Don't tell that to the families on the waitlist to eat on a Sunday afternoon at The Perfect Landing Restaurant. Sure, they're craving brunch, but the one thing diners demand most is a window table overlooking the busy Centennial Airport runway.
The eatery's appeal is evident when you settle in with a fluffy Denver omelet, a Hollandaise-topped crab cake Benedict or bananas Foster-style brioche French toast. Kids (and those with a lively inner child) get a "Top Gun" thrill watching jets blast off with an energy you can feel right through the tall windows that wrap around the restaurant space.
"It's like an airshow almost every day. There's still a certain amount of romance in flight," says Sean Carter, who co-owns The Perfect Landing with his father, Jim Carter, who opened the eatery in 1992.
Looking beyond the runway, the restaurant boasts a panoramic view of the Front Range
and sunsets so stunning that diners make reservations based on the time of the sunset. According to Sean, the uniquely entertaining view can cause some bookingproblems. "People don't want to leave. They want to wait to see the sunset or watch the F-18s take off on the weekends," he says.
The Perfect Landing serves breakfast, lunch and dinner daily. The morning menu includes all the egg favorites, chicken fried steak with house-baked biscuits and sausage gravy, and freshly baked blueberry muffins with oversized mugs of coffee.
For lunch, the menu adds burgers, chile rellenos and substantial sandwiches, including a spicy birria torta stuffed with shredded beef. Carter says one of the most popular entrees is the aptly named Perfect Salad. Greens, candied pecans and blue cheese are dressed with orange Balsamic vinaigrette and topped with fresh pan-seared salmon, sirloin or shrimp. Another favorite is the lobster roll on a split-top hot dog bun imported from Rhode Island.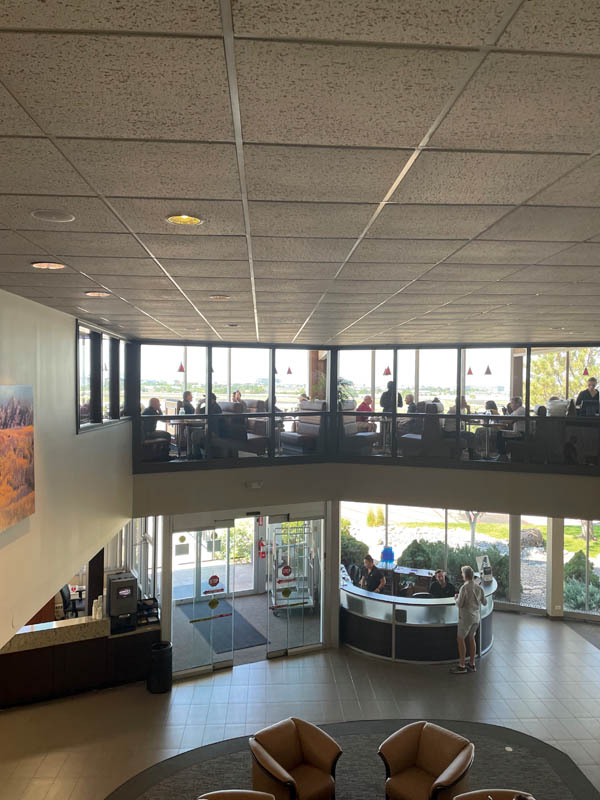 The Perfect Landing transforms into an adult dining destination in the evening as a pianist plays familiar tunes in the lobby. The throwback cherrywood-and-etched-glass area is available for pre-dinner cocktails.
From starters like Swedish meatballs and carpaccio to weekend prime rib, steaks and pork chops with garlic mashers and creamed spinach, these dishes satisfy any meaty cravings. However, one glance at the menu reveals one secret to the restaurant's longevity. The Perfect Landing is an unexpected haven of fresh seafood in Englewood.
The resident shuckers dish dozens of oysters on the half shell and more as baked oysters Rockefeller every day. Bowls of creamy New England clam chowder and spicy San Francisco–style cioppino head to tables along with halibut meunière, salmon Oscar, scallops with polenta and Newport seafood pie.
The reason for this oceanic focus is all about family. "We've always been coastal people. My family has lived and worked in Seattle, Vancouver, New England and San Diego, and we always loved seafood," Sean says.
The eatery has chosen a different flight path for its wine list. "We don't have a huge cellar with a large markup on the bottle prices," he says. "We focus on a few classic wineries like Silver Oak and Jordan that have ties to Colorado."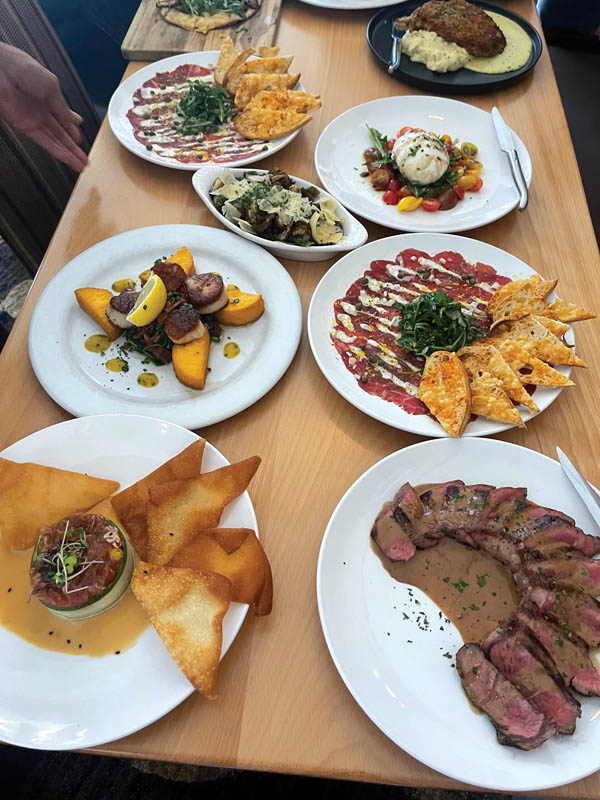 The Perfect Landing's list includes about 50 wines ranging from $20 to $200 a bottle, with many reds, whites and sparklers available by the glass.
Sean admits that the Perfect Landing has one imperfection: "It's a horrible location until you know how to find it." GPS helps, but the signage is hard to see, and some first-timers drive toward the Denver Broncos' nearby facilities. He recommends looking for the large Denver Jet Center building. You'll find the restaurant on the second floor.

The Perfect Landing Restaurant
7625 S. Peoria St., Englewood
303.649.4478; theperfectlanding.com