Three fried chicken destinations that satisfy that craving.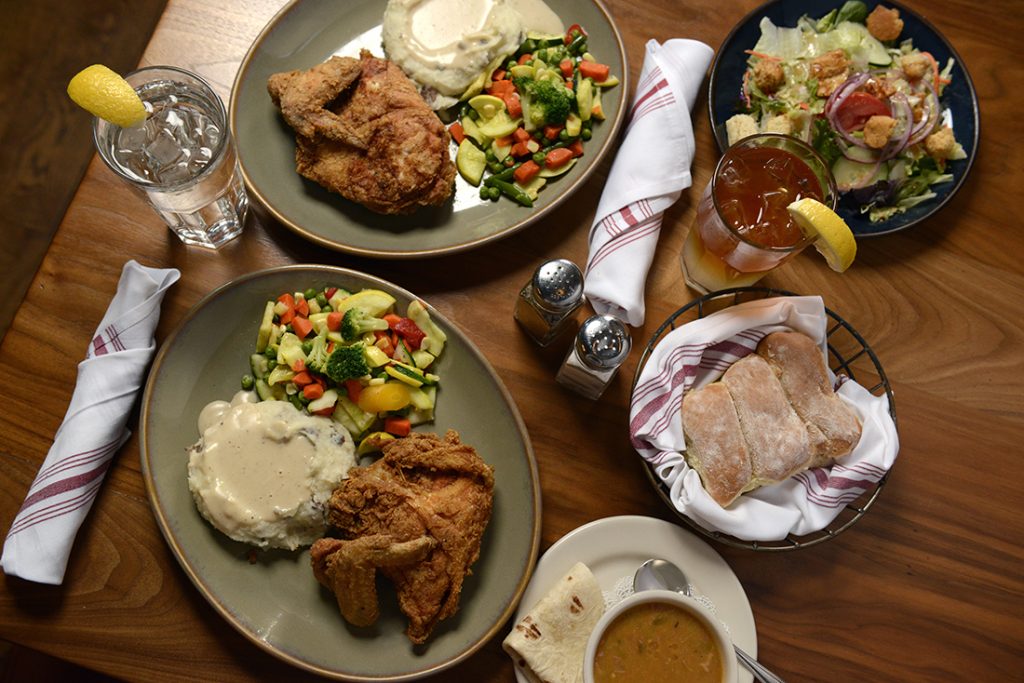 Is it the crunch that gets to you, or the chew? Maybe it's the salt and pepper or the umpteen herbs and spices in the coating? Perhaps you crave that hot, savory, rich juice that fills your mouth when you bite into a piece? Or could it be the side dishes, from waffles with syrup to gravy with mashers?
Let's check "all of the above."
You could make fried chicken at home, but it's a messy, time-consuming business. Luckily, a major fried chicken revival is taking place at restaurants. We found three nearby destinations that offer different and extremely tasty takes on the classic bird for breakfast, lunch and dinner. Be patient or order ahead: It takes time to cook real fried chicken from scratch and create that irresistible appeal.
Castle Café
Castle Café
When restaurant menus claim a dish is "famous," we tend to think: Prove it. But fried chicken geeks already know that Castle Café's renowned pan-fried version more than deserves the honor. According to sources at the restaurant, the high-quality, bone-in bird is slowly fried in the traditional Southern way—in a heavy cast-iron pan that retains heat all around and gives the bird that satisfying chew and big flavor. Before frying, the chicken is simply dredged in a peppery seasoned flour, giving it a thin, wispy crust over golden crackly chicken skin: It's all about the chicken, not a thick coating.
This family-style dish is also famous because it takes a solid half hour or so to arrive at the table. It's cooked to order, the way it should be. Currently, the historic eatery is dishing its bird (with excellent mashers and traditional gravy) all day every day. Order the meal with all-white or all-dark meat for an upcharge.
Castle Rock, 303.814.2233, castlecafe.com
Chop Shop Casual Urban Eatery
Some fried chicken lovers are just in it for the crust. For them, Chop Shop Casual Urban Eatery dishes up boneless chicken breast that is embraced by a substantial, browned, crunchy, spicy jacket that leaves you craving more. Creating that perfect mouthful of flavor is an involved process, says owner and executive chef Clint Wangsnes: "We start with an all-natural Colorado bird and cook it sous vide-style for about five hours." The technique, which simmers the chicken at a very low temperature, makes it extra flavorful and juicy. Wangsnes continues: "Then, we dip it in lager tempura batter seasoned with Old Bay and roll it in seasoned flour."
The meal version arrives with the juicy meat drizzled with chipotle-infused honey, bacon gravy on the side. The bed is creamy white cheddar polenta—grits with an Italian accent—and fresh Swiss chard. "We sauté the chard just a little so it stays toothsome," says the chef. And the sandwich version, which changes regularly, currently features the same chicken on a bun with creamy tzatziki sauce, cukes, tomato, feta cheese and red onion.
There's a third just-launched way to savor the addictive recipe: The eatery's new takeout and delivery option at its Englewood location, called Hatched. "Hatched is like KFC, with buckets of bone-in chicken—cooked the same way—with biscuits and sides of mac n' cheese, coleslaw and mashers and gravy," Wangsnes says.
Englewood, 720.550.7665, coloradochopshop.com
Early Bird Restaurant
The buttermilk fried chicken at Early Bird Restaurant has everything—savory, juicy meat inside with a seriously crispy and peppery jacket. And surprise: This mouth pleaser is gluten-free. The formula was a labor of love for veteran chef and co-owner Daniel Cofrades. "Our daughter is a celiac and when we would eat out, I could see there was a real need for dishes that everyone could enjoy safely," he says. "The gluten-free crust stays crispy after you cook it. That makes it good for takeout and delivery."
Early Bird uses more flavorful boneless chicken thighs, which are pounded to tenderize and soaked in a buttermilk-pickle-juice marinade. "We don't dredge the thighs in the coating mix until just before we cook them," explains Cofrades.
The fried chicken can be enjoyed at breakfast, in place of bacon, ham or sausage with eggs or sided with waffles or chilaquiles—a frequent special. (Early Bird's flaky round cheddar biscuits are a joy to dip in an ample side dish of cream-based sausage gravy.) For brunch, the sandwich variation has the same chicken tossed in housemade hot sauce, placed on a biscuit with greens.
The a.m.-focused eatery has also launched a new poultry-specific counterpart: The Chicken Coup, an after-hours virtual fried chicken business available through Grubhub and other delivery services. The menu features roasted bone-in chicken and the same crunchy gluten-free chicken thighs with a selection of sauces and side dishes.
Greenwood Village, 303.568.9297, earlybirdrestaurant.com