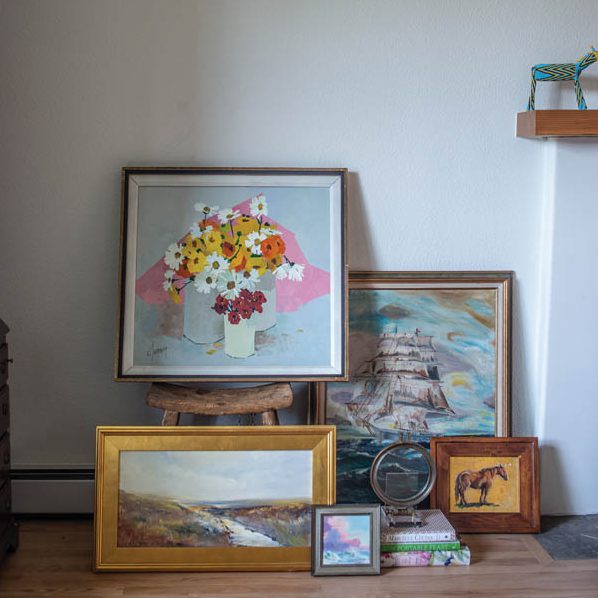 How to style your home with COLLECTIBLE HEIRLOOMS IN MODERN SPACES
SO MANY PEOPLE have antique furniture passed down to them and have no idea how to incorporate these pieces into their homes. The items end up collecting dust in the garage or in the basement without a second thought. But with the resurgence of traditional design has come a renewed interest in antique furniture and heirloom collectibles. They add story and character to your home, plus give you something unique that you can't just go out and buy
from any old store.
Aside from being a unique piece of furniture, antiques also have a sustainability component that resonates with a lot of people. Since these pieces have already been produced and are still in use, they have a much smaller carbon footprint than brand-new furniture and were made to last, adding to their sustainable stature.
For reference, antiques are generally defined as objects that are at least 100 years old. Meanwhile, anything more than 20 years old is considered vintage. But decorating and designing your home with antique and vintage pieces is all about adding storied furniture and objects, as well as blending old-world design with the new and modern. These are the pieces that define your personality and tell your story for years to come.
Grandmillennial Collections
Classic, not trend-based, is what this design is all about – taking traditional designs and updating them for today's modern home. Whether it's a collection of Vaseline ware, formal china, milk glass, brass tea boxes, silver cigarette boxes, hand-engraved vases, the key to achieving a cohesive grandmillennial look is to root it in traditionalism. Yes, you can incorporate pieces from all different eras, but be intentional about what you choose. The idea is to get a sense of who you are. What do you enjoy, what makes you happy, where have you traveled, what have you (or you family) collected? These collections or groupings should blend together to create an elegant, timeless home full of memories. Now the real kicker is to add something unexpected by bringing in a modern twist is what takes this look from outdated hand-me-downs to traditional and chic.
Think needlepoint pillows with modern block lettering or current scenes, or an abstract monochromatic painting next to a display of depression glass. Even chinoiserie ginger jars next to contemporary art. Look to Paloma and Co for inspiration. They're true experts at mixing modern and traditional elements.
Paloma and Co., shoppalomaandco.com
Pattern Play
What else belongs in an update of the past? Patterns, and the more you incorporate, the better! Mixing patterns, when done tastefully, adds instant sophisticated elegance to a room. Try to find patterns that use the same color, a shared design element, or combine one pattern that's modern and simple with one that's more flouncy and detailed. Start with pillows and wallpaper— or even stick-on wallpaper—and let the patterns flow. Check out the vast selections of timeless wallpapers at Hygge & West, and the jewel-box of treasures at Djuna.
Hygge & West, hyggeandwest.com
Djuna,
Denver 303.355.3500; djuna.com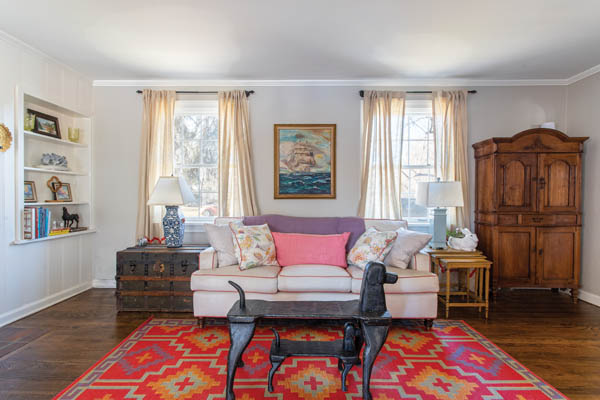 Layers of Personality
Layering in traditional pieces, especially well-loved ones, lets you highlight your personality. It definitely takes an artful eye and the right placement of things to accomplish the look. Too much of a good thing can translate into clutter so choose wisely. For example, if you're more of a minimalist, choose accent pieces that juxtapose the space and add warmth. Or display vintage Zippo lighters in an acrylic box for a pop of the unexpected. By layering multiple styles together, you create a mix that feels unique, where you almost lose track of what's new and what's not. This helps create a look of a home that's collected over time, versus something cookie-cutter that anyone and everyone can buy. Denver's White Peacock has gorgeous goodies from global artisans and sought-after brands—all perfect for personal touches such as their Anna Weatherly Flights of Fancy Butterflies.
White Peacock, Denver
303.954.8333; whitepeacockdenver.com
Antique Accents
Antiques don't always have to be statement pieces. Sometimes incorporating antique furniture as a subtle accent is just the thing. For example, using an antique trunk as a side table or coffee table grounds the space while also providing storage. Pair it with a lighter colored sofa to highlight the wood and worn leather. You can also incorporate natural textiles like jute rugs and woven lamp shades to complement the weathered trunk. Check out Patina Antiques and Home for their collection of antique and vintage trunks and curated finds.
Patina Antiques and Home
Greenwood Village, 303.795.0816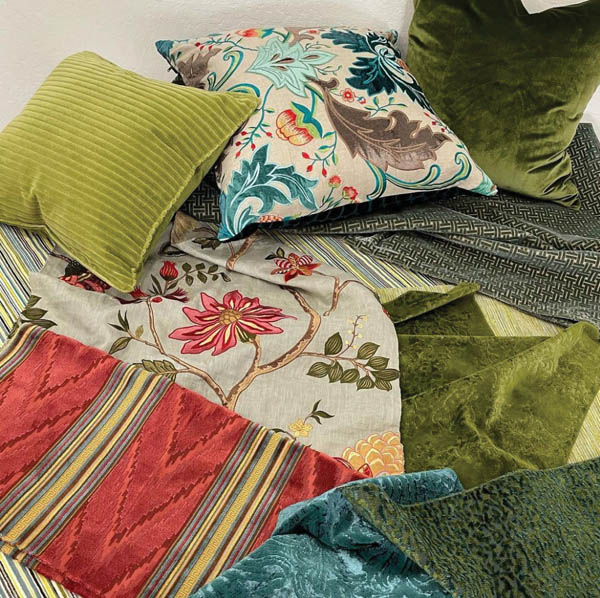 Contrasting Old and New
It's one thing to mix antiques with more traditional-style furniture. It's another move entirely to mix antiques with ultra-modern lines. For example, pairing lucite chairs with a Victorian-style dining table creates an interesting, unexpected comparison.
Also, when it comes to antique furniture, you don't have to limit yourself to just one piece. In fact, there's something quite charming and eclectic about mixing antiques from different styles and eras. A simple way to create a relaxed space that's still sophisticated is to take a vintage chair or sofa and reupholster it in a vibrant modern print. As long as the piece has good bones, reinvent it into something that brings you joy. Boris Upholstery has a vast selection of fabrics for all types of furniture, and Molly Reinhardt of Studio M Denver repurposes designer fabrics and samples from the design trade industry to create luxury pillows, soft goods and custom pieces. Her shop is bursting with creativity—colors, patterns, textures— and Reinhardt's cheerful personality, making Studio M a haven for design.
Boris Upholstery, Parker
303.751.2921; borisupholstery.com
Studio M Denver, Denver