If you haven't been to Blue Island Oyster Bar and Seafood, you're seriously missing out.  It's a shell of good time with its modern take on nautical décor, fresher-than-fresh delights of the sea and, of course, perfectly paired cocktails—it's like being dropped into the Hamptons, but without the East Coast accents.  
The restaurant is owned and operated by Colorado's Shucking Good Hospitality, which collaborates with Long Island's Blue Island Shellfish Farms in its commitment to high-quality seafood. Blue Island Oyster Bar offers a robust selection of oysters, clams, lobster, crab, caviar and dayboat catches every day of the week.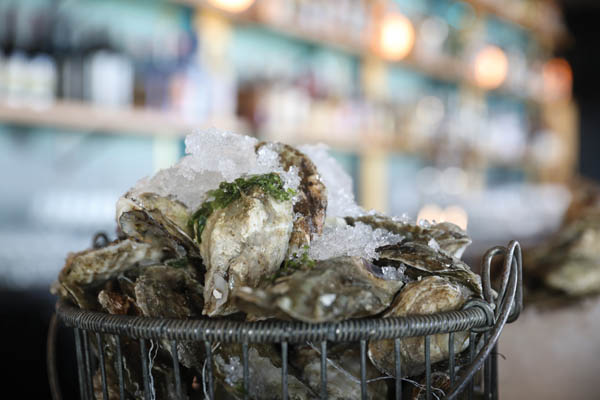 Run by Shucking Good owner Sean Huggard—a professional chef, buyer oyster shucker—and his partner and seafood diver Chris Quartuccio, Blue Island Oyster Bar provides guests with the ultimate seafood experience through its dedicated oyster farm and decades-long relationships with fishermen on both coasts offering sustainably sourced seafood.
"We couldn't be more excited to open our second outpost in Lone Tree, and bring our fresh dayboat catches to the southern suburbs," says Huggard. "Having grown up on the East Coast, immersed in the shoreline culture, it's an honor to work with such knowledgeable and experienced partners, and bring so many coastal flavors and delicacies to Colorado."
This is their second restaurant in the front range and with their success at bringing a taste of the sea to the Rockies, who knows how high they'll aim next, but we can't wait to see what the catch of the day brings.
Blue Island Oyster Bar and Seafood
Lone Tree, 303.379.9108; blueislandoysterbar.com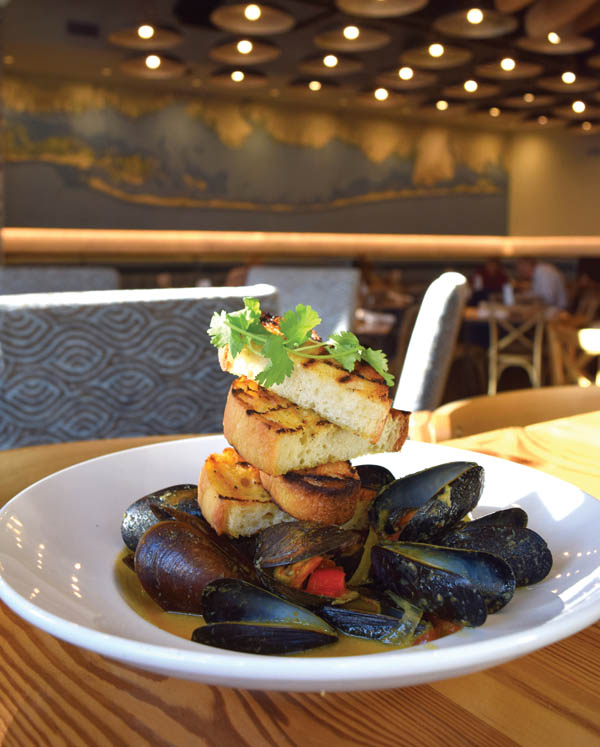 Blue Island Oyster Bar and Seafood's Coconut Curry Mussels
Ingredients
For the sauce:
½ cup canola oil
1 onion, sliced, approximately ¼ inch thick
1 tablespoon yellow curry powder
½ cup yellow curry paste
2 tablespoons fresh ginger, minced
4 cups coconut milk
4 cups white wine
½ cup lime juice, freshly squeezed
2 tablespoons fish sauce

For the mussels:
1 pound black PEI mussels, scrubbed, debearded
1 tablespoon butter
2 tablespoons tomato, chopped
2 tablespoons red bell pepper, chopped

Method
For the sauce:
Heat oil in a heavy, large pot over medium-high heat, add onions, sauté until translucent; add curry powder, stir until fragrant, about 1 minute. Add curry paste, ginger, coconut milk, white wine, lime juice and fish sauce; simmer until reduced by one-fourth.
For the mussels:
Heat a large sauté pan over medium-high heat, add butter, tomato, red bell pepper and mussels; sauté until peppers and tomatoes are sizzling, about 1 minute. Add 1½ cups of coconut curry sauce, toss until mussels are coated; cover and cook for 3 minutes until mussels open. Using tongs, place mussels in a large pasta bowl, discard any mussels that did not open then pour remaining sauce over mussels. Garnish with chopped cilantro and serve with crusty bread.