By John Lehndorff
Please your family and ease holiday strain with tasty treats from DENVER'S BEST BAKERIES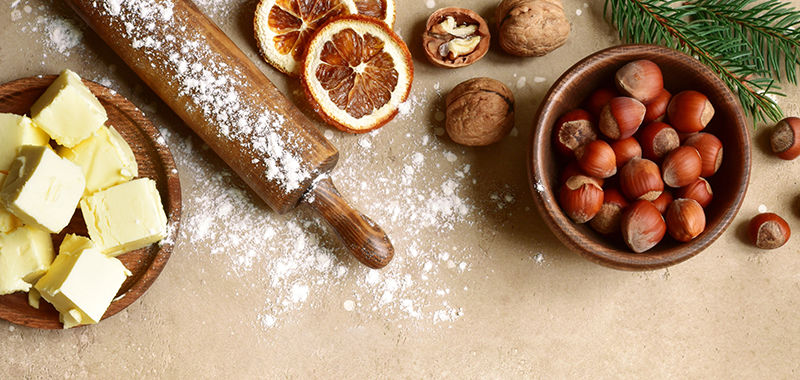 Photo By Shutterstock.com/ Liliya kandrashevich
There are specific baked goods we expect and hope for that define the holiday season's special events: pies for Thanksgiving, sufganiyot for Hanukkah, frosted cookies for work parties and bûche de Noël for Christmas. That doesn't include the buns, breads and other sweets we all grew up on and still crave, often treats from our origin nations.
For the slightly overwhelmed host, we have some serious advice: You don't need to make—or bake—everything. The abundance of excellent nearby bakeries makes it easy to check off one thing on your big to-do list, whether you need panettone loaves or pfeffernüesse cookies. Even the dreaded fruitcake! One of the joys of the season is visiting the bakeries for "research" and inhaling the sweet, buttery aromas.
Almost every shop in our holiday bakery guide offers some gluten-free and diet-sensitive goodies so everyone in the family can partake. Virtually all of these Denver bakeries are family owned and staffed. Reduce anxiety by ordering your favorites several weeks ahead to guarantee you'll get the goods. After all, you are definitely not the only Denver-area host trying to satisfy friends and family at a holiday gathering.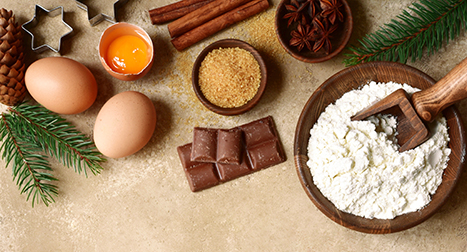 Photo By Shutterstock.com/ Liliya kandrashevich
AvidLifestyle 2023 Holiday Bakery Guide
Ana's Norwegian Bakeri
6770 S. Yosemite St., Centennial
720.287.2968
anasnorwegianbakeri.com
Get these seasonal goodies: Norwegian krumkaker
(thin cardamom-flavored cookies), dinner rolls, coffee
cake (chocolate, coffee, and cinnamon), iced lemon cake,
cardamom coconut buns and cinnamon raisin loaf.

Bird Bakery
8000 E. Belleview Ave., Greenwood Village
720.379.7951
birdbakery.com
Get these seasonal goodies: Pies including pumpkin, sweet potato and chocolate pecan, plus pumpkin bread, honey cheesecake, and Christmas sugar cookies.

The Fox and The Raven Bakery
(Inside Corvus Coffee Roasters)
5846 S. Wadsworth Blvd., Littleton
720.749.5139
thefoxandtheraven.co
Get these seasonal goodies: Honey dinner rolls, hand pies, Greek Christmas bread, chocolate cherry
bread, morning buns and cookies, all made with locally grown heirloom grains milled in-house.

Gallo Italian Supper Club and Bakery
3470 S. Broadway, Englewood
303.353.9917
gallosupperclub.com
Get these seasonal goodies: Classic Italian ricotta pie with chocolate chips, cream-filled lobster tails plus cannoli with cookies, including pignoli (pine nut), apricot bowties, pistachio cookies and macaroons.

La Baguette de Normandy
6524 Keystone Blvd., Parker
303.805.9130
labaguettedenormandy.com
Get these seasonal goodies: Bûche de Noël in numerous flavors and sizes, French Christmas cookies,
pecan and pumpkin tarts, salmon quiche, and pumpkin cakes.

La Belle French Bakery
8547 E. Arapahoe Road, Greenwood Village
303.955.8037
labellefrenchbakery.com
Get these seasonal goodies: Pumpkin croissant, pumpkin cream cheese muffin, and traditional bûche de Noël (hazelnut, raspberry vanilla and chocolate). La Belle also bakes tartes au citron, eclairs and Christmas cookies.

Rheinlander Bakery
5721 Olde Wadsworth Blvd., Arvada
303.467.1810
rheinlanderbakery.com
Get these seasonal goodies: European fruitcake, pies, kringle (pastry), strudel, springele (anise), and pfeffernusse cookies in addition to a wide selection of gluten-free and sugar-free cookies and pastries.

Rosenberg's Kosher Bakery
942 S. Monaco Parkway, Denver
303.388.2648
rosenbergskosher.com
Get these seasonal goodies: Jam-filled sufganiyot (doughnuts), fruit and nut rugelach, and mandelbrot
(almond bread) for Hanukkah (December 22−30 this year). The bakery also supplies kosher bagels, bialys and challah.

Trompeau Bakery
2950 S. Broadway, Englewood
303.777.7222
trompeau-bakery.com
Get these seasonal goodies:
Pecan, pumpkin and French almond pies (Thanksgiving), bûche de Noël with meringue decorations, cranberry walnut boule, pain au chocolat and galette des rois (for Three Kings Day).

Wave the Grain
8172 S. Holly St., Centennial
303.721.7547
8996 W. Bowles Ave., Littleton
720.335.6942
wavethegrain.com
Get these seasonal goodies: Wave the Grain specializes in gluten-free and dairy-free treats
including cookie kits, pies, rolls, quiche, cookies, spiced cakes, cinnamon rolls and breads.
The Wide World of International Pastries
Many Denver-area bakeries specialize in baked goods from
specific countries and regions including:
Indian: Babu's Indian-inspired Treats, Aurora, mybabus.com
Eastern European: Royal Bakery, Arvada, royalbakeryco.com
Scandinavian: Taste of Denmark Bakery, Lakewood,
tasteofdenmark.net
Japanese: Tokyo Premium Bakery, Denver,
tokyopremiumbakery.com
Dutch: Boonzaaijer Dutch Bakery, Colorado Springs,
dutchpastry.com