By Jon Rizzi
Photography Courtesy of Inverness Denver
Don't let THE INVERNESS fool you—it's not just for conferences anymore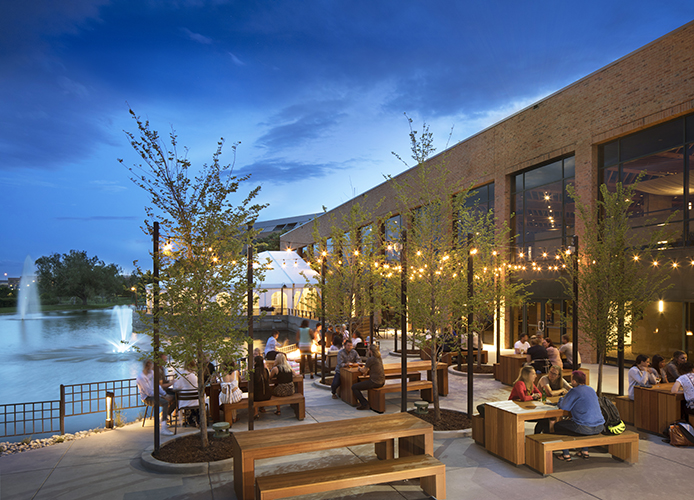 On January 16, 1989—16 years after the inception of the Inverness Business Park and 15 after golf balls began flying at the Inverness Golf Club—the Hilton resort now known simply as The Inverness opened.
Back then, it was called The Scanticon Denver Hotel, Resort and Conference Center. Its 302 plush guest rooms, 43 well-appointed meeting spaces and sleek, streamlined interior reflected the holistic "work hard, learn hard, play hard" philosophy espoused by Jørgen Roed. A Danish educator-turned-CEO, Roed had pioneered the conference-center concept (Scanticon is a portmanteau of Scandinavian Executive Conferences) with a resort in his homeland that began attracting global executives in late 1960s.
Scanticon International had partnered with U.S. West, then one of Denver's largest employers, to build and own the five-story facility in the region's burgeoning enterprise area. From its magnificently skylit central lobby flowed wide hallways, called "streets," each with its own purpose: one for learning, featuring high-tech conference rooms with floor-to-ceiling windows, Herman Miller furnishings and the latest technology (as well as alcoves for private confabs and all-day snacks and refreshments); one for dining and entertaining in an upscale lounge and restaurant; one for holding large conferences; and a fourth, downstairs, for play with a bar, pool, golf course, tennis courts, fitness center and spa.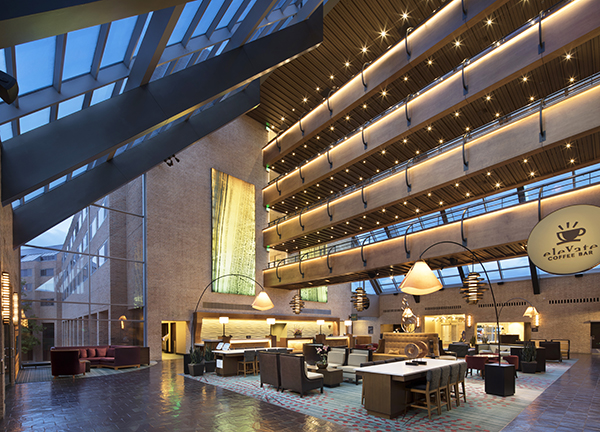 To get from one street to the other, you had to cross the sun-drenched lobby "to clear your mind and transition from one activity to another," director of events Julie Finn explains. Finn has worked at the property since it first opened its doors, and while ownership and management have also transitioned during those 34 years, the commitment to unique guest experiences and a high-level service has
never wavered.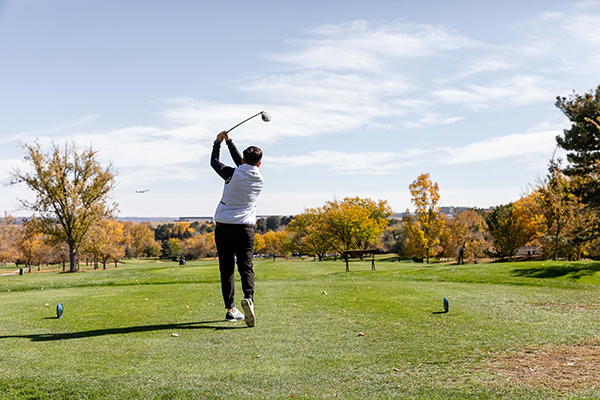 "Every hotel around us is a box with guestrooms," she says. "We're clearly different in our architecture, design philosophy and the high level of service we give our guests. That culture of service is at the core of who we are—the 'Inverness Difference.'"
These days, a big difference is that The Inverness no longer calls itself a "conference center." Although non-leisure travelers still comprise about 60 percent of its business, "The Inverness, A Hilton Golf & Spa Resort" is now the official name.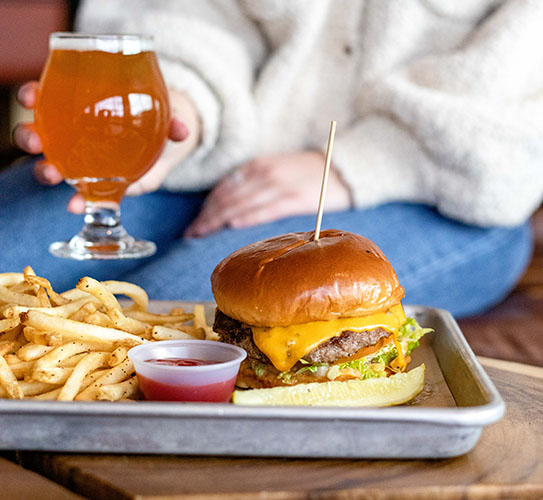 Owned since 2015 by Denver-based SilverWest Hotels and currently managed by Crescent Hotels under the Hilton brand, the resort has undergone a multimillion-dollar series of upgrades to appeal to guests from all over—including Colorado's Front Range. "We're really a hidden gem," director of sales and marketing Ruth Kilzer says. "Many locals are just discovering it."
From refurbishing the guest and meeting rooms to decluttering the lobby to whitewashing the brick walls along the "streets," SilverWest has polished that gem. In 2019, as part of a major revitalization of the "play" environment on the lower level, the locker rooms, golf shop, spa, fitness, and indoor and outdoor pool areas received makeovers. Four lighted outdoor pickleball courts have joined the two tennis courts.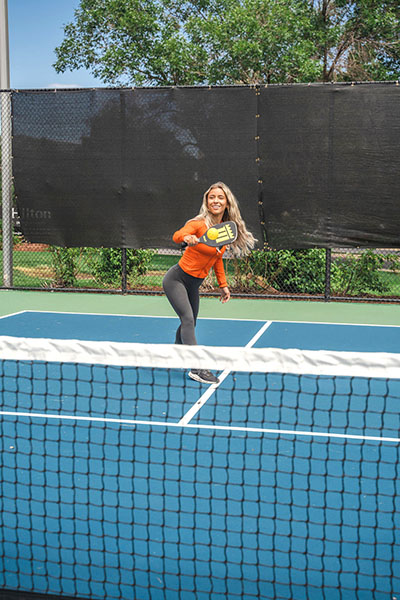 Perhaps the most conspicuous change was the replacement in 2019 of the Spotted Dog bar with the bright and lively Breckenridge Brewery Ale and Game House. The pub's convivial vibe seamlessly spills onto the biergarten ambiance of the patio, complete with picnic tables, firepits, cornhole boards, a food truck and a 16-foot-high solar sunflower. Like the plant itself, the "flower" opens its petal-panels at dawn, closes them at dusk and in between follows the sun for optimal energy conversion to power the golf shop.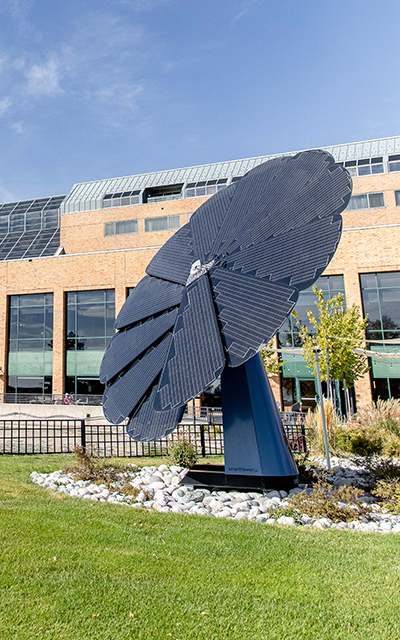 Convert your own energy in Colorado's endless sunshine on The Inverness' three miles of paved trails by signing out a bike or skateboard across from the concierge desk in the lobby. You'll ride past a large Colorado-themed Adirondack chair, perfect for selfies. These are just some of the many "Colorado" touches—like the pints of Avalanche Amber Ale in the bar and the enormous John Fielder photos of the Cimarron Forks and Lower Blue River Valley now hanging in the lobby—that give The Inverness a sense of place it somehow lacked.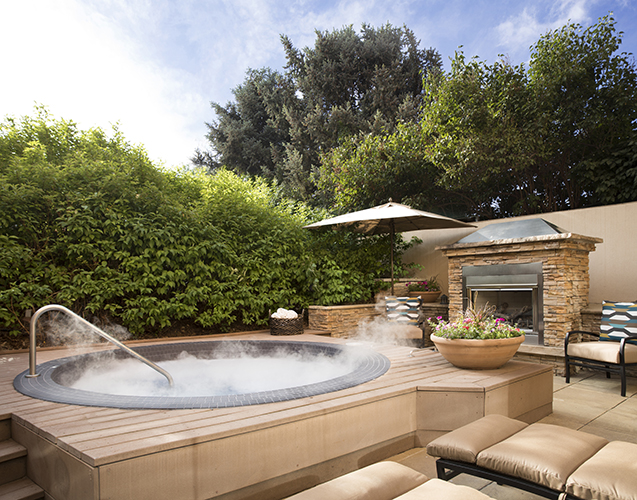 To be sure, The Inverness has never lacked a place to indulge your senses. At its spa, you can get pampered with organic products (Éminence, FarmHouse Fresh and others) in one of seven treatment rooms before repairing to a relaxation suite, private hot tub and a firelit patio.
The Inverness has changed over time, but some things—like the Champagne Sunday Brunch and daily buffets in the Garden Terrace and 18 holes on a golf course that for six years hosted the Colorado Open—remain as essential as ever to the experience. Even those without a conference to attend should make it their business to check it out.
The Inverness
200 Inverness Dr W.
Englewood
303.799.5800
theinvernessdenver.com