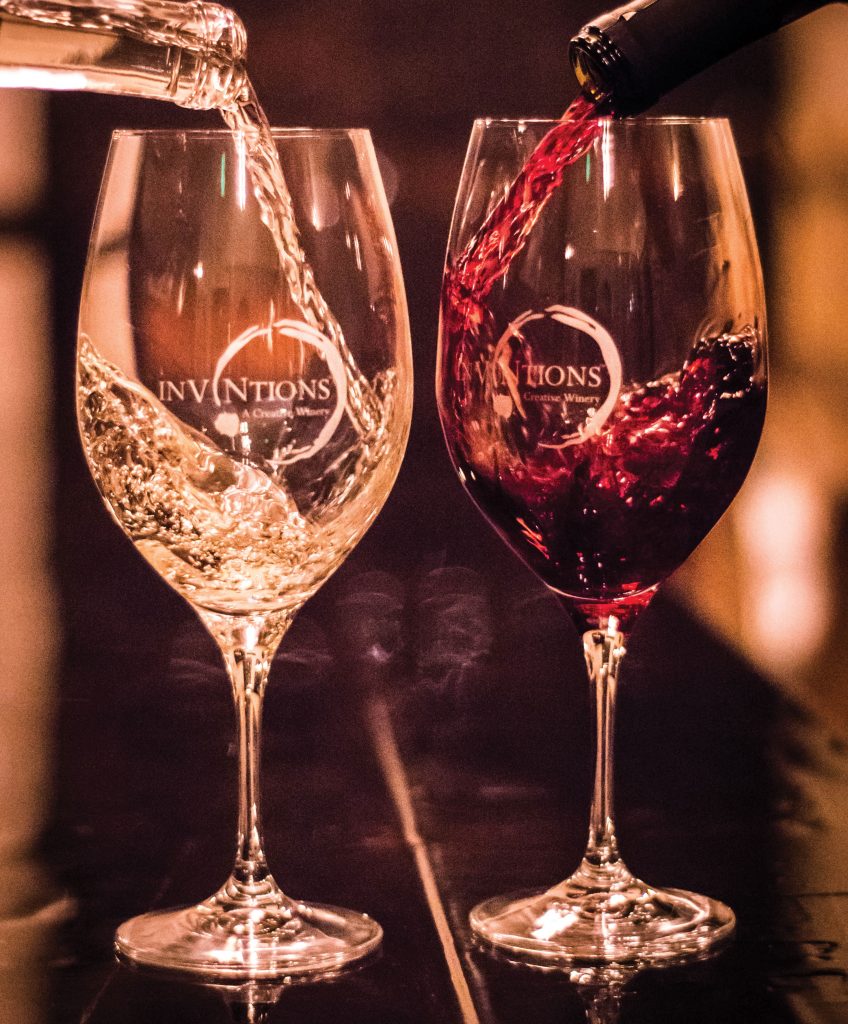 It's true that learning a craft breeds a greater appreciation for the final product. Before Marcus Tipton and his mother-in-law, Nancy Tipton, opened Invintions, A Creative Winery in 2010, the two learned how to make wine by traveling across the U.S. and abroad, popping into various wineries to see how things were done.
But once school was no longer in session, they chose not to follow in the footsteps of the familiar vineyards. Marcus and Nancy were going after a different flavor profile: "We let the grapes really speak for themselves," says Marcus.
According to Marcus, Invintions' wine is made with no histamines (which can cause allergy-like reactions), no synthetic tannins (which are typically added to make wine more astringent) and a reduced amount of sulfites (a necessary preservative in wine, but one that some people claim causes headaches). The result? A wine that is less diluted and more fruit forward. It's the reason Invintions has won more than 40 awards in its nine-year existence.
"Our team really understands why we have to produce at such a high level: That quality and the lack of preservatives really makes a big difference," says Marcus. "It's a completely different taste of wine for most people."
And it's an experience the Tiptons want to share with imbibers as much as possible, which is why they let enthusiasts in on the process with a custom winemaking workshop.
In it, attendees dive deeper into the flavor and science behind the company's wines. "It's some of the chemistry, and it's some of the fun of being able to sample the fruit before it goes through fermentation," explains Marcus.
The process begins with a tasting, where guests pick the type of wine to create. Next, the professional vintners explain the ingredients going into the wine (the makers stay true to the award-winning recipes even when outsiders are watching) and get the components started.
Then comes the waiting: It takes about eight weeks to ferment the grapes.
When the wine is ready to go, it's time for a bottling party, where hobbyists get to slap on a custom label—the most fun part, Marcus says.
The 28 bottles classgoers leave with, of course, isn't half bad either. Adds Marcus: "It's a great team-building and family event, makes a great gift and is a wonderful conversation starter."
APPLES OR GRAPES?
New to the Invintions repertoire is its small-batch label of hard ciders, called Encore Cider.
The Flavor: Encore Cider is drier than traditional hard cider and features apples from the Pacific Northwest.
There are almost 10 varieties to sample on tap, including blueberry, blackberry, ginger, lemon basil and a hopped version.
Alcohol Content: At 7 percent A.B.V., Encore Cider is on the stronger end of typical hard ciders.
OTHER GIFT OPTIONS
The Adopt-a-Batch program, where you can bottle wine that's already in progress, skips the eight-week wait.
For a better Black Friday experience, get to Invintions when they open at 10 a.m. for discounted bottles, contests and more. Oh yeah: Dress in your PJs to get a complimentary bottle of wine or cider added to your haul.
WINE TIME
Invintions, A Creative Winery
Cost: $250-$600, depending on wine selection
Greenwood Village
303.799.9463