Five years ago, Florence Müller, a Paris-born curator and former fashion journalist, hopped the pond from France to the Front Range to become the Denver Art Museum's Avenir Foundation Curator of Textile Art and Fashion.
Here, the Colorado transplant flings open her closet to show us her megawatt collection of haute couture—and reveals everything from her go-to vintage shop to her favorite restaurants in town. PLUS: Müller shares the music playlist from her recent exhibition at DAM, "Paris to Hollywood, the Fashion and Influence of Véronique and Gregory Peck" to add to your Spotify. Oui oui!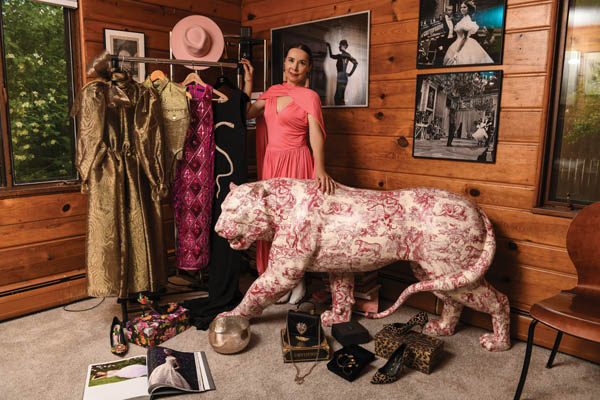 Denver is quite a change from Paris. Are you a mountain person?
Yes! Yes. I love hiking, I love skiing, all these things and this connection with nature. That is really something that you miss in Paris, because it's a city without many trees and nature. It's a very different life, of course, but it's what I was looking for—an adventure!
Love that. Welcome. How did you get into fashion?
I was a student in history of art at the Louvre, also doing theater costumes and fashion photography. I was looking around to find something that was connected with how garments can transform themselves and can really redefine somebody. It is a form of art. I started to work with the lady who is considered the founder of the fashion museum in Paris, in the Louvre. When she passed away from cancer, I was very young still, but became the curator of the museum. I stayed there until the mid '90s and I did many, many exhibitions. Then I became an independent curator and started to teach fashion at the French Institute of Fashion, which is the most prestigious school in Paris.
Wow. That's quite a résumé!
I'm known for retrospectives—I think I have done about 18 exhibitions on Dior, and many big retrospectives around the world in Russia, China, Japan, France, England and Israel as well. Perhaps I am seen in the fashion world as a specialist of the history of fashion, from the 19th century to today, and more specifically, a historian of designers and couture.
This is amazing. I am so proud that we have you here in Denver. Are you appalled by the way we dress here?
I think the way people are dressed here is very much in tune with this outdoor lifestyle. When you walk in some districts, like LoHi, LoDo, Cherry Creek, Larimer … you can really find a lot of fashionistas. Denver is a gigantic city but there are very fashionable districts where you can really shop very, very interesting fashions, for both women and men.
What do you look for when you're curating a museum exhibition?
I'm inspired by contemporary fashion. I follow all the shows and have for more than 30 years. Street style also is a huge inspiration. I like to find subjects that are connected with the mood in which we are. My recent exhibition on Gregory Peck [for the Denver Art Museum] resonated very well with the fact that the pandemic is not over totally, but we are able to go outside, to go to restaurants, to enjoy life. The exhibition is very enjoyable and really fits with this moment.
How do you begin the process of curating an exhibition like that?
When I have a final subject [approved by the Director of the museum], I dream about it a little bit. I start to write a story—basically, what I want to tell about the subject, what is important, and what will touch people. Then I start to work on a checklist for everything that will be exhibited: all the ensembles, including the accessories, the photos, the videos. Usually, the first checklist is very large and it's very difficult to reduce it, because you want to keep everything—everything is desirable!
I keep things that tell one moment in history…and some objects because they are beautiful and very artistic. The research takes several months; very often I ask for the help of the couturier and design companies when they have archives and I'm able to find the origin of the pieces.
What is the "secret sauce" to a great fashion exhibition?
The set design. I like to work with architects because they have a great sense of the space. The other big, big thing is the lighting—it's half of the success of the beauty of an exhibition, especially for fashion evolution. Dresses aren't easy to light because they are 3-D objects. Sometimes if you light the front, you miss the back, that kind of thing. And of course, music is important because it can give the feeling of the decade in which the piece belongs, then it helps people to remember, "Oh, okay, this is the '70s."
I want to hear about your own collection of couture. What are your favorite pieces?
Oh my God, I have too many! I love Balenciaga. I am buying a lot of Demna Gvasalia, the current artistic designer of Balenciaga. I love Celine as well. Back in the '80s and '90s, I bought a lot of Jean Paul Gaultier, Thierry Mugler, and Marc Jacobs. It's difficult because there's so many!
Do you ever do vintage shopping?
Since moving to Denver, I love to shop vintage because there are many antique malls here. Every month I do a tour of the vintage mall and boutiques and find some treasures. The Brass Armadillo is my favorite—I'm not sure if it's politically correct, but I found great vintage fur from the '70s. I have a beautiful Red Sox jacket that I bought this winter that I love so much, and a long white mink coat from the '70s. Unbelievable.
Since you lived in Paris for so long, I'm dying to know—which restaurants in town are your go-tos?
There are many! I love Tavernetta and its owners, who are friends. And I love Atelier by Radex. Hillstone is one of my absolute favorites in Cherry Creek—their [hot fudge] sundae with the cream is crazy! I also love Temaki Den, a new restaurant that opened in The Source during the pandemic. It's absolutely wonderful and there is a lot of space—you can get a reservation at the last minute. Another favorite: Cart-Driver, which has locations in LoHi and RiNo. They have the best pizza—I would say they can compete with any pizzeria in Italy. It's very sophisticated and simple, and the places are beautiful, and full of beautiful people.
Stylish Soundtrack
To set the mood for her recent Denver Art Museum exhibition, "Paris to Hollywood," Müller turned to a true expert: "I curated the list of the music with the help of Cecilia Peck, the daughter of Veronique and Gregory Peck." Here, the exact songs the duo selected—add them to your Spotify for your next well-heeled dinner party.
1. Roman Holiday Main Theme.Composer: Georges Auric © 1953 Paramount.
2. I Say a Little Prayer, Aretha Franklin. Composers: Burt Bacharach and David Hal © 1967 Atlantic.
3. Isn't She Lovely, Stevie Wonder. Composer: Stevie Wonder © 1976 Universal Music Group.
4. Superstition, Stevie Wonder. Composer: Stevie Wonder © 1972 Universal Music Group.
5. Messe pour le temps présent (Mass for the Present Time): Psyché Rock, performed for Maurice Béjart choreography, Avignon Festival. Composers: Pierre Henry and Michel Colombier © 1967 Universal Music Group.
6. Messe pour le temps présent (Mass for the Present Time):
Teen Tonic, performed for Maurice Béjart choreography, Avignon Festival. Composers: Pierre Henry and Michel Colombier © 1967 Universal Music Group.
7. Fly Me to the Moon, Frank Sinatra, Count Basie and His Orchestra. Composer: Bart Howard © 1964 Universal Music Group.
8. Somethin' Stupid, Frank Sinatra and Nancy Sinatra. Composer: Carson C. Parks © 1967 Universal Music Group.
9. The Best is Yet to Come, Frank Sinatra, Count Basie and His Orchestra. Composers: Carolyn Leigh and Cy Coleman © 1962 Universal Music Group.
10. Diamonds on the Inside, Ben Harper. Composer: Ben Harper © 2003 Universal Music Group