Greenwood Village resident Mary Downs has a tail-waggingly fun extracurricular: helping rescue labradors in need.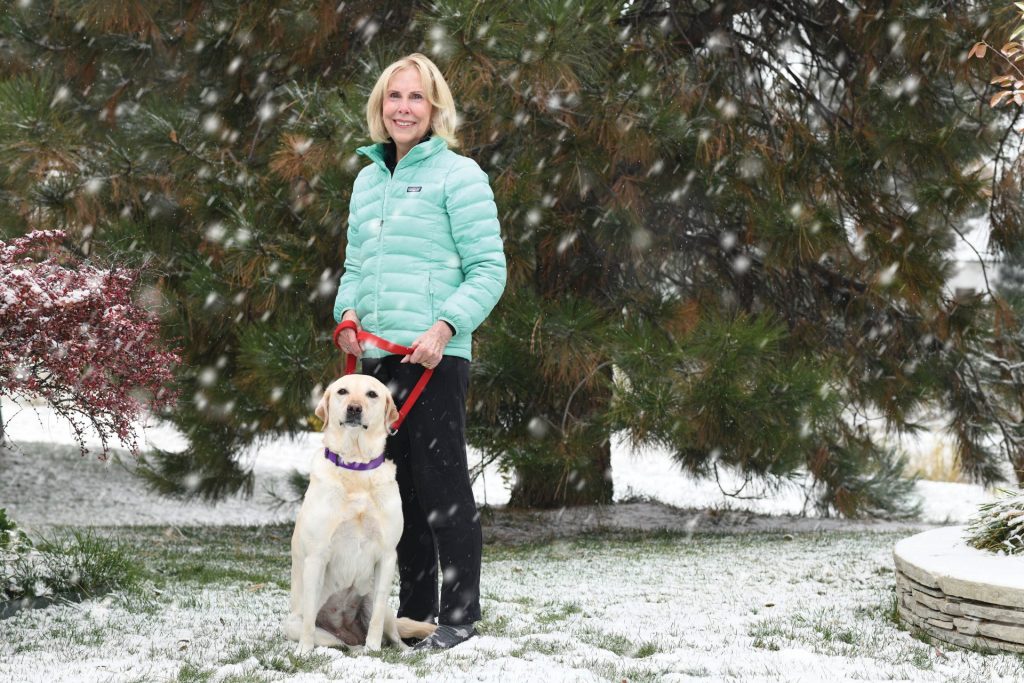 There's a reason dogs are called man's best friend: they're loyal, loving and always there to greet you with a smile at the end of a long workday. Unfortunately, sometimes man isn't dog's best friend, and for those instances, there's Colorado's entirely volunteer-run Safe Harbor Lab Rescue. "Our mission statement says we focus primarily on rescuing dogs from Colorado, but more and more we're getting dogs from surrounding states like Utah, Wyoming, Kansas, Arkansas and Texas," says Mary Downs, who volunteers her time with the organization, doing everything from spearheading fundraising efforts (including Colorado Gives Day in December) to acting as secretary of the board. In addition to her work fostering dogs with her husband in their Greenwood Village home. Safe Harbor Lab Rescue saves "about 250 labs a year. The main way that we spend our money is on medica: last year we spent $200,000; we get a lot of dogs that need very serious medical care, and it can cost in the thousands." Since the organization was founded in 2002, they've rescued over 4,000 Labradors; many are flown in from nearby states by Pilots N Paws. All dogs receive veterinary care at VCA Alameda East Veterinary Hospital, then wait for adoption in a volunteer-run foster home. "For income, we rely on donations, fundraisers, grants and finally adoption fees, but those don't cover the average cost per dog."
Now retired, Downs was a Project Officer managing superfund cleanup contracts at Federal Facilities for the Environmental Protection Agency. She started volunteering for Safe Harbor Lab Rescue in 2006, and has a special place in her heart for the Labrador breed. And no wonder: bred as fishing dogs in Newfoundland, they're favorite therapy animals, thanks to their obedient, steadfast and calming vibes. Everyone from thousands of Americans to Presidents George H.W. Bush and Bill Clinton have owned them; and while Queen Elizabeth II famously loves her Corgis, she's also kept dozens of working Labs at Sandringham House, her 20,000-acre estate in Norfolk, England.
"I just love their personality," says Downs of why she loves Labs so much. "They're characters. Most of them are super sweet. I love the way they look. I just love their disposition." And unlike some members of the British Royal Family, she's not after them for their hunting skills. Downs' two kids are both philanthropists and dog lovers themselves; her daughter has a Safe Harbor rescue, a chocolate Lab named Lulu. "They're just great companions," she says.
Case in point: the many, many dogs Safe Harbor has helped usher from hard situations into successful, happy lives. Take JJ, a black Lab who came from Amarillo, Texas, before being fostered by Downs and then adopted out. "I'm 99% sure he was a stray; most of our dogs are," she recalls. "He had severe hip dysplasia, and my husband and I fostered him through two hip surgeries. He would give the cutest little howls of happiness when he'd see me in the morning; I fell in love with him. This awesome couple, both graduate students, came out from California and adopted him. I get pictures now and then of him on the beach." (Cue Oprah tears.) Another dog, Honey Bee, came to the organization from Grand Junction both diabetic and blind. "She was an old gray muzzled type dog; we took her to the eye doctor and he took cataracts off her and restored her eyes," Downs says. As if by magic, Honey Bee quickly became more playful. "Her foster [mom] had no idea she could retrieve!"
For those that are uninitiated to the Labrador breed, they're not as easy as a pet goldfish. "I think a lot of people misunderstand the breed because they see pics of Labs just chilling. They absolutely need exercise." And that can be an extra positive thing for their owners, especially in the midst of an international pandemic. As COVID-19 descended, dogs helped soften the blow of a changed world; adoptions of all kinds of canines soared. "[Dogs will get you] out of the house and get fresh air too," says Downs, who loves to walk the High Line Canal Trail with her latest Safe Harbor rescue, a yellow Lab named Shelby. "When we lost our last dog this year I told my husband [I wanted another and] he said let's just wait for a while. I said, 'I need a wagging tail in the house! You're gone all day at work; I need to see a tail wagging.' People want the company; they want the cheerfulness. The dogs don't really understand there's a pandemic. They get you out of the house for your walks and they just provide comfort and joy."
Safe Harbor Lab Rescue