In the face of uncertainty, isolation and extreme angst, people often seek solace in small comforts. We look for reassurance and guidance. "When I was a boy and I would see scary things in the news," Fred Rogers told his television audience of friendly neighbors, "my mother would say to me, 'Look for the helpers. You will always find people who are helping.'" Never has a mother's declaration of hope carried so much weight.
Within the COVID-19 pandemic, helpers are everywhere—resilient, compassionate and altruistic individuals and small and large companies doing their part to support our community, lift up those in need and relieve some of the hardship and apprehension. Celebrate six such advocates right now.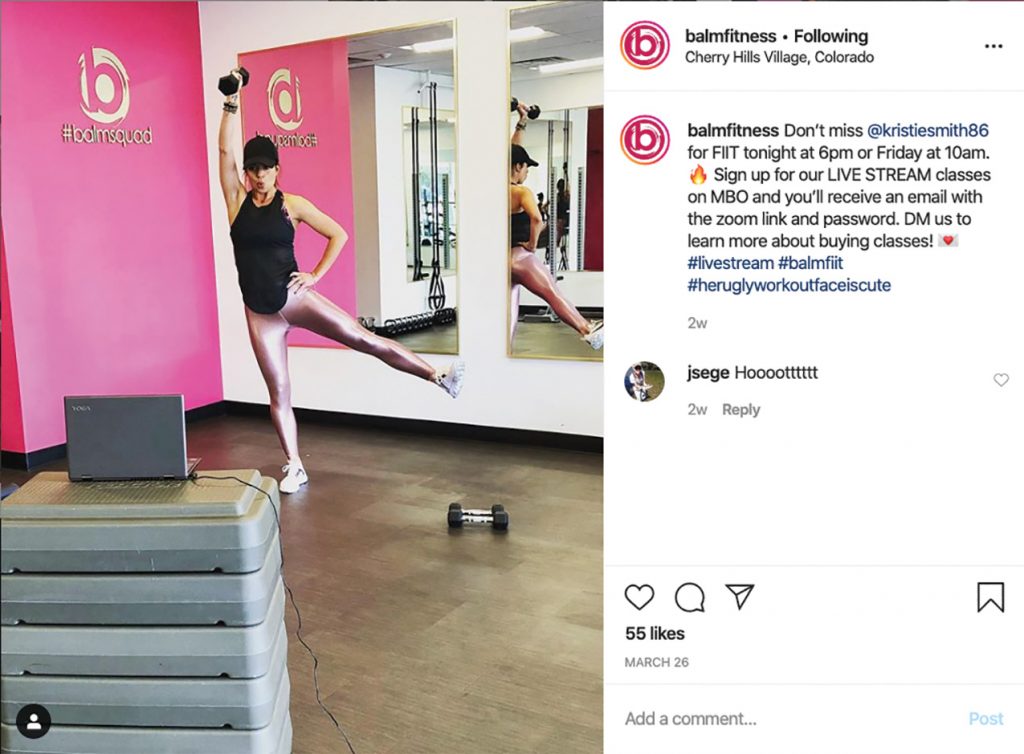 Shelter and Shake … Your Booty 
When gyms and fitness centers closed their doors, Laura Nigro of Balm Fitness and Carla Sanchez of Performance Ready Fitness Studio were among the first local fitness experts to take their classes online and outside. Nigro opened her studio in April of 2018 to provide "a place where women could work out, achieve their goals and truly push themselves in a safe, welcoming, encouraging and challenging space." 
When the pandemic struck, Nigro was determined to continue empowering those women. She quickly moved her business model to a live-stream platform, with one to two muscle-burning, calorie-torching and body-strengthening classes per day from her studio. The classes, playing in up to 25 participants' homes, rely on body weight rather than equipment, so they're conducive to a home environment. "It's amazing that in isolating times, we've proved to be more connected than ever before," says Nigro.
Sanchez quickly encouraged her clients to keep moving, too. "My passion for helping people to live stronger, healthier lives doesn't solely depend on what I offer inside the four walls of my studio," she says. "I knew I could offer something to my clients to help them keep moving and feel hopeful and socially connected in a safe, motivating way."
To that end, she began conducting workout sessions from her living room and inviting clients to join her via Zoom broadcasts, which she then posts on her Instagram and Facebook accounts along with healthy recipes and wellness tips. Her Booty School class, averaging around 15 to 20 people, is a favorite.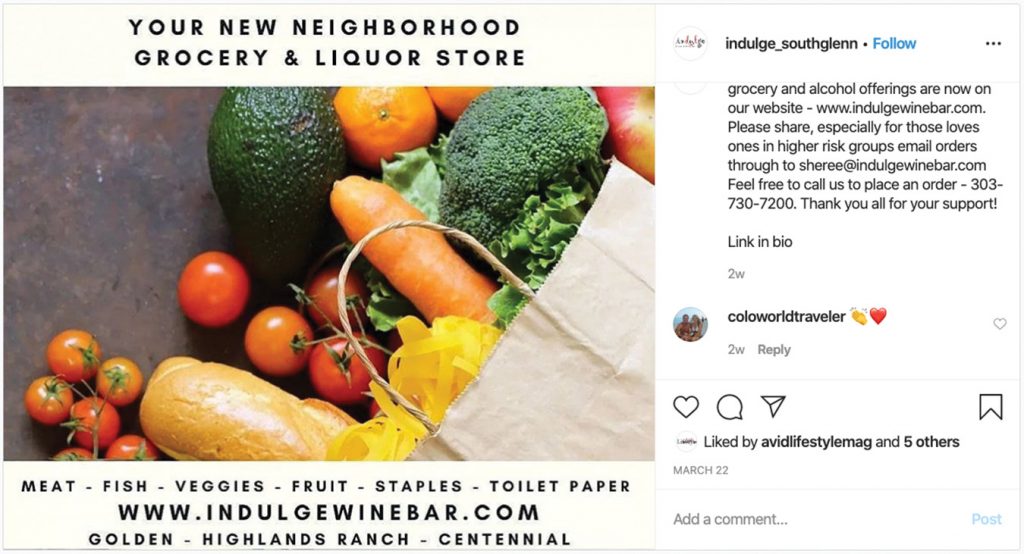 Keep Calm and Cook On 
Apocalyptic supermarket shopping chaos and the shuttering of restaurant dining rooms has created an unprecedented need for innovative ways to gather groceries and cook. These businesses rose to the occasion. 
The Country Club at Castle Pines, a private golf club with 600 members, implemented an online general store that allows members to preorder everything from toilet paper and tissues to breakfast burritos, eggs, family meal packages, soups, deli meats, side dishes, wine and beer—all distributed curbside. "I feel so lucky to still be employed, and in times like these, I want to give back to our wonderful members," says executive chef Joe Martin, whose kitchen team has also dropped off breakfast burritos to first responders at various hospitals in Parker, Lone Tree and Littleton. "The least we can do is put meals in their mouths."
To-go grocery packs, priced at $62, became the calling card of Perry's Steakhouse and Grille, a Park Meadows-based beef temple. Its impressive bundle of cook-at-home foodstuffs for lunch and/or dinner: a duo of filet mignons and chicken breasts, a dozen eggs, bacon strips, red potatoes, broccoli, corn on the cob, two loaves of house-baked bread, a gallon of milk and several additional culinary perks, including steak butter and seasonings.
The restaurant's Instagram feed has also showcased specials, including Perry's famous medieval-size pork chop paired with whipped potatoes and housemade applesauce. And because everyone needs a little liquid courage during times of trouble, Perry's created accompanying cocktail kits, loaded with liquor, mixers and garnishes.
Meat and fish packages—think steaks, chicken wings, bratwursts, burger patties, pork chops and frozen salmon steaks—coupled with basic grocery necessities such as paper products, fruit and vegetable baskets, desserts and wine survival boxes became the only menu at The Streets at SouthGlenn's Indulge Bistro and Wine Bar. The impermanent "neighborhood grocery" and wine/liquor store has temporarily catalogued its expansive list of available items online.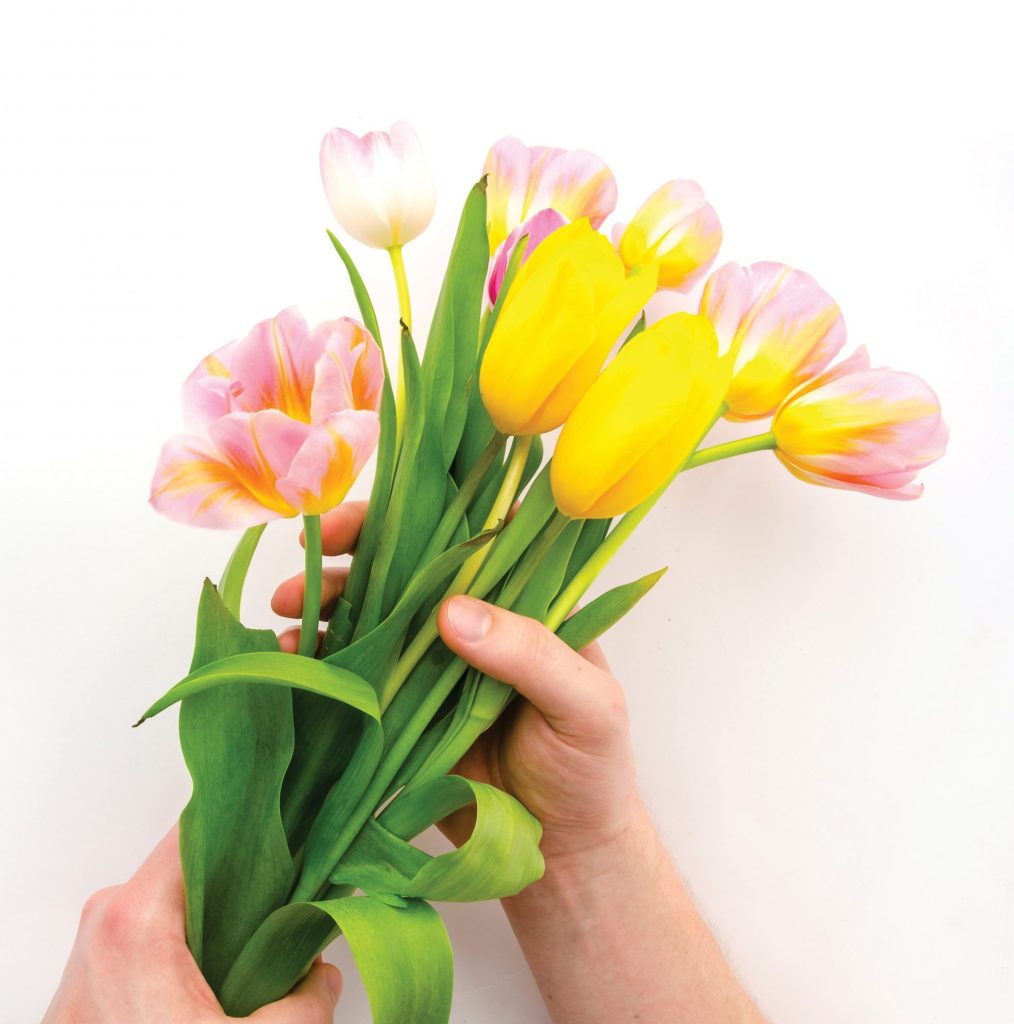 Flower Power 
Estrey Schabacker, the Castle Pines resident behind Castle Pines Village's luxury floral studio, Echelon Floral Designs Ltd., is a wife, mother of two college students and, by her own admission, "a caretaker of four furry friends." A nurturer by nature, Schabacker (whose studio creates floral arrangements for weddings, special events and everyday occasions) started her company to "bring positivity and happiness to my friends, family and community." 
When her small business temporarily shuttered in the dark light of COVID-19, she immediately channeled her inner white light to bring those company attributes to the elderly. "I've always been passionate about charitable work and community involvement. And during these uncertain times, I've used the resources available to focus on spreading positivity to the assisted living centers within my neighborhood by donating arrangements," says Schabacker. "The importance of unity is crucial to get through this pandemic. Sharing bouquets with the elderly is my attempt to brighten and enhance as many people's lives as possible."
It's a good time to stop and smell the roses.