Oh, how we love our outdoor living in beautiful Colorado, and this year—possibly more than ever—we can't wait to have friends and family join us for backyard barbeques, lawn games, birthday parties, family reunions and more. But first, the entertaining space and yard must be shipshape. We've got tips and trends to help you create a haven for all your outdoor gatherings.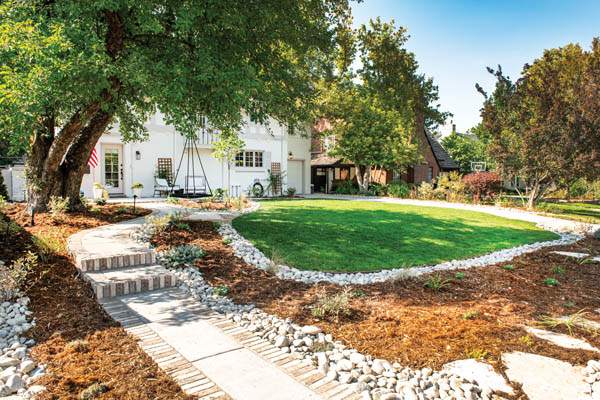 Setting the Stage
Creating a backyard oasis for entertaining guests begins with great design. "An ideal outdoor hangout space has a nice seating area, a firepit and some shade from a pergola, shade sails or a gazebo," says Adair Andre, project manager at Kitchen Door, a premier landscaping company based in Denver. "It is an extension of your house, and thus requires a keen eye for design as in any other room."
In addition to the amenities, you've got to plan the function of the space. "We think about the layout and making sure that the flow makes sense," says Jason Wissner, marketing manager at Lifescape Colorado, a Denver landscape architecture and design firm. "Make sure the design has plenty of places for people to gather and that they can easily get there. This is really important if you are doing any entertaining, so you want to make sure there is ample room for people to move around comfortably."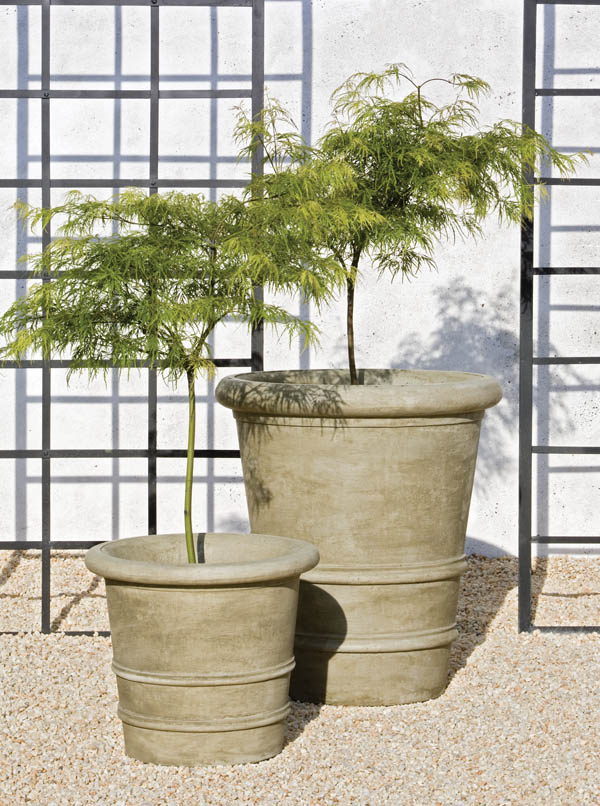 Multipurpose Areas
A recent trend in local backyards are ADUs. What's that, you ask? Accessory dwelling unit. It might be a carriage house or tiny house or a Studio Shed. What started in Boulder as a mission to house mountain bikes, Studio Shed is now a successful ADU business selling trendy, upscale "sheds" to homeowners across the country. They are used for home offices, guest houses, art studios, yoga studios and more. So, why would you want one for outdoor entertaining? Because it offers space for guests when there's inclement weather on your backyard barbecue day. Or because you can turn it into an outdoor bar area, dance floor or place for the band to set up.
"Having a destination in your yard allows you to create positive space and bound an entertaining space or seating area with a well-designed building as a feature," says co-founder and creative director Jeremy Horgan-Kobelski Nova.
Amp Up Your Urban Setting
"Urban outdoor spaces have the disadvantage of being close to each other and privacy is an urgent need for many," says Annie Huston, "Queen Bee" of Birdsall & Co. The Garden Boutique and Urban Nursery. "The use of planted containers is both esthetically pleasing and a speedy solution." Huston suggests boxwood shrubs in a shaded and protected location to provide greenery all year long, or potted grasses in a hot and sunny area.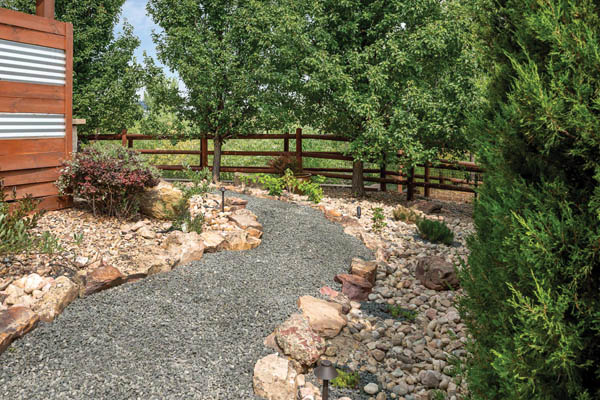 Go Green
If you have a more traditional large grassy lawn, consider scrapping the water-hungry turf for something native that requires less of our precious resource and doesn't need chemicals to keep it looking great. "We're seeing a shift away from a large lawn, towards more perennial plants and color," says Andre. "As a landscaping company, we pride ourselves in sustainable practices that include using native plants and low-water irrigation techniques. Not only is this better for the natural environment, but it also saves people time and money by no longer having to mow, fertilize and tackle weeds." Using native and organic plants are also beneficial for our local pollinator populations.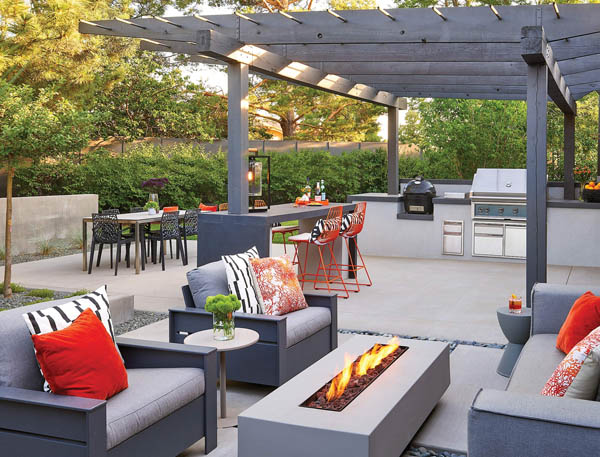 Finishing Touches
Furniture and accessories are what will ultimately determine the level of comfort and the mood your outdoor space takes on. A comfortable sectional invites conversation. Throw in a fire pit for warmth and ambiance. Layer pillows on the sectional and/or chairs—don't be afraid to go bold with color and pattern.
To make a smaller area feel spacious, Wissner says to place furniture in different levels and vary their heights so that there are layers to your seating and lounging areas. And don't overlook proper lighting. It enhances the warmth and intimacy of your outdoor space after dark while also highlighting stairs to prevent falls.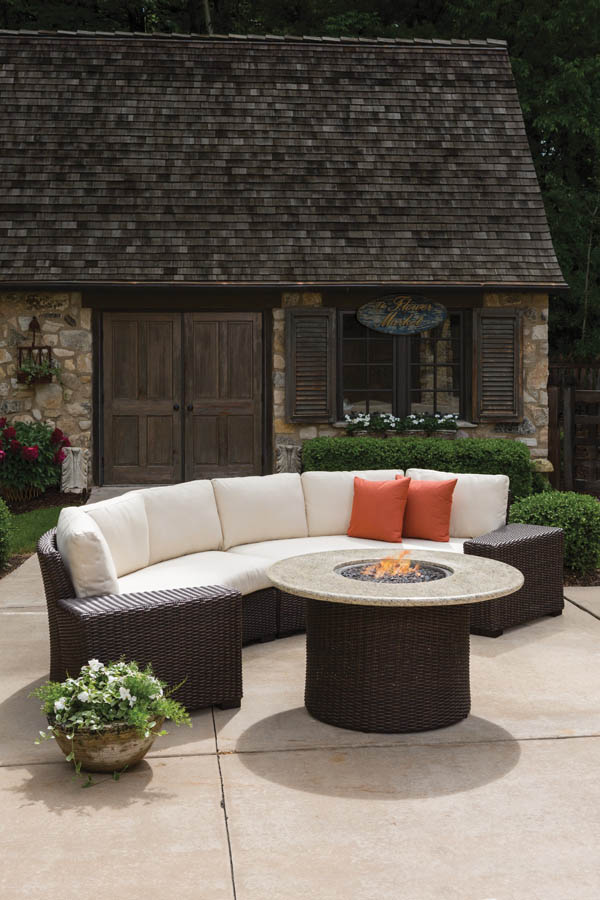 A curved sectional, like this one from Howard Lorton, fits great around a firepit while encouraging comfortable conversation. Woven vinyl holds up to Colorado's sunny days, and comfortable cushions and pillows come in a wide variety of colors to coordinate with your outdoor décor.
Don't forget that even though it's an outdoor space, you should still add plants for vibrant texture and color. "Pick fewer pots and bigger ones for a cleaner display and imagine the containers without any plants in them," says Huston. "They should make a statement and be able to stand alone without the added structure, color and texture of the plantings." She says for a modern space, choose matching planters in rows, but for a more traditional look, choose "the same but different" pots to cluster.
RESOURCES
Birdsall & Co. | birdsallgarden.com
Kitchen Door Landscape  |  kitchendoor.co
Lifescape Colorado | lifescapecolorado.com
Studio Shed | studio-shed.com
Howard Lorton Furniture & Design | howardlorton.com