By: Faerl Marie Torres
IT'S A LOVE-LOVE GAME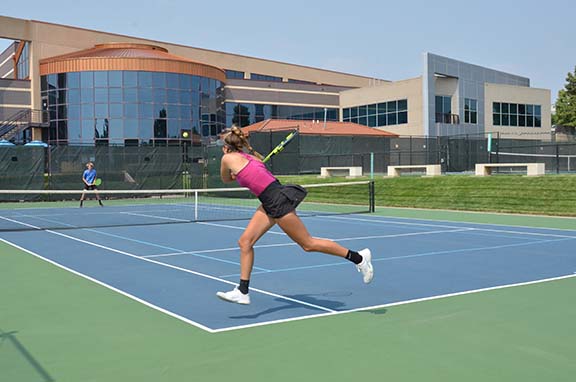 PICKING UP A TENNIS RACKET and taking to the court may be one of the healthiest choices you make in 2023. In addition to the benefits to your social and mental well-being, playing tennis is fantastic for your physical health. From improved balance and stronger muscles and bones to increased cardiovascular fitness and potential weight loss, tennis is an excellent sport for all ages. According to U.S. Tennis Association (USTA) Southwest, playing tennis three hours each week can reduce the risk of cardiovascular disease by more than fifty percent and add almost a decade to your life with long-term participation. "It's the fountain of youth," says Ron Steege, director of tennis for Club Greenwood. "It's great exercise, burns a lot of calories, is good for osteoporosis… and the social benefits play
a huge part."
Steege has been playing for more than 50 years and still gets excited about sharing the game with new players at Club Greenwood, which has developed an effective program for beginner tennis players. "It gets people in the game fast. Unlike other programs that take four to six weeks, our coaches [have them] playing in four hours and enjoying it," Steege says. Club Greenwood features four outdoor courts and seven indoor clay courts for yearround play.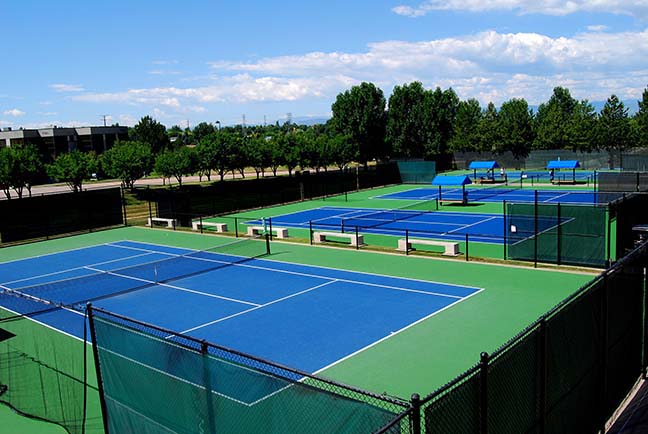 Playing on clay is particularly beneficial. The lower impact surface makes staying in the game possible for people with joint problems, and it's good for improving technique—allowing for extended rallies, which helps develop skills. Whether you're looking for drop-in drills, social events or you're ready to up your game to USTA tournament play, the pros at Club Greenwood will get you started. "Just show up with a racket and a smile," Steege says.
Life Time Centennial Tennis has more than 75,000 square feet dedicated to the love of the game. With climate-controlled indoor and outdoor courts, programs, professionals and three membership options, there's something here to match every option for play. Judy Mickelson, the Life Time tennis coordinator, says spring and summer—when families and partners enjoy cool evenings on the court, and the majority of their members participate in USTA leagues—is an exciting time. "We aim to create a country-club membership experience," Mickelson says. "Tennis is a very social game. We create opportunities to meet other members through tennis socials and programs."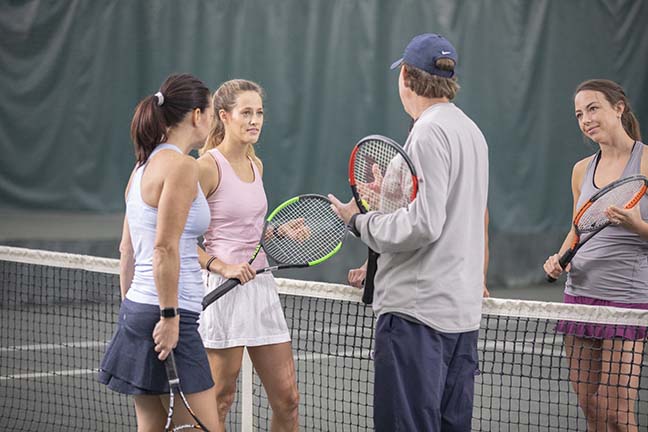 Other venues for play in the south Denver area include Arapahoe Tennis Club in Cherry Hills Village, a member-exclusive club with a player matching program, and Eastmoor Tennis & Swim Club, a seasonal recreational club with outdoor courts available from Memorial Day to Labor Day.
For indoor and outdoor play, lessons, leagues and opportunities for kids as young as five, check out one of the South Suburban Parks and Recreation's nearly 50 courts throughout the district. When you're ready to hit the court, head to local racquet sports retailer Game-Set-Match, Inc. in Centennial, where experienced players will equip you for your first match.
Whether new to the sport or revisiting a previous passion, tennis can add years and friendships to your life. With programs and courts throughout the south Denver area, there's tennis love for everyone, from Cherry Hills to Castle Pines.
Club Greenwood
5801 S Quebec St, Greenwood Village
303.770.2582
clubgreenwood.com

Life Time Centennial Tennis
5100 E Dry Creek Rd, Centennial
720.482.5700
lifetime.life/life-time-locations/co-centennial-tennis

Arapahoe Tennis Club
4450 S Dahlia St, Cherry Hills Village
303.771.0055
arapahoetennisclub.net

Game-Set-Match, Inc.
8280 S Quebec St., Suite A, Centennial
303.790.1991
tennisdenver.net