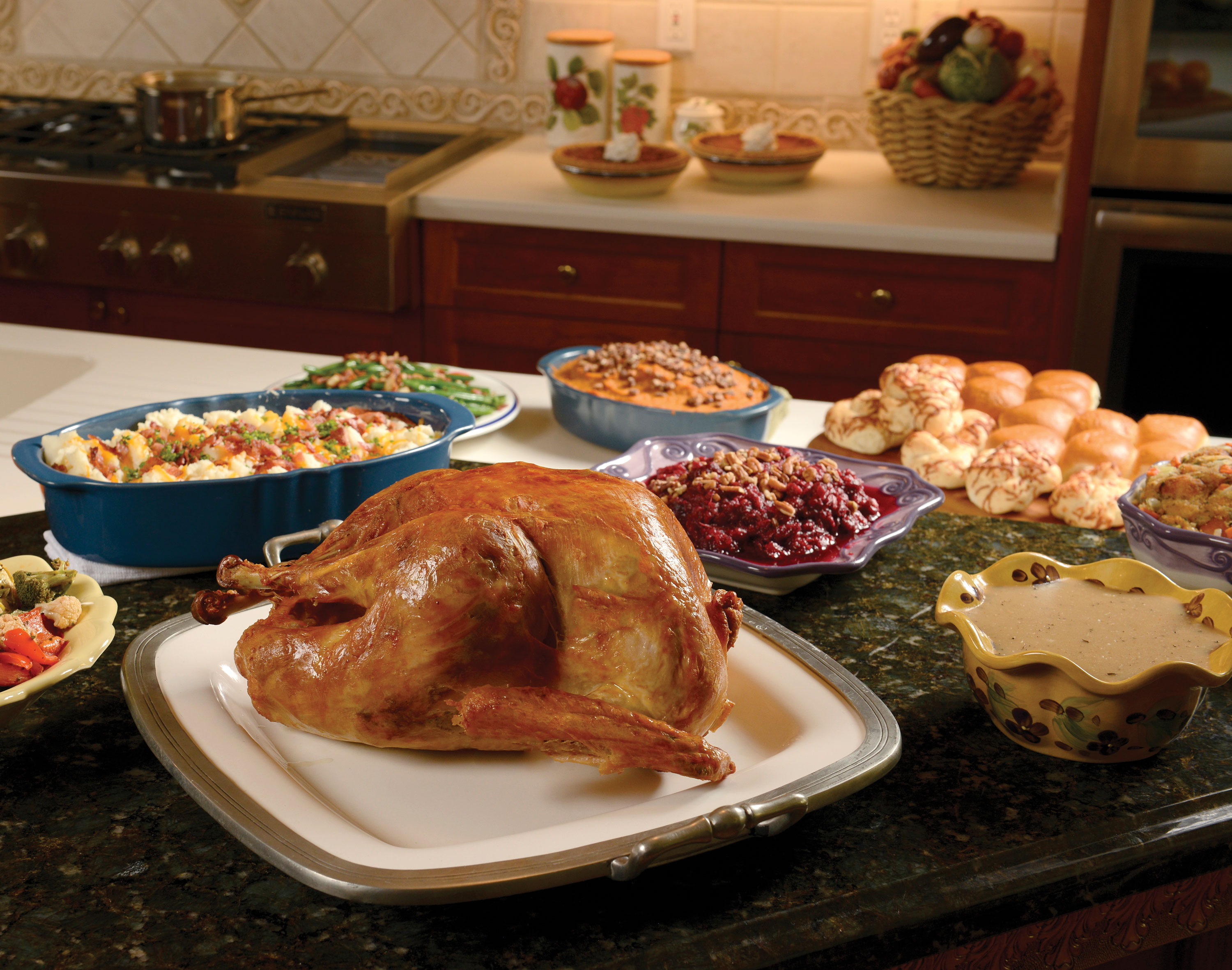 Thanksgiving is right around the corner. And, with this advice from Tony's Meats and Market CEO and president Daniel Rosacci, so is properly roasted poultry and the kind of elevated side dishes that likely won't make it into leftover containers.
FORGET FROZEN FOR GOOD
"Some of the frozen birds are older products," Rosacci says. "I prefer a deep-chilled or fresh bird over frozen because you never know how long the bird has been on ice. You'll also find lots of basted turkeys out there, which I personally stay away from because they have additives and brines. For a fresh bird, you pretty much need to wait until the last minute to buy—just don't wait until the day before Thanksgiving."
READ UP ON BRANDS
"At Tony's Market, we carry Diestel Family Ranch from Sonora, California, which is a heritage brand, as well as Broomfield's Barber's Poultry, and our own brand, processed by Red Bird Farms. We support smaller farmers that co-op. … Each place produces a few hundred turkeys, rather than one bringing in 50,000 turkeys every year.
"While shopping, you want to consider what the turkey was fed (corn and soy feed are best), as well as whether the bird was free-range or cage-free. The U.S.D.A. doesn't allow hormones to be used in turkey, so you don't have to worry about that. Overall, make sure the product you're buying is Grade A."
THE ONE POUND RULE
"I'd rather have leftover turkey, so I like to plan for 1 to 1 ½ pounds of bird per person, which amounts to a pretty generous portion. You'll need to take the [meat you'll lose on the] bones and other inedible parts of the bird into consideration."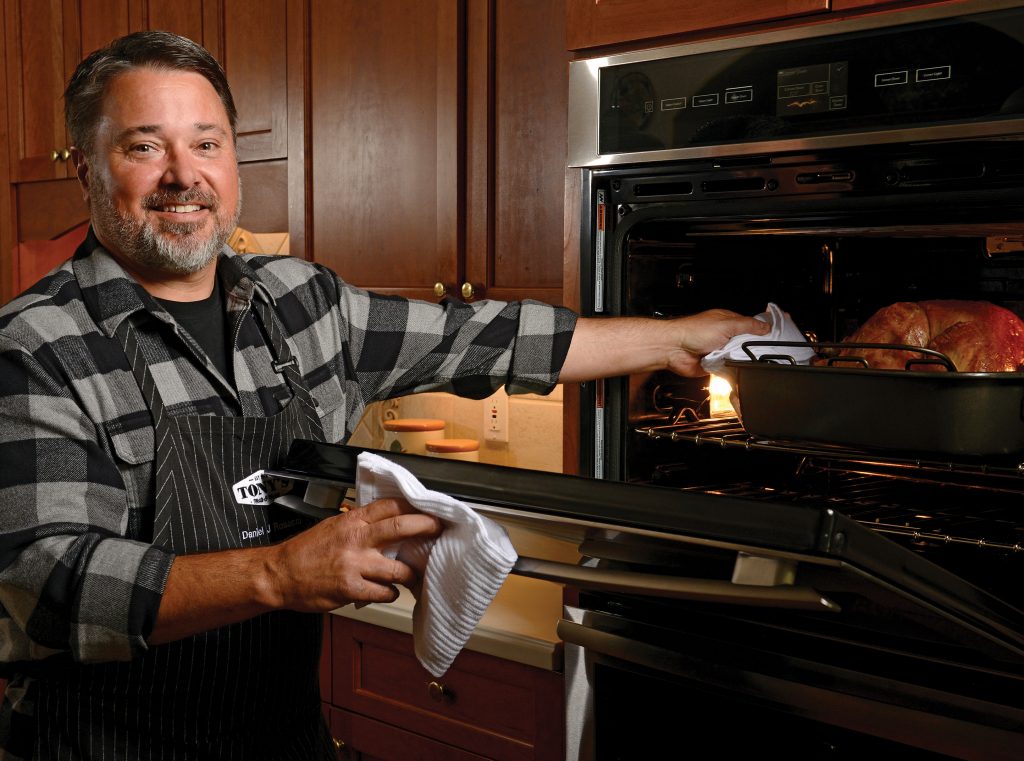 TO STUFF OR NOT TO STUFF
"There has been a lot of controversy around stuffing turkeys over the last 10 or 15 years: A lot of chefs say to never stuff a turkey because there's a higher risk of food contamination. I've been eating a stuffed turkey every Thanksgiving my entire life and no one I know has ever gotten sick."
KEEP THE COOKING METHOD CLASSIC
"I like to cook turkey the old-fashioned way: by roasting it in the oven. I've never believed in telling people exactly how long to cook a bird because there are so many variables, but roughly speaking, you want to go 15 minutes per pound at 325 degrees F, adding 30-60 minutes if it's stuffed. Most importantly, you want a high-quality meat thermometer. A bird is safe to eat when the internal temperature reaches 165 degrees F. You need to put the thermometer deep in the breast or thigh to determine that temp. Try to undercook the bird at first—you can always add time."
INVITING VEGETARIAN GUESTS?
"Fully prepared vegetable lasagna is the number one nonmeat main dish we sell around Thanksgiving. A lot of other people focus on the sides. With a vegetarian gravy, you can really build your whole Thanksgiving dinner around those accoutrements."
TRADITIONAL ROASTED TURKEY
INGREDIENTS
1 fresh or deep-chilled turkey
Olive oil
Salt and pepper
Thyme
Rosemary
Sage
Garlic
Lemon or orange zest (optional)
Your favorite stuffing (optional)
½ cup water
METHOD
Make sure your turkey is fully thawed and soft to the touch—even a fresh turkey can start out as cold as 26 degrees F. Preheat oven to 325 degrees F. Rub entire inside and outside of turkey with olive oil and season with spices to taste (salt, pepper, thyme, rosemary, sage, garlic and lemon or orange zest). Loosely pack in stuffing (if including).
Place turkey breast-side-up in roasting pan, tucking wing tips under the shoulders and tucking legs, if your bird came with oven-safe plastic or metal leg holders. Pull livers and gizzards from neck cavity.
Add ½ cup water to the bottom of the pan. Cover turkey in foil. Roast for approximately 14-15 minutes per pound for a 10-16 pound turkey or 12-13 minutes per pound for a 16-24 pound turkey. Add approximately 30 minutes if stuffed.
Remove foil after approximately 2 hours of roasting to brown the skin. The turkey is done when the internal temperature reaches 165 degrees F at deepest point and the stuffing reaches 165 degrees F. Let bird rest 10-20 minutes before carving.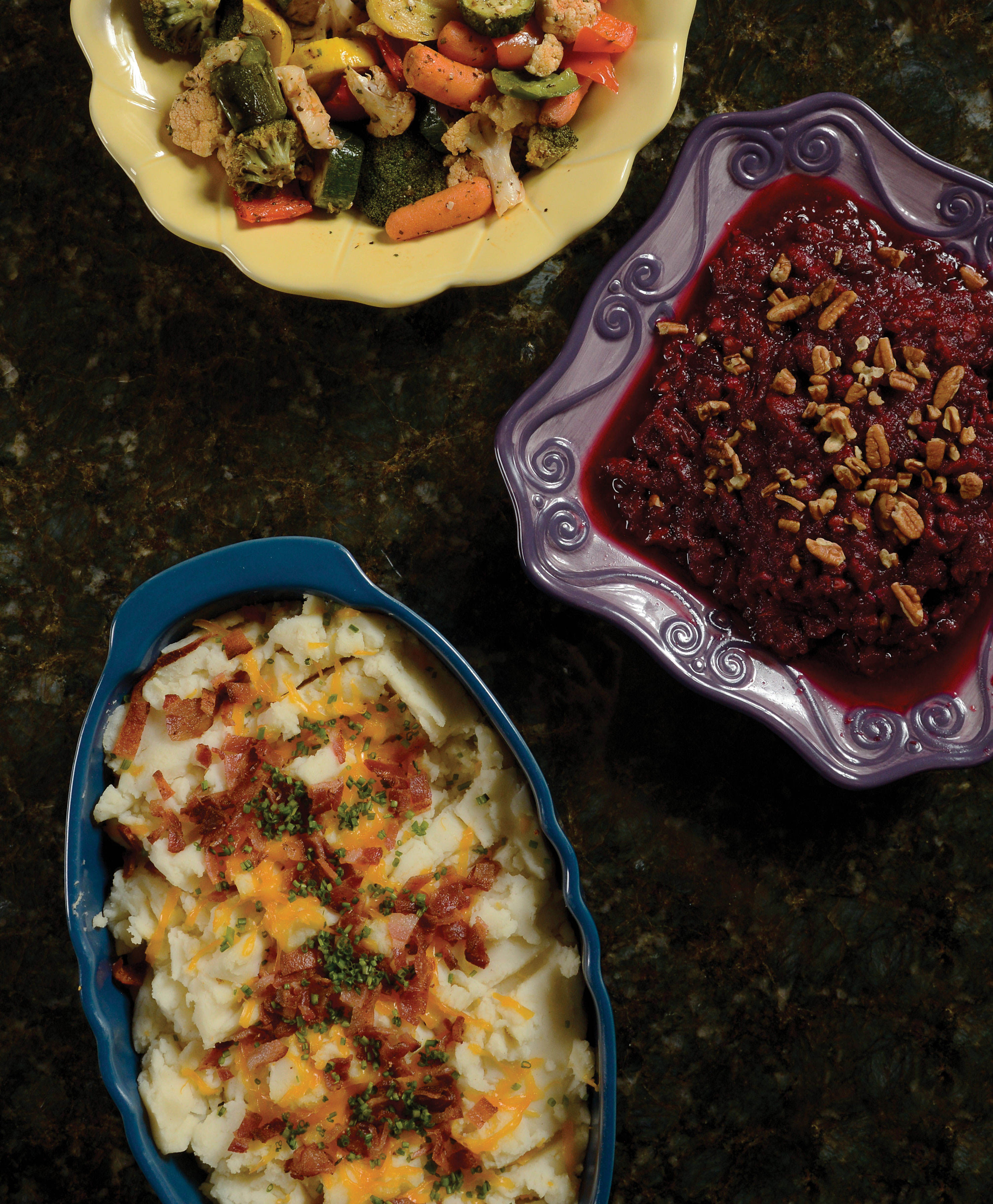 GLAZED FALL VEGGIES WITH TOASTED PECANS
INGREDIENTS
1 pound Brussels sprouts (trimmed)
1 medium acorn squash (cleaned and sliced in ½-inch wedges)
2 tablespoons olive oil
½ teaspoon salt
¼ teaspoon pepper
1 ½-2 cups halved pecans
3 tablespoons butter
¼ cup brown sugar
METHOD
Toss cleaned Brussels sprouts and acorn squash in oil. Sprinkle with salt and pepper and roast at 350 degrees F for approximately 35 minutes or until tender. Toast pecans in skillet about 5-8 minutes. Add butter and brown sugar until melted and coated. Toss toasted pecans with roasted veggies.
BRANDIED CRANBERRIES
INGREDIENTS
2 teaspoons butter
1 cup pecans
½ teaspoon salt
½ cup orange juice
1 cup granulated sugar
12 ounces fresh cranberries
¼ cup your favorite brandy
7 ounces canned whole berry cranberry sauce
Orange zest for garnish
METHOD
Preheat oven to 325 degrees F. Melt butter and combine with pecans and salt. Stir well to coat. Transfer to a baking sheet and bake in oven until aromatic and slightly toasted, about 15 minutes; stir halfway through.
Meanwhile, combine orange juice and sugar in a heavy-bottomed saucepan. Bring to a boil and stir until sugar dissolves. Add fresh cranberries and cook until berries burst. Reduce heat to low and add brandy and cranberry sauce. Stir well and heat until cranberry sauce melts. Remove from heat, add toasted pecans and stir well. Garnish with fresh orange zest and serve hot or cold.
BACON AND CARAMELIZED ONION MASHED POTATOES
INGREDIENTS
2 medium yellow onions
2 pounds Yukon Gold potatoes
4 strips bacon
2 teaspoons olive oil
1 tablespoon minced fresh sage
1 ½ teaspoons kosher salt
1 cup heavy cream or whole milk
1 tablespoon unsalted butter
½ teaspoon white pepper
METHOD
Thinly slice the onions. Peel and cut potatoes in ½- to ¾-inch cubes.

For bacon and onions: Place the bacon in a large skillet over medium heat. Cook until crispy and browned. Transfer to a paper-towel-lined plate to dry. Once cooled, crumble. Save 2 teaspoons of the rendered bacon fat.
Pour olive oil and reserved bacon fat back into the skillet and warm over medium heat. Add the onions and sauté, stirring occasionally. Cook until golden brown and caramelized. Add the sage and cook for one more minute. Remove from heat.
For potatoes: Place the cubed potatoes in a large saucepan and add enough cold water to cover. Add 1 teaspoon salt and cook over high heat. Bring potatoes to a boil and cook until they are tender when pierced with a fork. Drain and return to the saucepan, covering to keep warm.
In a medium saucepan, combine milk, butter, remaining salt and white pepper. Cook over medium heat until butter is melted. Reduce heat to low.
Mash the cooked potatoes. For a fluffier texture, use a potato ricer or food mill. Mix the warm milk mixture into the potatoes and stir using a rubber spatula. Stir only until combined.
Stir onion and bacon mixture into the potatoes. Taste and add additional salt and pepper if needed.
4 OTHER WAYS TO JAZZ UP MASHED POTATOES
ROSEMARY, PANCETTA AND PARMESAN
Add 1 teaspoon fresh rosemary, ⅓ cup cooked, chopped pancetta, 1-2 bulbs freshly roasted garlic and ¼ cup freshly grated parmesan cheese.
CHEDDAR, BROCCOLI AND BACON
Add ½ -¾ cup grated cheddar, 1 cup quickly steamed small broccoli pieces and ½ cup bacon pieces.
CREAMY HORSERADISH
Add ½-¾ cup sour cream, ⅓ cup prepared horseradish (or to taste) and ½ cup chives. Optional: add ½-¾ cup diced bacon.
ROASTED GARLIC AND GOAT CHEESE
Add ½ pound creamy goat cheese, 2-3 bulbs freshly roasted garlic and ¼ cup chives.
GO TO THE PROS
Tony's Meats and Market
Castle Pines: 303.814.3888
Centennial: 303.770.7024
Littleton: 720.377.3680