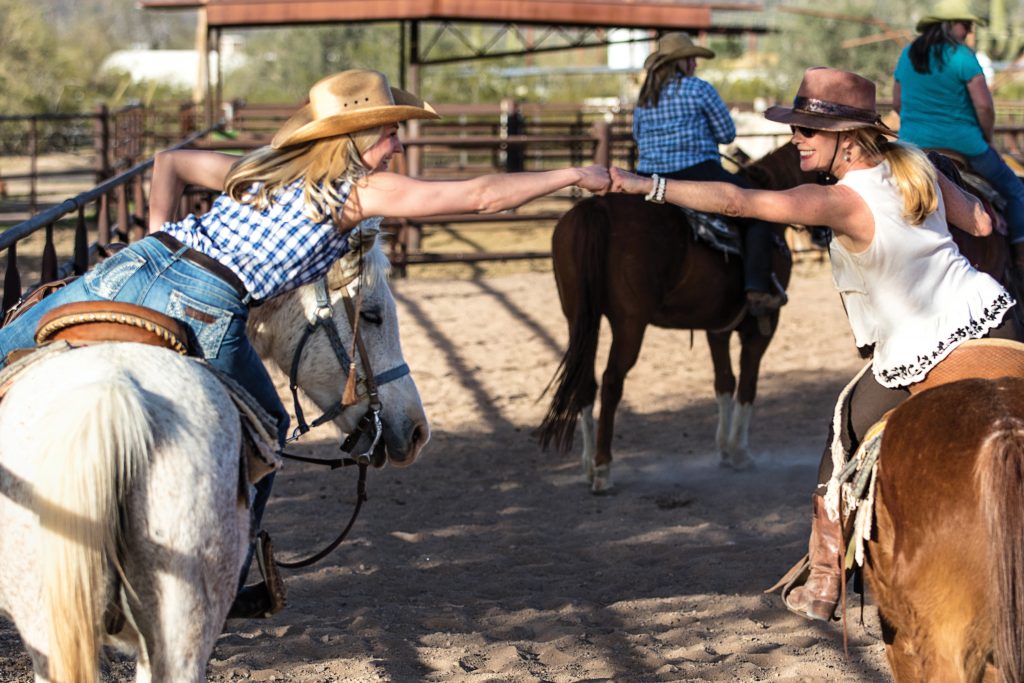 Anyone who has ever seen The Horse Whisperer, Robert Redford's well-known 1998 film, understands the power man can have over beast. But they might not realize that the transformation goes both ways. Devon Combs, the certified equine gestalt coach behind Littleton-based Unbridled Retreats should know: she lived it.
"In my late teens and early 20s, I had some control and perfectionism tendencies that carried into my life and manifested as an eating disorder," says the Colorado native, now 36 years old. "I became bulimic and dropped out of three different colleges—it was pretty severe." She found her salvation in an unlikely source: a horse. "I ended up going from a hospital to a mental institution to an eating disorder treatment center in Arizona, and was there for 60 days when I was 21 years old. That center had equine
therapy, and the first day I tried it changed everything," she recalls.
Combs, who now calls a ranch on the Littleton and Greenwood Village border home, grew up with horses—both showing and competing—and was ecstatic to be in a horse barn again. She eagerly volunteered to go first in the coterie of women participating in the therapy session that day, women with a mixed bag of disorders—from anorexia to compulsive overeating. And yet the horse before her wanted nothing to do with her. In fact, it moved as far away from her as it could get. "I felt rejection, like a loser, like I couldn't even get this right in my life," Combs recalls. The equine therapist
encouraged her to stop trying, close her eyes and simply breathe. "She led me through this brief grounding meditation, and a wall of emotion came forward," Combs continues. "For the first time in 21 years, I let myself be vulnerable and started wailing. Something shifted where all my tears and fears came through, and I couldn't control them. In that moment, the horse turned from the farthest part of the pen to put his head in my heart—his big sweet muzzle lowered right into my chest, and he did not move. He stood with me for five minutes while I was sobbing; his mane was streaked with my tears. It changed my life."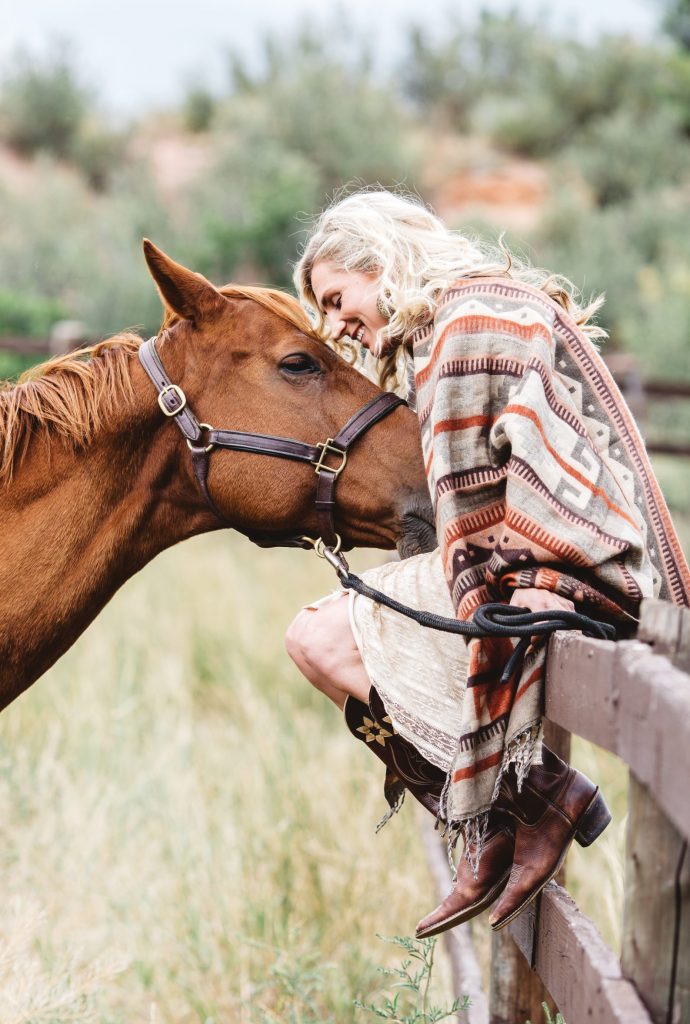 Combs enrolled in a two-year Equine Gestalt Coaching Method certification program (a life coaching model) led by Melisa Pearce in Elizabeth, Colorado. By 2011, she'd founded Unbridled Retreats (originally named Beyond the Arena), which offers all-inclusive three-night, four-day restorative getaways for women from as far away as Switzerland and Australia, as well as private sessions and trips. Combs leads these award-winning retreats in myriad locales, from Colorado's Devil's Thumb Ranch to California's lavish Alisal Guest Ranch. Hundreds of women have attended over the years, many returning again and again; Canyon Ranch has christened Combs the equestrian of the wellness world.
And while Combs has earned her certificate, none of the horses she works with are trained. They don't need to be. "Horses are intuitive," Combs says. "They're a prey animal and low on the food chain. A prey animal is ten times more sensitive and intuitive because it's what keeps them safe in their surroundings. If they sense a threat or negativity, they sense it a mile away and move away if the threat is going to harm them."
Over the years, Combs has seen horses interact with her clients in fascinating ways, like moving behind them to supportively nudge them as they talk about their goals, wondering if they're on the right track. "However we're feeling, horses are drawn to it like a magnet," Combs says.
"Ever walk into a party and see someone walking towards you with a smile on their face, but the vibe is totally off and they're hiding something?
Horses can sense that times ten. They call people out on their B.S."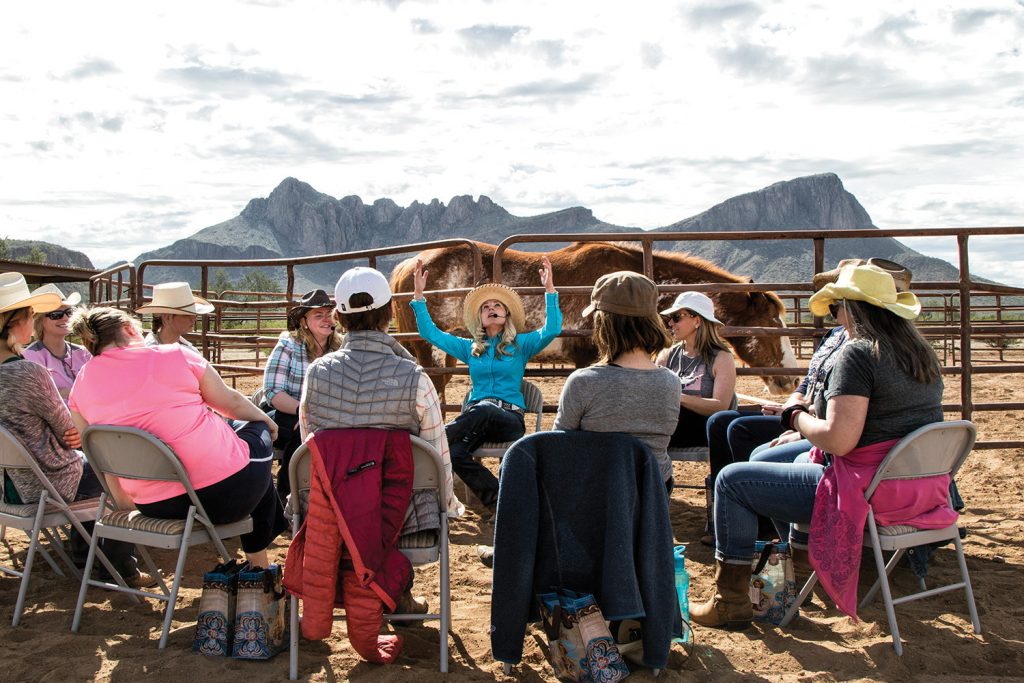 Says former Unbridled Retreats guest Betsy Wagner, who grew up in Cherry Hills Village and now lives in Denver: "Having a horse there helped me be less afraid to share my concerns and things I've been struggling with. It's like a therapy dog that is 100 times the size, but just as gentle." Wagner remembers the horse coming closer to her when she used positive
language and moving farther away when she focused on the negative. "I'm not a big touchy-feely kind of person and I don't necessarily buy into the holistic healing belief. However, seeing the animals react and physically respond to emotions, body language and what people were saying was transformative," she says. "I have a new view on what animals can perceive—if we just pay attention."
4 WAYS TO CONNECT WITH YOUR OWN TRUSTY STEED
Want to reinforce the bond you share with your riding mate(s)? Combs suggests these tacks.
BREATHE TOGETHER. "Physically, I would invite people to stand a few feet away at first and feel the energy field of their horse. And through that, to invite the horse over to them by opening their heart—meaning they're not overthinking or forcing, but connecting simply by surrendering to the moment. Many, many times a horse will walk right over to you. It's a lot of intention and visualization: connection without words."
COUNTRY STRONG. "I love sitting on my horse bareback. To feel that solid strength of a 1,200-pound intuitive animal beneath your own body is insanely powerful. It's like being in the presence of somebody you really trust and lean into."
HEART TO HEART. "Place a hand on your horse's chest, right behind the girth that goes under the saddle. That's the horse's heart area. Close your eyes and take three deep breaths—breathing in the horse's energy and releasing breath back into the horse. A horse's heart is nine times the size of ours: it weighs nine pounds; ours weigh one."
JUST BE. "With horses, you can easily get caught up in 'doing' and chores. It's great to just 'be' with them. Put a chair out in your horse pasture, sit and watch them graze the grass. It's meditative."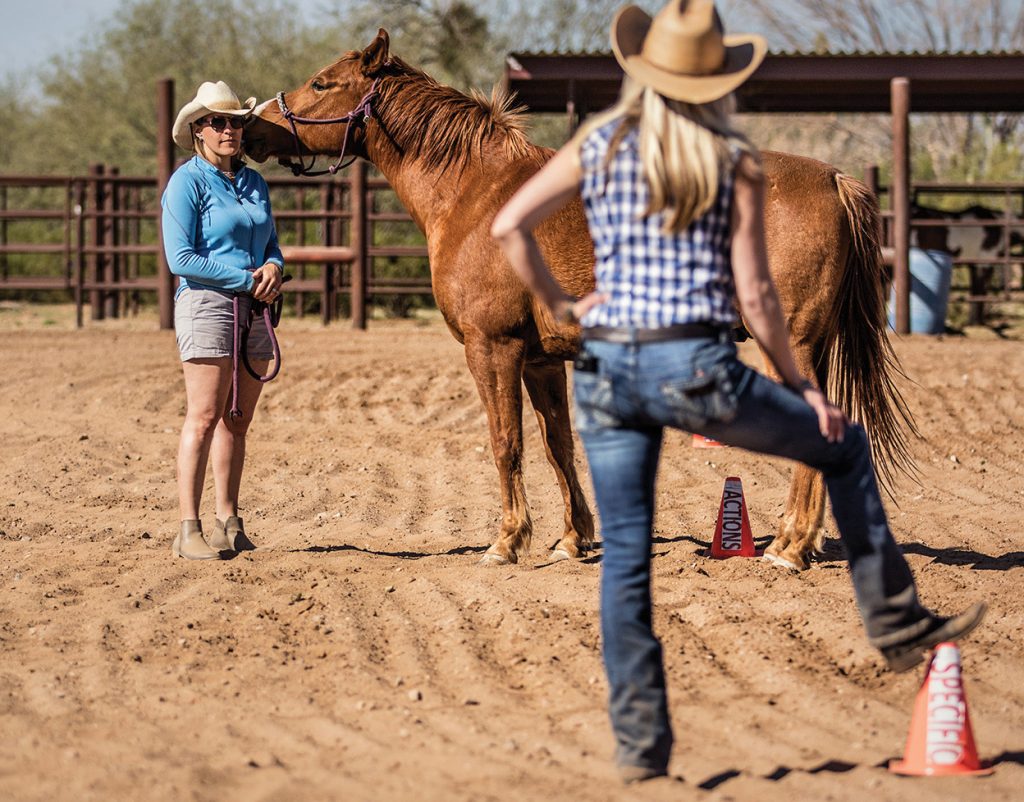 HORSE HEALING IN COVID-19
Equine therapy and equine gestalt coaching is used to treat everything from PTSD to anxiety and depression. No surprise, then, that Combs, who offers private sessions at her personal ranch for teens and adults with her own two horses, a pony (Bella) and an appendix mare (Detail), found her horses could help assuage stress during the anxiety-ridden coronavirus pandemic. "I have had clients come out and find peace in being able to share and express their grief and fears in a safe, nonjudgmental environment. … Horses don't judge," she says. "It's just honest, direct feedback they're giving you in any given moment for what's going on within you. It's like a mirror."
One of Combs's clients had to shutter her massage business after two weeks without clients. "The horse came up behind the woman and wrapped around her, hugging her, to show her love," Combs recalls.
Even the daily horse-care routine is a blessing in times like these. "I have found solace just going out and being with Bella and Detail," Combs says. "Mucking out their stalls, brushing them … I took a chair out yesterday and sat in my lawn to just be in their peaceful presence. It's so helpful to feel the ground beneath our feet, breathe and live in the moment."