Summer is the perfect time to shed pretense and embrace casual-chic—especially when it comes to entertaining. Our gorgeous Colorado weather beckons us outdoors, which is ideal for informal gatherings. But that doesn't mean they can't be fabulous. Here's what you need to know to set a spectacular tabletop—and beyond—for any summer occasion.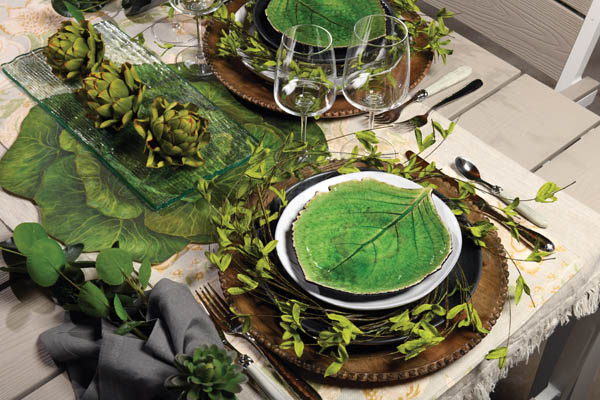 Layer Your Table
Create casual drama with layers. Denver event planner, Jaala Sheldon of Jaala and Co., says skip the long, full table coverings for outdoor events because they can blow in the breeze. "Create a sophisticated look
using table runners, napkins and a great centerpiece," she says. You can also layer chargers and a variety of stacked plates. Want to go big? Layer them all! Create a gorgeous centerpiece. "Use garlands or eucalyptus," says Laura Tarket-Johnson, owner of T is for Table. "You don't want your centerpieces overwhelming the conversation; you want them to enhance the conversation."
Tip: When layering materials, don't skimp on texture. Think: wood, bamboo, beads and grasscloth.
Mix and Match
Blending colors and patterns on your tabletop can be a beautiful way to wow your guests and there's little commitment—you can just switch it up for every occasion. Put together complementary colors such as deep teal with rich apricot or spring green with amethyst. Tarket-Johnson suggests mixing a floral, a check and a pattern with natural elements such as butterflies or hummingbirds. Feel free to commingle linens, of course, but also dinnerware and flatware. This is a great way to incorporate inherited china patterns with your favorite modern dishes. "Don't be afraid to mix and match and not have anything look the same," says Tarket-Johnson.
Tip: Pay attention to the scale of your patterns and be sure they are varied, such as a small nature print with a medium check and a large floral.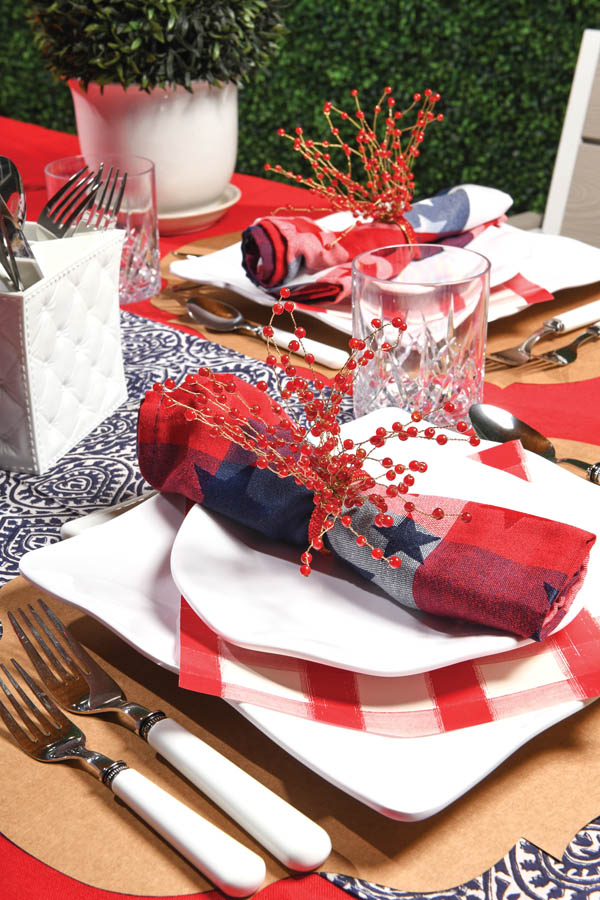 Decorate Beyond the Table
If your outdoor table is situated under a pergola or even a lovely tree, you've got a great canvas above to continue decorating. From a pergola, hang sheer drapes for ambiance. For evening gatherings, Sheldon says lighting is key: "Lanterns or lightweight bamboo chandeliers are great for above the table. For additional lighting, rice paper lanterns are making a big comeback. Or consider tiny fairy lights simply hanging straight down." Decorative outdoor string lights provide a warm glow, and they come in a variety of shapes and designs, from modern to traditional. Try something even more casual, create your own lighting using hanging mason jars with battery-operated mini string lights or candles.
Tip: Opt for candlelight, which Sheldon suggests is relaxing and great for getting guests to linger. But be sure the candle containers are the right height to prevent accidents or the candles from blowing out.