Water covers more than 70 percent of the earth, and although that may seem like an endless well of resources, our oceans, seas and waterways are subject to supply chain issues just like any other industrial avenue. Here in Colorado, we trade the caress of the coast for our majestic mountains, yet as consumers, we don't exhibit any less of a taste for fresh fish. Thanks to modern transportation modes, we can enjoy oceanic delicacies, flown in daily to many reputable restaurants from equally reputable sources.
Thoughtful sourcing is a balancing act that must acknowledge the availability and responsibility it takes to bring these unique seafood dishes to the table. "For us, it's how we're sourcing, and we're really mindful of our menu being sustainable,'' says Sheila Lucero, culinary director for Big Red F Restaurant Group. "Each ingredient at Jax Fish House is a nod to supporting people who are doing things right."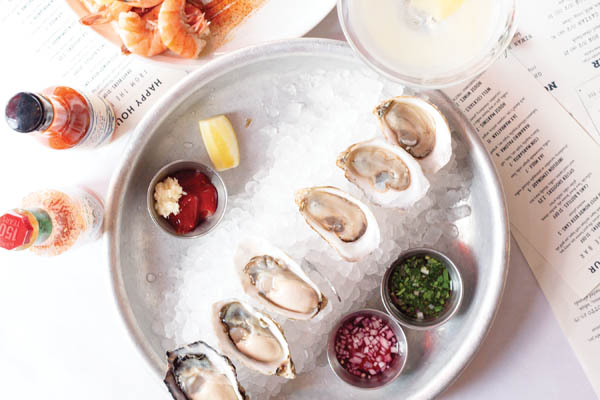 Jax Fish House & Oyster Bar cites its long-term relationships with select seafood companies, its involvement with Monterey Bay Aquarium's Blue Ribbon Task Force and James Beard Foundation as critical to its accountability. Jax has a partnership with Rappahannock Oyster Co. in Topping, Virginia, whose "main goal is to bring back the Chesapeake Bay marine life that has been overworked and disrupted," says Lucero. "Oysters are a big part of that because they help clean up the water due to how much water they filter. They also help rebuild reefs and promote regrowth of the grass."
This generational family farm has been growing Emersum oysters, specifically for Jax, since 2010, creating a proprietary varietal that she refers to as their "workhorse oyster." Jax showcases their "go-to" oyster as a chargrilled dozen with Creole butter and grana padano cheese.
Jax also features a farm-raised, pan-seared barramundi sourced from a fishery in Arizona. Lucero says it's sustainable because it's raised on land in recirculating tanks to filter and reuse that water. Additionally, the fish are fed a diet that regulates their size, which helps with the rate of harvest and growing them sustainably to keep up with demand.
"It's a delicious, buttery, white-fleshed fish—think snapper meets halibut," says Lucero. She serves the fish skin on "nice and crispy" with a rustic pine nut caponata, cheesy Anson Mills grits, fennel pollen beurre blanc and fried basil.
"We're really connected to our vendors and farmers," says Lucero. "Plus, we do our homework, so we know what things are in season. We want to be enjoying seafood for years to come, so by making these choices now, it will hopefully help carry that on."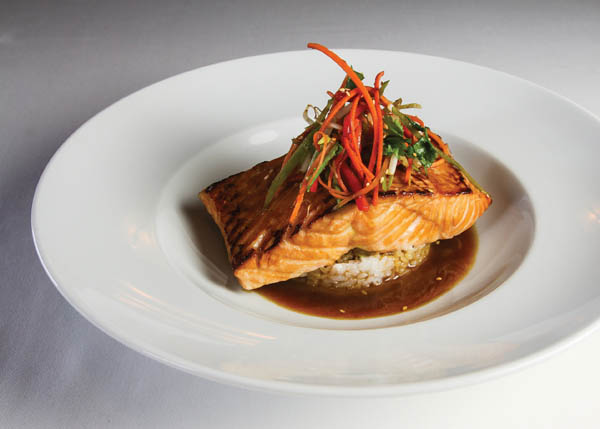 Denver Tech Center's Ocean Prime executive chef, Ryan Finnegan, also references the importance of careful consideration when homing in on seafood brands to work with and recognizes that sustainability tracking is not the easiest thing to manage.
"Different global markets buy as a whole, supplying for their ongoing industry demands," says Finnegan. "Whereas stateside, we buy on a company level and not necessarily an industry level. Finding reputable partners that meet the needs of both quantity and quality is an ongoing process that our purchasing director handles extremely well."
When considering that seafood is in such high demand and that the liquid ecosystems in which these proteins thrive are utterly exhausted, you can see the disconnect between our dinner desires and what nature can provide.
"I've been in seafood for the better part of my twenty years in the industry, and I've seen pricing skyrocket," says Finnegan. "Sustainability plays a big role in helping mitigate that as much as possible."
Ocean Prime highlights Verlasso salmon from Chile, in its best-selling teriyaki salmon, served with shiitake sticky rice in a rich soy butter sauce. While the global shipping and export pandemic has created challenges in obtaining consistent products, there are backup markets such as Scottish salmon farms, which pay strict attention to proper diet food ratios and humane living and harvesting conditions.
"We are paying more attention to fishing practices, which promotes better sustainability," says Finnegan. "Overfishing the seas, trying to repopulate, working with the product the way we do, it does mean a lot to me. Sustainability leads to profitability, so we need to take care of the earth so it can take care of us in the long run."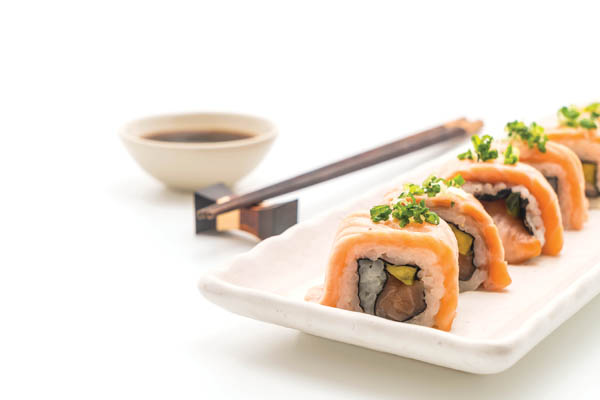 Try these notable dishes at restaurants infusing upscale seaside vibes to Denver's south suburbs.
Eddie V's Prime Seafood
Greenwood Village, eddiev.com

Main Lobster Tacos
Housemade tortillas with grilled sweet corn pico de gallo
Blue Island Oyster Bar & Seafood
Cherry Creek and Lone Tree
blueislandoysterbar.com

Prosciutto-Wrapped Sea Scallops
Ricotta gnocchi, butternut squash nage, maple-dijon vinaigrette
Trestle's Coastal Cuisine
Castle Rock, trestlescastlerock.com

Seared Sea Scallops Pasta
Four certified dry jumbo scallops on a bed of linguini in a mushroom sherry cream marinara sauce
Hapa Sushi Grill and Sake Bar
Greenwood Village, hapasushi.com

Booty Call Roll
Whole lobster tail over a roll filled with snow crab salad, tempura asparagus and shiso, drizzled with garlic sake butter
Vista Vino Modern Grill
Castle Rock, vistavinomoderngrill.com

Shrimp & Grits
Grilled shrimp, creamy grits, sauce Provençal (tomato, shallot, garlic) topped with crumbled bacon