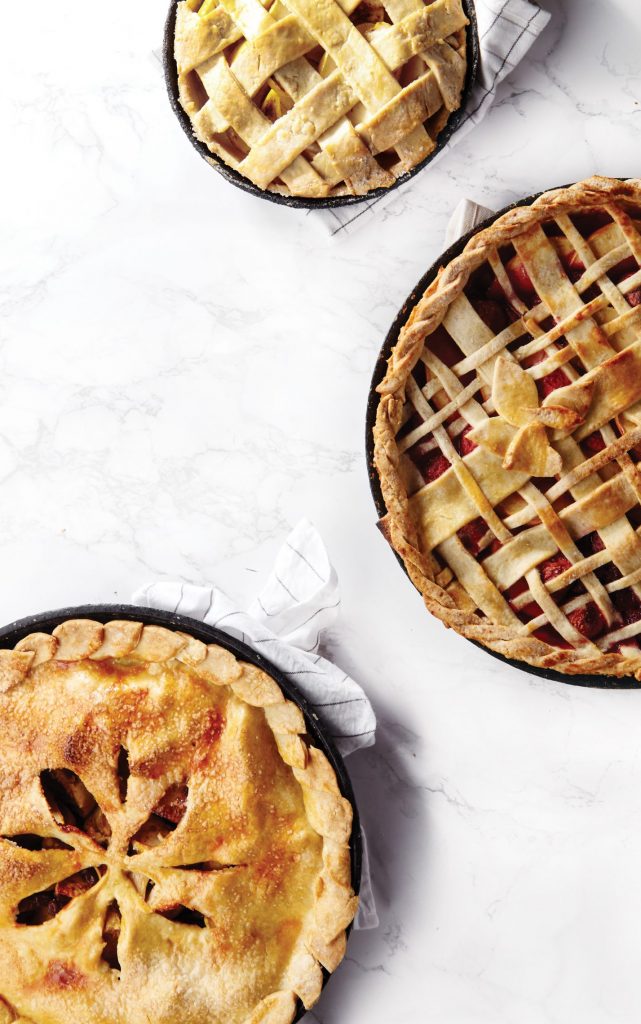 Some people decide the destination of their summer Colorado day trips around hot springs, hikeable fourteeners and historic locales.
I base where I drive on the quality of baked goods.
Using my GPS to map out local bakeries, I set a course for my roadside attractions. And, right now, that's the American classic: pie. A veteran pie competition judge, I hanker for butter-flaked wedges oozing honest-to-goodness berries—a treasure that can, sadly, feel hard to find on the road in the Front Range and beyond. But the following four shops dish the real, perfect-for-summer thing: Masterpieces with first-rate ingredients created by spirited individuals that are worth every mile—and absolutely an extra stop when on the road already.
While these bakeries clock in at about a two-hour trip, we also suggest some distinctive lodging possibilities (psst! leave room for another slice the next day). More advice: Order ahead when craving a specific flavor.
GINGER AND BAKER
Fort Collins

Pie-obsessed owner Ginger Graham carved a combination café, restaurant, bakery, market and "teaching kitchen" out of a restored historic grain mill in Old Town Fort Collins in 2017, and I keep finding proof in the pie case that she and her team are as serious about the treat as I am. (The market and bakery building is even shaped like a pie slice.) Plunge a fork into the Quadruple Coconut Cream best-seller, with a coconut crust, and the Cold-Brewed Coffee Cream. The latter stuns with a chocolate cookie crust, coffee-white chocolate pastry cream and coffee-infused whipped cream. Also noteworthy: the Buttermilk Berry and Nutella Caramel Corn.
STAY AND PLAY at the Armstrong Hotel.
YOU NEED PIE! DINER AND BAKERY
Estes Park
Just downslope from the Stanley Hotel is a place where fruit pies never disappoint. Shop owner Val Thompson and staff specialize in the deepest deep-dish fruit pies my eyes have seen, cramming up to six pounds of fruit into each pie plate—though there are a bevy of cream varieties on the menu too. I dream of Thompson's tart cherry with crumb top.
STAY AND PLAY at The Baldpate Inn.
COLUMBINE CAFE AND BAKERY
Avon
When in the mood to broaden pie's definition and appreciate pastry's ancestors, make your way to Vail Valley and sample Ronda and Daniel Niederhauser's butter-powered approach to classic Quiche Lorraine, fruit-topped tarts and a not-too-sweet apple strudel. If you only get one treat, make it the raspberry-filled, almond-scented, lattice-top Linzer Torte.
STAY AND PLAY at The Ritz-Carlton, Bachelor Gulch.
SHOWBOAT'S DRIVE BY PIE
Granby
The quirkiest pie palace in the state is hidden behind a bank on Granby's tiny main drag, where you can only grab orders through a small walk-up or drive-thru window. Owner Sherry Kent doesn't do hand or cream pies, and apple is usually the only flavor available by the slice. Kent focuses on profound fruit pies. An exception: a nut-loaded Chocolate Pecan delight with little of the usual sweet goo. The double-crusted Wild Main Blueberry pie, jammed with tiny wild berries, is another wow. Savor every bite in Rocky Mountain National Park with Kent's pie party kit: comes with a pie cutter, forks, plates and napkins.
STAY AND PLAY at Devil's Thumb Ranch.