Every winter, from December 1 through January 1, The Broadmoor, one of Colorado's most timeless resorts, adds an extra sprinkle of holiday merriment with its frosted, candied and elaborate gingerbread houses.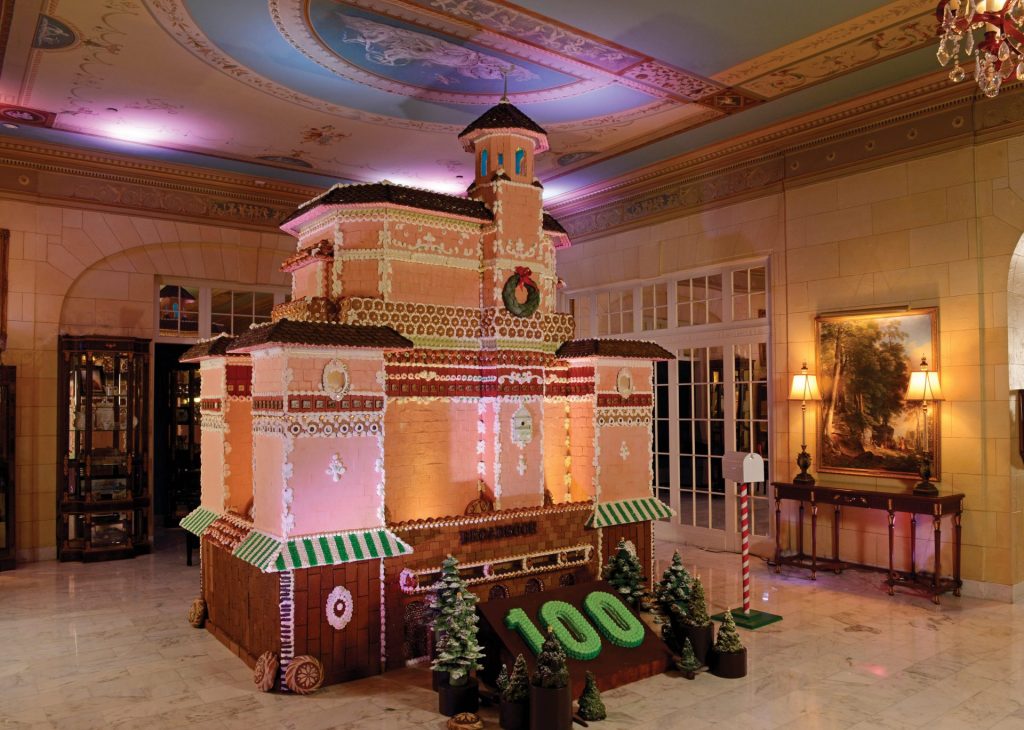 The annual ritual has warmed the hearts of even the sulkiest Scrooges since 1964, when the Colorado Springs hotel displayed its first gingerbread house: a replica of Hansel and Gretel. "The fairytale house, created by sous Chef Klaus Zander of the Penrose Room, was made completely of gingerbread and had a sugar wafer roof covered with snow icing," recalls Krista Heinicke, public relations and communications manager of The Broadmoor. That first display, she adds, "even included a gingerbread oven where the old witch put the bad children."
Since that first candy confection, The Broadmoor's gingerbread houses, which are always themed around an element of the resort, have enthralled guests and the public. Over the decades, Executive Pastry Chef Adam Thomas and his team of bakers and chocolatiers have created replicas of a steam engine, the Pauline Memorial Chapel, a community church and wedding venue across the street from The Broadmoor West entrance and, in 2018, a recreation of the resort to celebrate its centennial.
And they've become increasingly larger, more ornamented and complex. "In 2013 our gingerbread creations became life-sized; that's the year we got real," says Heinicke, adding that under the direction of Thomas, the gingerbread houses have morphed into extravagant showpieces. "Adam was instrumental in elevating the experience by making the gingerbread houses life-sized and incorporating each aspect of pastry, chocolatier and baking. Everyone is involved and instrumental in creating an experience that's not only pleasing to our guests but pure creative satisfaction for our team," says Heinicke.
But while there's no shortage of legitimate pride, creating those gingerbread house masterpieces is a laborious and time-consuming endeavor. The process of conceiving and assembling the stunning confection spans four months, and it takes a village, admits Heinicke. More than 60 Broadmoor bakers, pastry chefs, chocolatiers and even carpenters finesse and festoon the house before it holds center court on the main mezzanine of the resort, where it's protected by a rope and stanchion. Still, even the most rigorous enforcement isn't always a deterrent for crashers. "We've had kids who lick it, break off pieces and try to eat it. You name it, it's been done," quips Heinicke.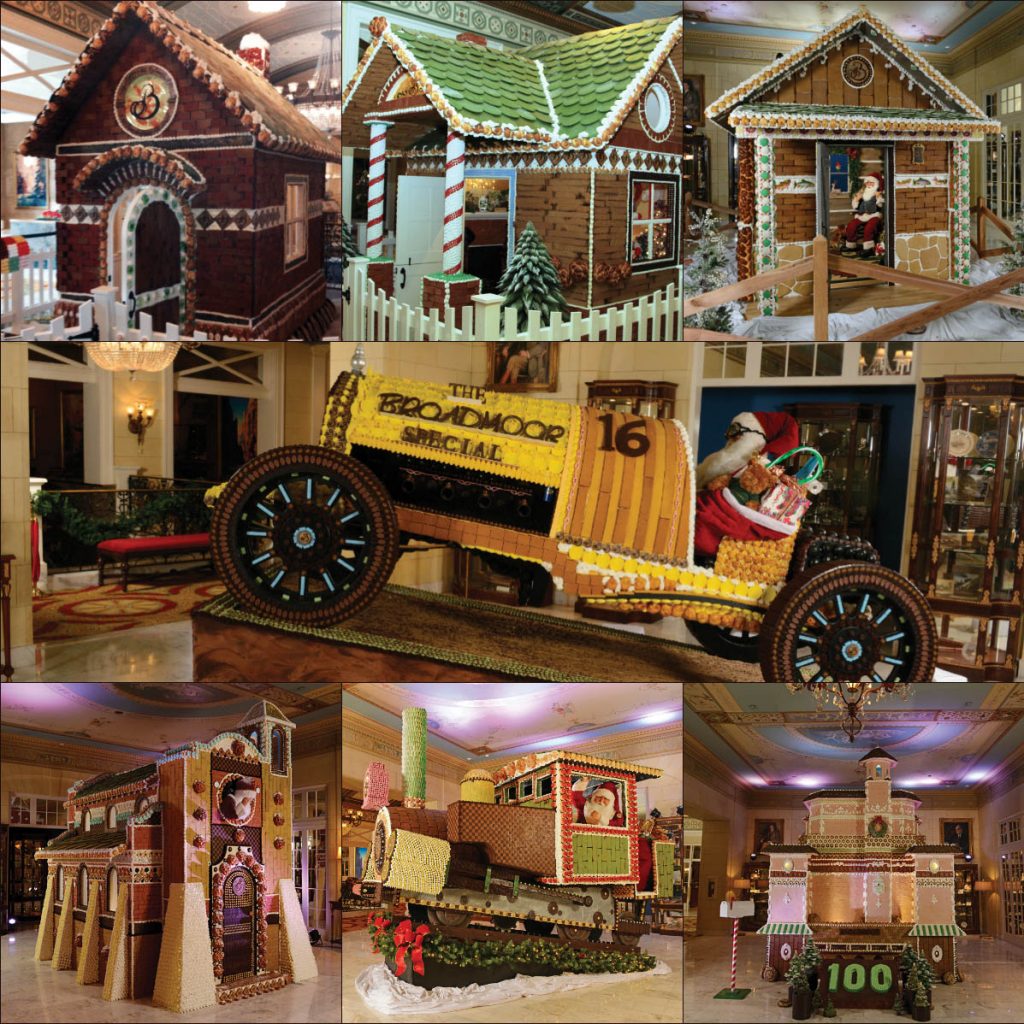 While many of the details of this year's gingerbread house are still under wraps, Heinicke divulges that it'll be a tribute to the rebuild of the $100 million investment of the Broadmoor Manitou and Pikes Peak Cog Railway, which has been three years in the making. "We're doing a replica of our new cog trains that are being assembled and shipped from Switzerland in 2021. It'll be eight-to-11 feet high and 12-to-14 feet in length, and there will be elves working on the train and Santa checking his list," reveals Heinicke. Still, if the resort's past gingerbread houses are any indication of this year's sugar high and caloric content, Santa might very well combust.
While guests of The Broadmoor will have easy viewing access to the sugar-saturated work of art, the public can view it, too. "This year, we're broadcasting both a Broadmoor website and YouTube tour, most likely with a time lapse, to allow people who aren't staying at the hotel to experience our gingerbread build," says Heinicke. The virtual tours go live on December 1.
"This tradition isn't just important; it's paramount," insists Heinicke. "It's a community tradition, and guests and family members of guests plan their holidays around our gingerbread build. While it's only up temporarily, it's week and months of planning, and the whole team works toward this special time. It just might very well be the most important and impactful thing we do all year," says Heinicke.
The Broadmoor
1 Lake Ave., Colorado Springs
719.623.5112; broadmoor.com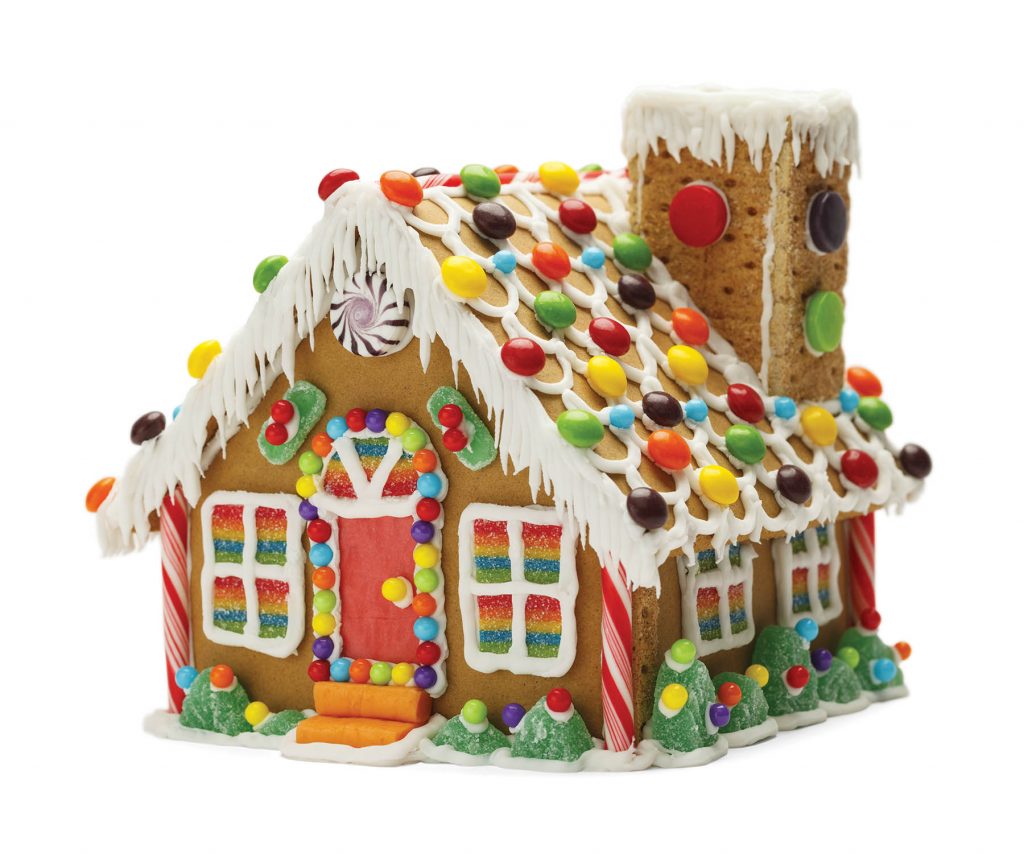 MASTER CLASS
Tips for building a gingerbread home of your own
Building a gingerbread house takes time, patience and planning. Face it: The last thing you want is a collapsing roof crushing your gingerbread man. Pastry Chef Liliana Myers, who worked in the kitchen of Thomas Keller's Bouchon Bakery and Michelin-starred restaurants in France before becoming the pastry chef at Safta at the Source Hotel in River North, offers these tips and tricks to craft a memorable gingerbread house.
1. INVEST IN GOOD GINGERBREAD HOUSE CUTTERS. Myers recommends a Wilton's kit, which includes a cutter for the front panel, side panels and roof.
2. USE ROYAL ICING. "It's naturally white so it makes great snow and icicle embellishments, and since it's mainly egg whites, it also dries really hard and strengthens the frosting," shares Myers.
3. TO ICE YOUR GINGERBREAD HOUSE, use a piping bag, cornet or the end of a plastic bag. "A cornet — a little cone made from parchment paper — works best for small detail lines," notes Myers, adding that you can find "how-to" tutorials on YouTube.
4. DECIDE EARLY ON IF YOU INTEND TO EAT YOUR CREATION or just admire it. If you plan on eating it, do so within three days. No one wants to snack on stale cookies and icing. Myers
recommends keeping your gingerbread house covered for "optimal delectability." A cake stand cover is her preferred choice. If you're simply going to stand in awe of your masterpiece, bake the cookies a little longer than normal to ensure they have no moisture, which results in better
structural integrity.
5. WHEN CUTTING PIECES for a chimney, windows or door, always use refrigerated or frozen gingerbread dough; you want it cold! "You'll get cleaner lines, and you can use a ruler to score them and keep them straight," says Myers.
6. DECORATE THE MAJORITY OF YOUR PANELS BEFORE BUILDING the actual house. "It's a lot easier to decorate panels when they're flat on a table," advises Myers. BONUS: You don't have to worry about unwanted drips either.
7. USE ROLLING FONDANT to make snowmen. And gingerbread scraps, Myers shares, "make great spokes for a fence or gingerbread people."
8. MINI MARSHMALLOWS, reveals Myers, make wonderful igloo blocks, while peppercorns are perfect for snowman eyes and little snips from a live pine tree results  in a beautiful pine forest."
Gingerbread Dough
INGREDIENTS
2 sticks unsalted butter, softened ½ cup packed light brown sugar
1 large egg
⅓ cup molasses
2 ½ cups all-purpose flour
1 tsp. baking soda
½ tsp. salt
2 tsps. ground ginger
1 tsp. ground nutmeg
1 tsp. ground cinnamon
METHOD
Cream together softened butter and sugar until just combined. Beat in egg and molasses. Sift flour, baking soda, salt, ginger, nutmeg and cinnamon. Use your hands or a handheld mixture on low speed to combine dry mixture with creamed butter and sugar until it's blended and smooth. Wrap dough in plastic and refrigerate for at least two hours and preferably overnight. When ready to roll out dough, preheat oven to 325 degrees. Liberally sprinkle some flour on a flat surface, roll out dough to ¼-inch thickness and cut into desired shapes. Work in small batches and keep excess dough in an airtight container so it doesn't dry out. Bake for 20 to 25 minutes, or until the cookies are light brown and lift off the baking sheet. Let cool completely before assembling and icing.
Royal Icing
INGREDIENTS
3 oz. pasteurized egg whites
4 cups powdered sugar
1 tsp. peppermint or vanilla extract
METHOD
Place powdered sugar in a bowl and whisk in egg whites and extract until there are no lumps. Cover with plastic until ready to use.