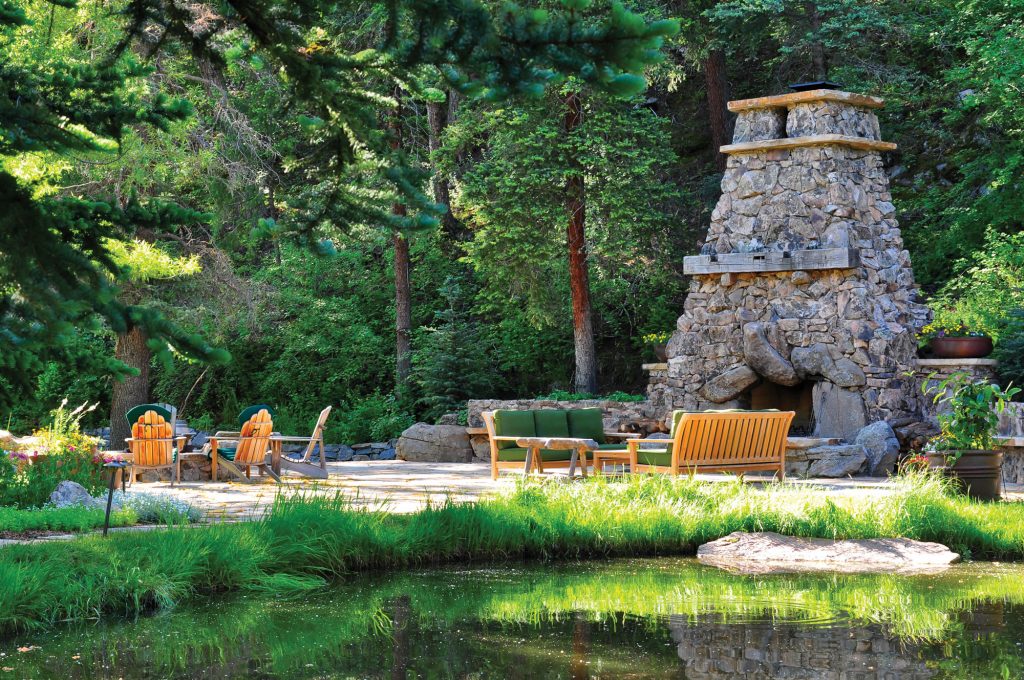 Fireplaces and fire pits have become the hub of a quality Colorado backyard, says Phil Steinhauer, owner of Centennial's Designscapes Colorado: "I think outdoor fire elements are so popular because they're versatile and really do extend the life of a patio on a chilly evening."
The trick to getting a fire setup right starts with knowing how you'll use it. "A fireplace is more intimate, whereas a fire pit creates more of a social campfire situation," Steinhauer says. For a fireplace, think oversized and comfortable furniture that's "just like what you would lounge on inside around the embers," he says. For a fire pit, think bench seating and Adirondack chairs that can accommodate a large number of guests.
Here, Steinhauer takes us through other guidelines to follow when creating an outdoor hearth by way of this showstopping Evergreen backyard on Bear Creek. Be warned: out-of-state guests may look to mimic your result. "The outdoor lifestyle has become synonymous with a Colorado lifestyle," Steinhauer says.
KNOW HOW YOU'LL USE IT.
This fireplace functions as the home's center for outdoor entertaining, so it only makes sense that it features both ample seating and a dining arrangement.
CONSIDER GAS FLAMES.
There are many reasons, aside from the obvious fire danger, why Steinhauer encourages gas fire areas. "It takes a long time to build a fire and it can be smelly," he says. "Gas is cleaner and easier to light and maintain—you can sit around it for five minutes or five hours." While nothing will replicate the crackling of a wood-burning fire, Steinhauer suggests choosing fake log sets (of which there are many options) to make fires look natural. This particular homeowner wanted the fireplace to be wood-burning so they could create a "blazing fire" for guests. Some of the property's other fire features, however, are gas.
STICK TO ONE RULE WITH MATERIALS.
"Blend the outside design with the inside," says Steinhauer. Start with stone that, one, is complimentary in style and color to your home's architecture and, two, matches the natural landscape. "This is what creates the seamless transition to an outdoor living space," he says. Hard materials, such as stone or brick, are best for fireplaces. Use a firebrick for the interior of a fire pit or fireplace to keep the exterior stone from getting too hot and cracking.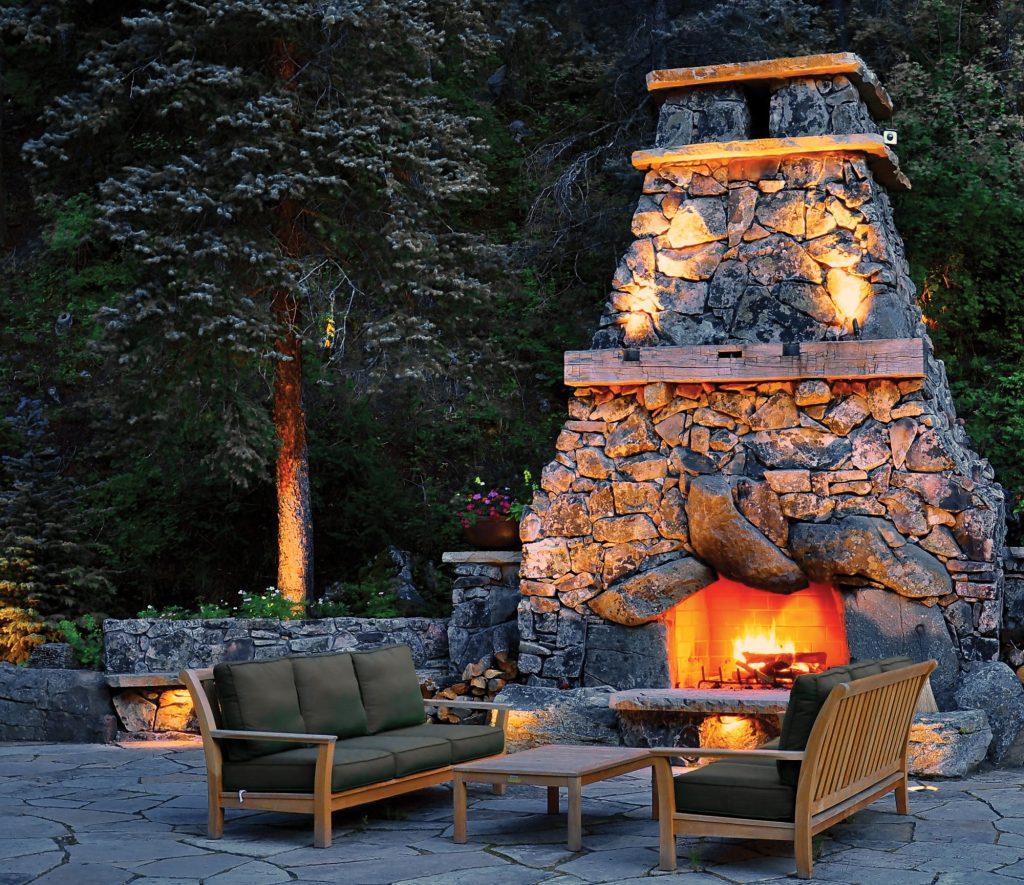 BE THOUGHTFUL WITH LIGHTING.
"We don't really like to see the lighting elements, so we used a lot of additional low-voltage, recessed lighting," says Steinhauer. "Many of the bulbs are hidden in stones or around the back of the fireplace. The lighting is subtle, which makes it more relaxing and inviting."
KEEP PROPORTIONS BALANCED.
This massive yard features two outdoor fireplaces and three fire pits that hug part of the creek. The sheer size of this fireplace—towering more than 18 feet high and reaching 15 feet in width at the base—had to be "grand enough for the space," says Steinhauer. "The mountain behind it was big, as was the scale of the yard." It took a lot of engineering genius, including the use of scaffolding to complete the top stonework, to make it this big.
For Steinhauer, a good height is 18 to 20 inches for a fireplace hearth or overall fire pit: "I think keeping fire features a little lower allows your legs to feel heat." Going a little taller can allow the cap or cover to be used as a table. However, no size within reason, he says, is too big.
GET PLANNING
Designscapes Colorado
Centennial
303.721.9003