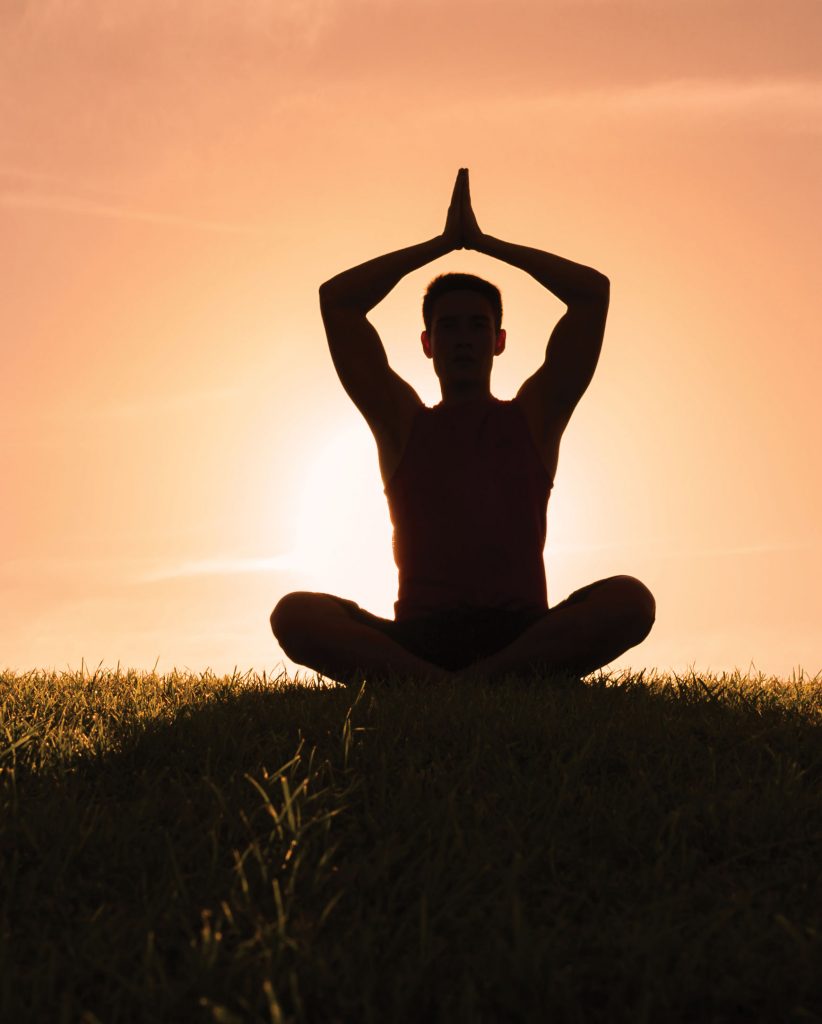 Tim Johnson "wasn't into it." Nearly 20 years ago, Johnson was in his first yoga session, and he just didn't see the point. But doctor's orders—Johnson had knee issues from skiing on the U.S. Junior National Team and U.S. Ski and Snowboard Team—had him practicing the meditative method for 30 days straight with his girlfriend Julie, who later became his wife. "I had an epiphany during those 30 days," he says. "I hadn't felt that kind of balance and strength for a while."
That epiphany started a domino effect. Now 51 years old, the fitness pioneer and businessman is one of four co-founders of CorePower Yoga and is a current franchisee of five CorePower Yoga studios and 16 Orangetheory Fitness studios. These are all under the parent company We Spread Health, of which he is the president.
And throughout his almost two decades in the fitness industry, the father of three from Cherry Hills Village has helped the two movements see immense growth—there are more than 200 CorePower Yoga studios in the nation and 1,400 Orangetheory studios worldwide—and also inspired thousands through both fitness and community outreach.
He credits much of the success to "second choices." His first choice, back in 2001, was to take his life savings—$200,000—and start a telecom company. The stock market crash after Sept. 11 lost him everything and had Johnson reassessing his path. Eight months after his first yoga class, he opened the first of two studios: Bikram on Broadway.
"It was a terrible business attempt," he laughs. "But if that studio wasn't profitable, I didn't have a backup plan. It had to work."
And it did, thanks to what he says was a good lineup of instructors but "nothing exceptional."
But Johnson would be wrong on that second point. Aside from inspiring what's now CorePower Yoga, he gave free yoga classes to anyone who wanted to practice but didn't have the money. "We traded time. They'd come in and clean for a few hours," he says. While a lawsuit and the IRS shut down the straight-trade model years later, Johnson still offers some sort of program for those who need it in his fitness studios.
He's just as committed to giving back as ever. As part of the Orangetheory More Life initiative, he's involved in regular charitable events like the upcoming biannual Dri-Tri for Muscular Dystrophy Association Rocky Mountain. During the weekend of March 30, Orangetheory members will compete in friendly workout challenges to raise money to send Colorado kids with muscular dystrophy to summer camp.
"We have the ability to help others," he says. "After you feel blessed and so lucky that you can put food on your table and raise your kids, at some point you realize that not everybody has access to health. Fewer people have the ability to help, so it's your responsibility."
GROUND RULES TIM JOHNSON LIVES BY
LEARN FROM THE GOOD, AND THE BAD. "I've had eight great examples of leaders in my life—coaches, bosses … They didn't really inspire me as much as the two horrible leaders I had. I thought, if those dummies could do it, I could at least do it better than them."
LOGICAL THINKING isn't always the best thinking. "Logically, I would have opened a telecom business. Thank goodness that didn't happen."
YOU NEVER KNOW where your next great idea is going to come from. "I walked by a laptop where someone was watching an Orangetheory workout and was on a plane to Florida to meet with the people who run Orangetheory not long after."