Entertaining certainly gives you the opportunity to showcase your culinary skills and ability to set an impressive table. But what if you'd like to go "next level" by wowing guests with a way to celebrate your appreciation of wine? Enlist the services of Darryl Hogeback.
A master artisan, he designs and handcrafts custom-made wine racking systems that pay homage to the bottled delight. The proprietor of Littleton-based Savanté Wine Cellars, Hogeback, who has more than 40 years of woodworking expertise, is skilled at creating unique wine spaces.
"My grandfather was a carpenter, and he really influenced me. My high-school shop teacher turned out some of the finest craftsmen in the Midwest, many of whom are doing beautiful work today," says the Cincinnati native .
In his early 20s, Hogeback was a furniture maker whose talents eventually drew him towards finish carpentry and custom millwork on the interiors of high-end vacation homes in Aspen, Vail and Telluride. When a homeowner in Aspen asked him to build a wine room, he recognized an opportunity to create a better racking design. So he did.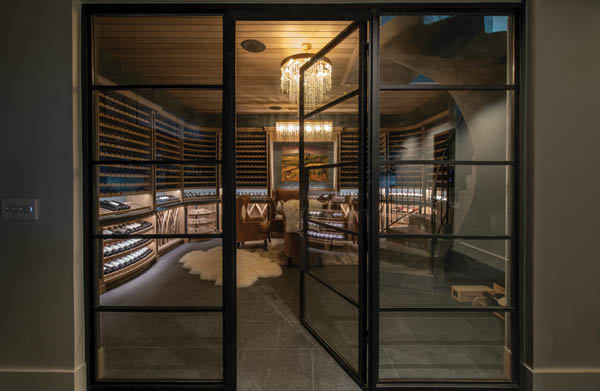 Well-Conceived Cellar Design
Rooted in Old French, the word savant means a scholar noted for wisdom, and Hogeback thought to add the "e" with the accent to give his business more cache. Smart, too, is his imaginative approach to each project, where the space being considered for the wine room is measured, photographed, then pre-designed using computer generated, three-dimensional drawings.
"Clients have specific storage needs, which we build around. They may envision having five percent magnums, twenty percent cases and the balance in regular bottles," he says. "Knowing that helps us create a space that is both functional and appealing."
He first invites potential clients to review the company's portfolio online, where there are more than a dozen examples of wine racking systems on display. Once you decide on what you believe best aligns with your wine presentation and preservation goals, he provides a few rough sketches of how the wine room or wall display could look.
A phone conversation, Zoom chat or in-person meeting then leads to advanced design ideas and ultimately an initial round of formal illustrations. Though creating efficient, climate-controlled storage is top of mind in the design considerations, Hogeback and his fabricators are also experts at crafting a custom tasting table, a decanting area, laser-cut cabinetry, customized entry doors, artwork and strategically positioned LED and sconce lighting to illuminate your collection.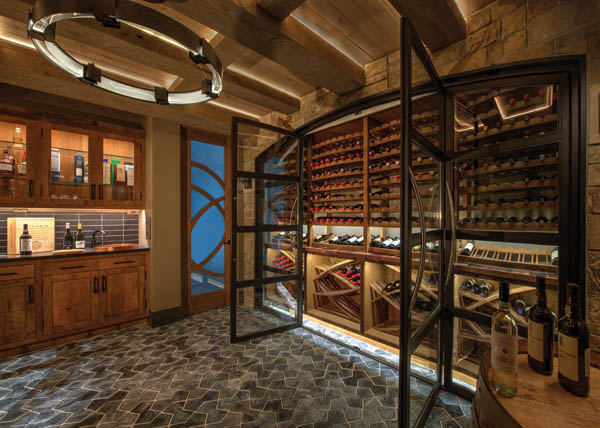 Reds, Whites And Green
Knowing that stains, paints and chemical finishes emit wine-spoiling gasses that can be absorbed by the cork, Savanté's fabricators instead leave the wood raw or treat it with non-toxic, butcher-block type oil. Other "built-green" attributes include the use of formaldehyde-free sheet goods and a modest use of glue to assemble the wood racks.
Each wine racking system is made using certified American sources of renewable hardwoods like white oak. Significantly stronger than redwood, it enjoys the same decay resistance rating. Though white oak is frequently used to create wine rooms, the company also uses mahogany, cherry, maple and walnut in its projects. A recent addition is a metal racking system that incorporates laser cut steel with wooden dowels.
Most wine rooms or wall displays are designed around collections of 300 or more bottles, so they are certainly geared for enthusiasts and serious collectors. But whatever rack system fits your style for entertaining, count on having a conversation piece at your dinner parties.
303.725.5131