As summer bursts forth along the Front Range, restaurants are putting their hearty, heavy cold-weather fare on the back burner. Menus are showing off light, refreshing food and drinks suitable for enjoying alfresco on a warm June evening. Four popular Castle Rock eateries share the dish most likely to create a buzz for the rest of the summer. We've also included a few other standout options to sample while you're there.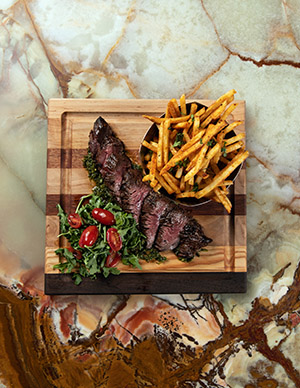 Union An American Bistro
The Dish: Hanger steak with chimichurri and heirloom tomato salad
First, the chef marinates a tender 8-ounce steak in Southwestern lime and herbs. It's grilled to order and topped with an herbaceous chimichurri sauce. The result is a new dish on Union's menu full of bright, seasonal, palate-pleasing flavors. On the side is an heirloom tomato salad plus crispy frites dusted with barbecue spice and drizzled with simple syrup. Union's owner Kim Heideman recommends pairing it with a glass of Conundrum, a light red blend wine. 

Other Must-Taste Union Menu Items
• Italian eggrolls filled with tomato, mozzarella and basil served with arugula pesto
• Togarashi-spiced seared shrimp on romaine and cabbage salad with maple sesame vinaigrette and crispy wontons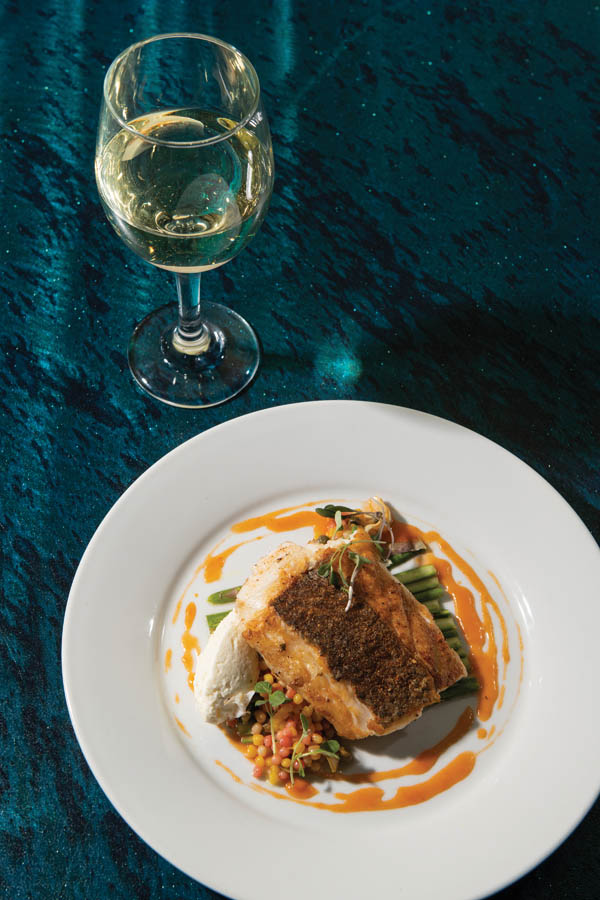 Trestles Coastal Cuisine
The Dish: Seared barramundi with rainbow couscous
Owners Jose and Mimi Espinoza named their Castle Rock eatery for the shoreline between San Diego and Orange County with its perfect waves. Trestles showcases excellent fresh fish and seafood from both coasts. Chef Verity Warriner's new summer menu includes firm-fleshed barramundi fish pan-seared, so the skin gets very crispy. She tops it with a sweet-and-sour tomato gastrique. She adds couscous—dyed bright colors using turmeric and beet—and dresses it in pancetta vinaigrette.

Other Must-Taste Trestles Menu Items
•  Salmon pan-roasted in roasted red bell pepper sauce
• Burrata salad with baby arugula, tomatoes and pickled watermelon radish
• New England-style, wild-caught lobster salad roll with citrus remoulade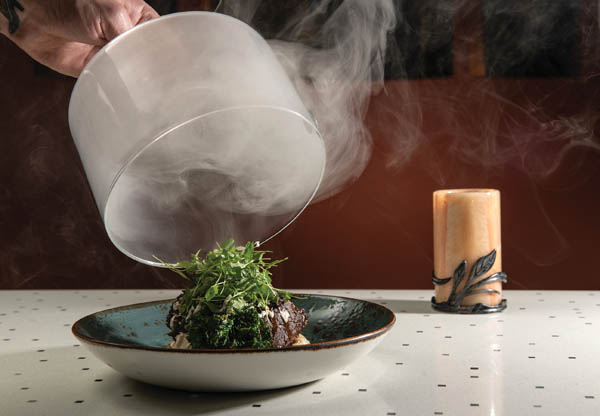 Manna Restaurant
The Dish: Short ribs with smoky mashers, creamy horseradish and grilled broccolini under a smoke dome
Manna Restaurant is located at Castle Rock Adventist Hospital, but it doesn't dish "hospital food," says Dan Skay, Manna's executive chef. Besides serving healthy meals for patients and staff, Manna is a bright, casual sit-down restaurant with a waitstaff that welcomes locals for meals every day. Skay says this dish is a prime example. Slow-braised boneless Angus beef short ribs paired with smoked mashed potatoes with demi-glace sauce, creamed horseradish and grilled fresh broccolini. It's delivered tableside under a glass dome filled with appetizing mild cherry wood smoke that seasons the air.

Other Must-Taste Manna Menu Items
•  Diamond Ridge Pizza on house-made dough with bresaola, fig, fresh mozzarella, gorgonzola and Parmesan, then topped with balsamic glaze
•   Corned "beet" Rueben sandwich with sauerkraut and Russian dressing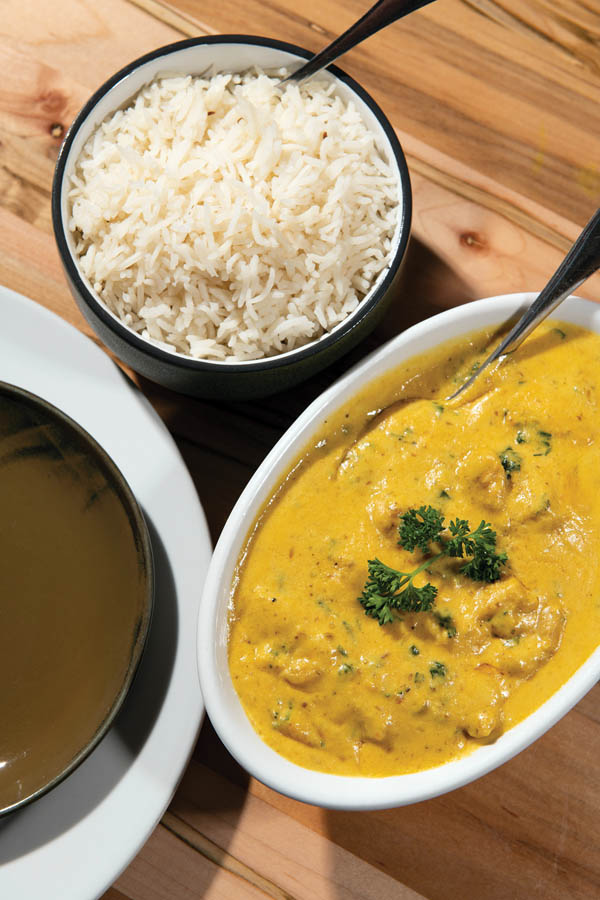 Zaika Indian Cuisine
zaikacastlerock.com
The Dish: Chicken lajjatdar
Executive chef Basanta "Bobby" Lamsal calls Chicken lajjatdar Zaika's most distinctive dish. Chunks of dark and white chicken are cloaked in a buttery cashew sauce similar to chicken korma. The difference, Lamsal says, is the addition of "a substantial amount of finely chopped fresh cilantro and specific Indian spices." Vegetable and seafood variations are also available. The dish comes with fluffy basmati rice, but garlic naan hot from the tandoor oven is ideal for grabbing bites of chicken. Zaika Indian Cuisine boasts six Colorado locations, including Castle Rock and Littleton.

Other Must-Taste Zaika Menu Items
•   Baingan bharta: vegan tandoor-roasted eggplant with chopped tomatoes, onions, ginger and garlic
•  Seafood Kerala curry: shrimp, scallops  and salmon in coconut milk sauce infused  with mustard seeds and curry leaves