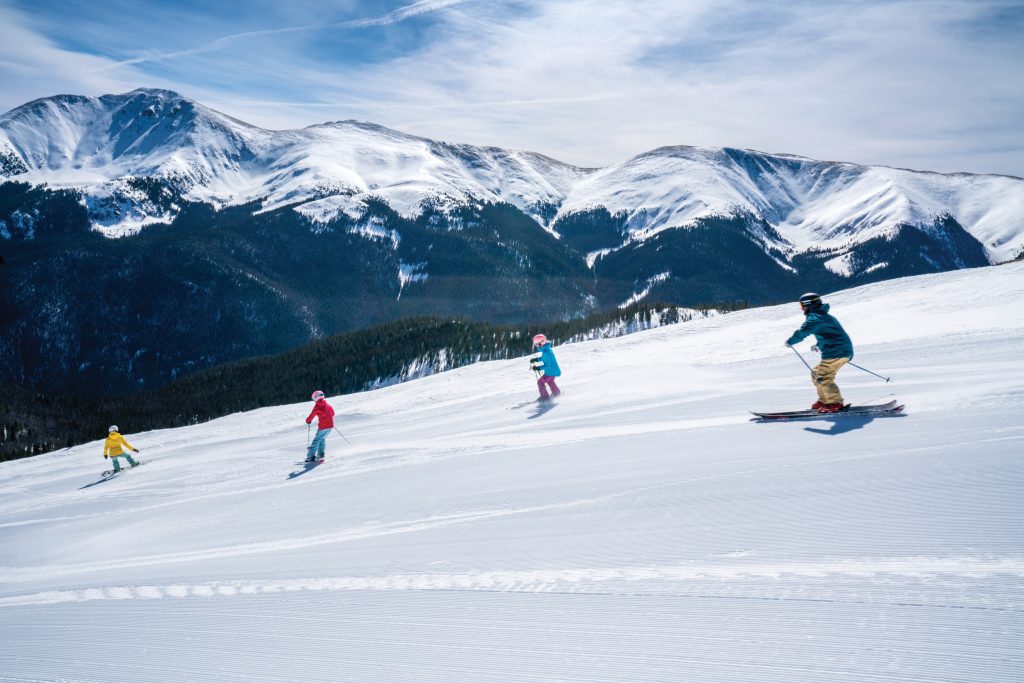 I've owned dozens of Colorado season passes over the years, and spring planning was always a simple, yet limited, exercise: Get in the lion's share of days at your season pass area, and then try to squeeze in a longer trip where you can buy day tickets at another resort. Plotting peaks has changed dramatically with the arrival of the Ikon Pass—launched in 2018 to counter the industry-leading Epic Pass from Vail Resorts, whose mountains tend to have the same corporate feel.
What trails am I headed to? With Ikon Pass unlocking six diverse in-state ski destinations—it has 41 worldwide with access to open slopes nearly year-round— and extending the Colorado season into June with Arapahoe Basin, I'll just say a slew of them.
ARAPAHOE BASIN
BASE/SUMMIT ELEVATION IN FEET: 10,520/13,050
SKIABLE AREA: 1,428 acres
AVERAGE ANNUAL SNOWFALL: 350 inches
EXPECTED CLOSING DAY: June 7
A-Basin is North America's sweetheart for late-season skiing (lifts spun until July 4 last year). The resort opened a game-changing lift serving The Beavers and The Steep Gullies last season, accessing 468 acres of terrain … but the best stuff is still in the trees. The Basin's spring docket is full of live music and events, but DIY remains the preferred approach: secure an early, front-row parking spot at The Beach and bring the grill, cooler and party tent.
ASPEN SNOWMASS
(ASPEN HIGHLANDS, ASPEN MOUNTAIN, BUTTERMILK and SNOWMASS)

BASE/SUMMIT ELEVATIONS IN FEET: all four resorts have bases at roughly 8,000 feet; Snowmass' 12,510-foot summit is the highest
SKIABLE AREA: 5,527 total acres
AVERAGE ANNUAL SNOWFALL: about 300 inches for all but Buttermilk, which averages 200 inches
EXPECTED CLOSING DAYS: Buttermilk, April 5; Highlands, April 12; Aspen Mountain and Snowmass, April 19
There's a reason SKI magazine has named Aspen Snowmass the West's No. 1 ski-resort destination for two years running. The signature town comes alive in spring when you can leisurely stroll its vibrant, high-end shops (Gucci, Prada, Kemo Sabe) and world-class restaurants (Matsuhisa, Bosq and Meat and Cheese are worth mentioning), or rub elbows with the locals at Red Onion or J-Bar. This can often be accomplished in short sleeves thanks to Aspen's relatively low elevation, while skiers and riders shred Ajax above town. Snowmass is a favorite family pick. With 4,406 feet of vertical rise, it has more skiable and rideable acreage than the other three areas combined.
WINTER PARK
BASE/SUMMIT ELEVATION IN FEET: 9,000/12,060
SKIABLE AREA: 3,081 acres
AVERAGE ANNUAL SNOWFALL: more than 313 inches
EXPECTED CLOSING DAY: Winter Park side, April 26; Mary Jane side, to be determined
Winter Park, hidden in the Fraser Valley and well removed from I-70, is the closest major ski resort to Denver—literally: It's owned by the City and County of Denver. The seven distinct territories in its vast skiable acreage offer plenty of trails to explore. The bump-laden Mary Jane Mountain is a spring destination in itself for those seeking signature soft, Volkswagen-sized bumps and tree skiing on a more advanced course. The resort has retired its poky three-person Sunnyside chair and replaced it with a high-speed six-pack, which means quick access to the base of Parsenn Bowl Territory. Also new: a gondola at the base of Winter Park that stops at Sunspot Mountaintop Lodge, and resort guides for hire who'll lead guests past boundary ropes to partake in another spring ritual, backcountry skiing in powder or corn snow.
COPPER MOUNTAIN
BASE/SUMMIT ELEVATION IN FEET: 9,712/12,441
SKIABLE AREA: 2,490 acres
AVERAGE ANNUAL SNOWFALL: 305 inches
EXPECTED CLOSING DAY: April 19
For years, Copper Mountain has been the irreverent alternative to the four Vail Resorts-owned mountains that surround it. Ownership has recently invested $100 million, funding numerous upgrades, including two new replacement lifts out of the main base area. This season's addition of the Three Bears lift finally opens 12,337-foot Tucker Mountain and its 273 acres of steep terrain. Mark your calendar: Copper will close the season in style with Copper Live: 10 Barrel Snow Beach (April 11), Red Bull Slopesoakers (April 18) and Sunsation (April 18-19).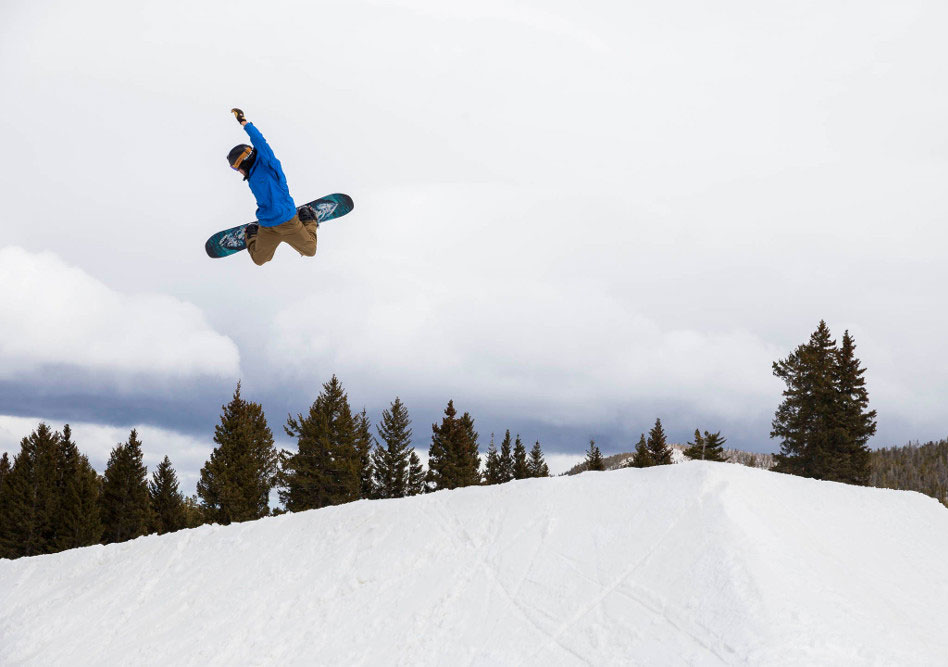 ELDORA
BASE/SUMMIT ELEVATION IN FEET: 9,200/10,600
SKIABLE AREA: 680 acres
AVERAGE ANNUAL SNOWFALL: 300 inches
EXPECTED CLOSING DAY: April 12
New ownership has been improving the experience at Eldora since 2016. The impressive rejuvenation started with the installation of the first high-speed lift—the six-person Alpenglow—in 2017. But the Eldora vibe is still different, as demonstrated by nearby Nederland's signature event: Frozen Dead Guy Days, a three-day frosty festival running March 13-15.
STEAMBOAT
BASE/SUMMIT ELEVATION IN FEET: 6,900/10,568
SKIABLE AREA: 2,965 acres
AVERAGE ANNUAL SNOWFALL: 314 inches
EXPECTED CLOSING DAY: April 12
Steamboat is home to the finest tree skiing in the state and "champagne powder," to ubiquitous 1964 Olympic medalist Billy Kidd and to a unique ranching spirit that separates it from the state's largely Victorian flavored ski towns (this isn't Breckenridge; visit F.M. Light and Sons—established 1905—on the main drag for proof). This season, the resort spent $15 million to replace its gondola and shorten the commute to its six peaks and 169 trails. For après activities, set your watch to 3:30 p.m. on Saturdays through April, when free live music of varying genres brings the Steamboat Stage in Gondola Square to life.
GOOD NEWS TRAVELS FAST
If you harbor spring travel plans that go beyond state and international borders, Ikon Pass accommodates.
It will get you on the lifts at five resorts adjacent to Salt Lake City, including the Ritz-like Deer Valley, the legendary areas of Little Cottonwood Canyon (Alta and Snowbird) and the hidden gems of Brighton and Solitude in Big Cottonwood Canyon.
The Ikon Pass "bucket list" also offers the drivable options of New Mexico's Taos Ski Valley and the revered Jackson Hole in Wyoming.
You probably want to fly to Bozeman to ski Montana's Big Sky, currently the "it resort" among the sport's cognoscenti—chiefly due to the magnetism of Lone Peak, relatively uncrowded slopes and a $1 billion long-term spending plan highlighted by the country's first eight-seat chairlift. The Ramcharger 8 has ergonomically shaped and heated seats; each chair reportedly cost roughly the price of a Porsche.
California offers a pair of twofers: To access snow-clogged Mammoth (you can also visit nearby June Mountain), direct Denver flights to the tiny Mammoth Lakes airport are now available. North Lake Tahoe's Squaw Valley and Alpine Meadows are about a 45-minute drive from the Reno-Tahoe International Airport.
A flight to Calgary and a roughly two-hour drive will get you into Banff National Park and on to the uncrowded slopes of the SkiBig3: funky Mt. Norquay, mountain goat-themed Sunshine Village and Lake Louise, which, rather amazingly, boasts higher-rated scenery than our home state.
Farther afield, how about the Matterhorn? Ikon Pass welcomed Zermatt Matterhorn, bordering Switzerland and Italy, into the fold this season. There is also the mega-resort of Niseko United in Japan, and summer options in Australia, New Zealand and Chile.
TIP
Take note of black-out dates on the Ikon Base Pass (which are the major ski holidays). And, for destinations with five- or seven-day access, keep track of your visits using the new Ikon Pass App. The app also tracks weather, trail status and your stats, like vertical feet and max speeds.
DON'T HAVE A PASS?
Be prepared for next season: Ikon Pass for the 20/21 season goes on sale early this month. Last year's prices for adults (ages 23 and up) started at $649 for the Ikon Base Pass and $949 for the Ikon Pass. ikonpass.com