By Hailee Lucchesi
THESE ON-TREND STAPLES allow you to mix and match your outfits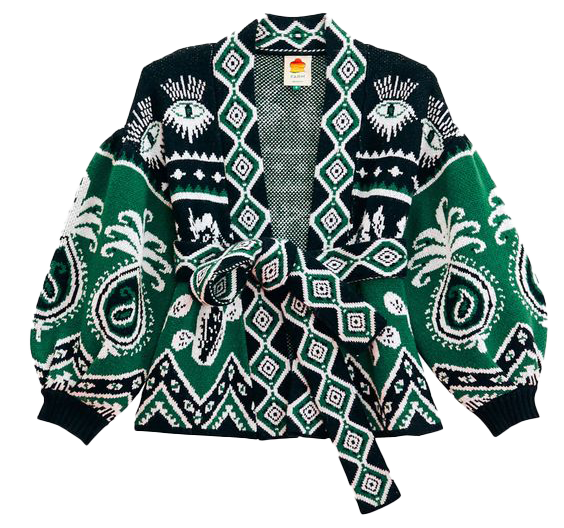 Mystic Scarf Cardigan | $195 at A Line Boutique | Belleview Station DTC | 303.773.8200
aline-online.com

When it comes to fashion trends, we are lucky enough to call Colorado home, as the fickle weather allows us an array of styles to experiment with. One of the hottest trends for spring is mixing and matching prints, colors and textures. The traditional rules no longer apply, and we couldn't be happier. Look no further than these head-to-toe looks layered with playful prints and colors to keep you
right on trend.
If FARM Rio isn't already on your radar, today is your lucky day. This Brazilian-based maker has been designing powerful, colorful, bold pieces since 1997 to inspire positive transformations in everyone, everywhere. The Mystic Scarf cardigan is certainly no exemption. This go-to garment, with its versatile function, makes it a closet necessity. While it could be styled in an assortment of ways, we're keeping it Colorado casual with our effortless combination.
Although this Isabel Marant Zutti modern sleeveless cotton t-shirt may appear simple at first glance, the consideration to design with the striking sleeve makes it anything but ordinary. The structured shoulder allows for a polished look layered or alone, providing a sharp and modern appeal. Your basic white tee has never looked so good with this elevated piece.
We've said it once, and we'll say it again. The perfect pair of denim jeans should always be a top priority in your wardrobe. Luckily for us, Madewell continues to provide foolproof denim time and time again. The Perfect Vintage straight jean in a ferman wash is a no-brainer. The waist-accentuating high-rise silhouette and classic wash will have you wearing them nonstop. The best part, they also come in a curvy fit to keep women of all shapes and sizing on trend this season.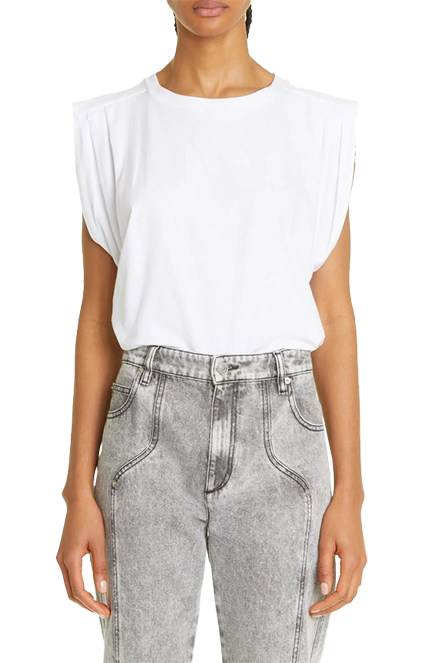 Isabel Marant Tee | $360 at Nordstrom | Park Meadows | 303.799.3400 | nordstrom.com
The Perfect Vintage Straight Jean | $128 at Madewell | Park Meadows | 303.792.4682 | madewell.com

Top off this look with Warby Parker's Corwin polished gold-and-whiskey tortoise sunglasses. Made in Italy with round lenses, brow bar, and mod bridgeless construction, these specs take eyewear to a new level. Incredibly elegant and stylish, these are the only sunglasses you'll
need this season.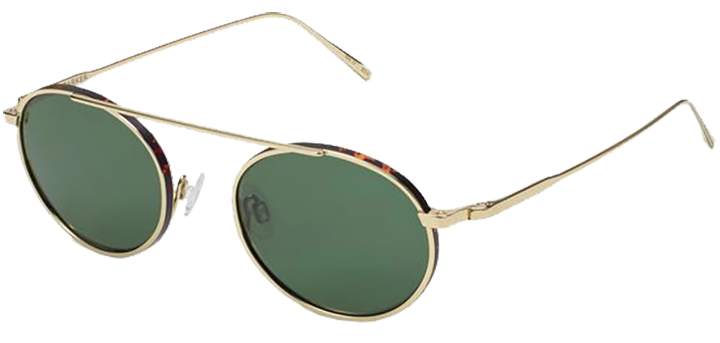 Corwin Sunglasses | $195 at Warby Parker | Park Meadows | 888.492.7297 | warbyparker.com
What was once a pandemic trend is now a well-established category that is here to stay. Currently, loungewear ranges from informal to avant-garde, and we can't get enough of it. There is no better example of fashionable loungewear than this ba&sh Balloo hoodie sweater. The colorful organic cotton and ethically sourced striped wool instantly draw you in. The attention to detail in the braided strings and cozy hood makes this piece a showstopper. Pop the hood and layer for a contemporary look by pairing it with ALLSAINTS Morgan convertible leather bike jacket. White leather is sweeping the market, but what makes this exceptional is the clever trimmed fastening to allow for removable sleeves. The ability to transform from a jacket to a vest in seconds elect this piece unmatched.
A Line Boutique | Belleview Station DTC | 303.773.820 | aline-online.com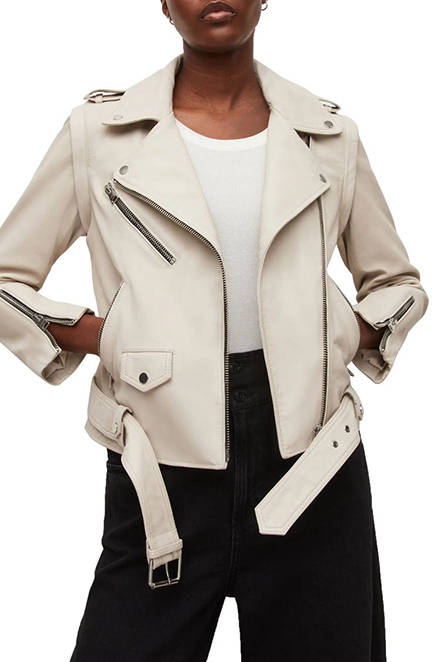 ALLSAINTS Morgan Convertible Leather Biker Jacket | $589 at Nordstrom | Park Meadows 303.799.3400 | nordstrom.com
Another trend that is sure to stay is establishing core pieces of jewelry for your daily uniform. Local designer Trice Jewelers is one of the best in the game when it comes to this mindset. With an eclectic range of metals and styles, it's almost impossible not to find something you love while exploring their vast collections. Their I. Reiss 14-karat yellow gold cuff ring is the perfect piece to top off your look. The matte and hammer-finished scalloped-edge design with burnished set diamonds is stunning. Wear it alone or layer it with stacking bands to make it uniquely yours.
I.Reiss Ring | $2,300 at Trice Jewelers | Centennial | 303.759.9661 | tricejewelers.com

While ALO first began making its mark in women's fashion with athleisurewear, the brand has stepped out into ready-to-wear, and we couldn't be more thrilled. This High-Waist Pursuit trouser comes in a multitude of colors, but we're drooling over this delicious cinnamon brown color. Although they appear incredibly poised, they fit like a dream. The lightweight fabric with a faux belt and side pockets makes them street-ready and easily dressed up or down.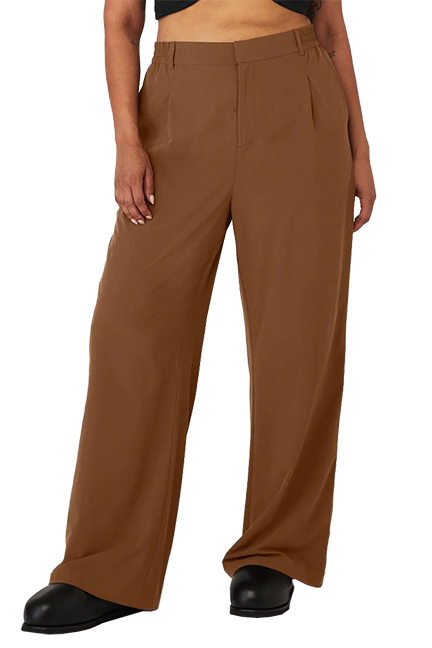 High-waist Pursuit Trouser, | $148 at ALO, Park Meadows | 720.381.2863 | aloyoga.com
Far from her days as a Spice Girl, Victoria Beckham has taken the fashion scene by storm. Her ability to create timeless, trendy pieces keeps her collections coveted season after season. The Mini Chain
Pouch in fuchsia is just one of many examples of this revolution with its vibrant color and softly
structured shape.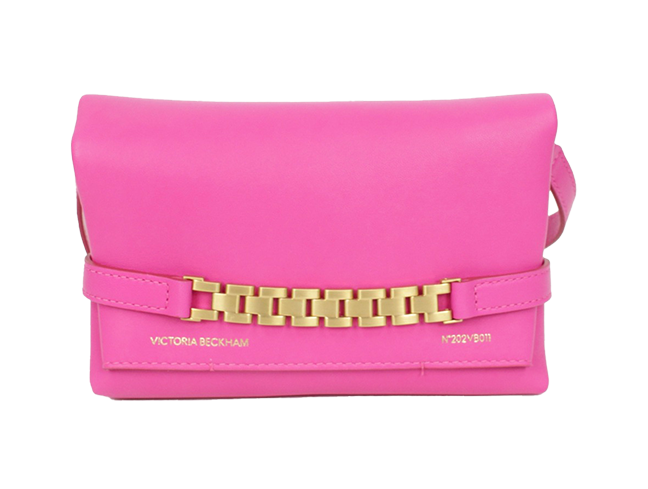 Victoria Beckham Mini Pouch | $990 at A Line Boutique | Belleview Station DTC | 303.773.8200
aline-online.com

It's no wonder Philippines-born designer Natori always designs with making women feel powerful in mind. Her Radial leopard-printed sandals are certainly no exception. Easily styled with both looks, these sandals instantly take your outfit from bleak to bold.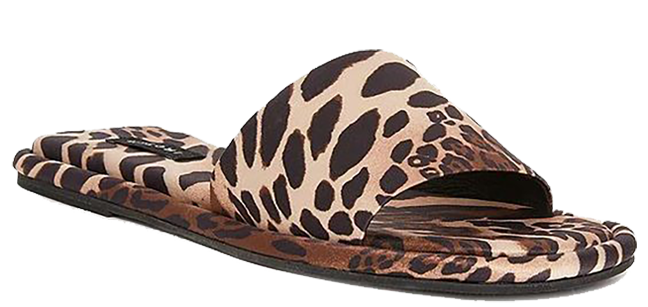 Natori Radial Leopard Printed Sandals | $140 at Dillard's | Park Meadows | 303.790.0100 | dillards.com