By Kim McHugh
THRILLS abound exploring the slopes on a SNOWBIKE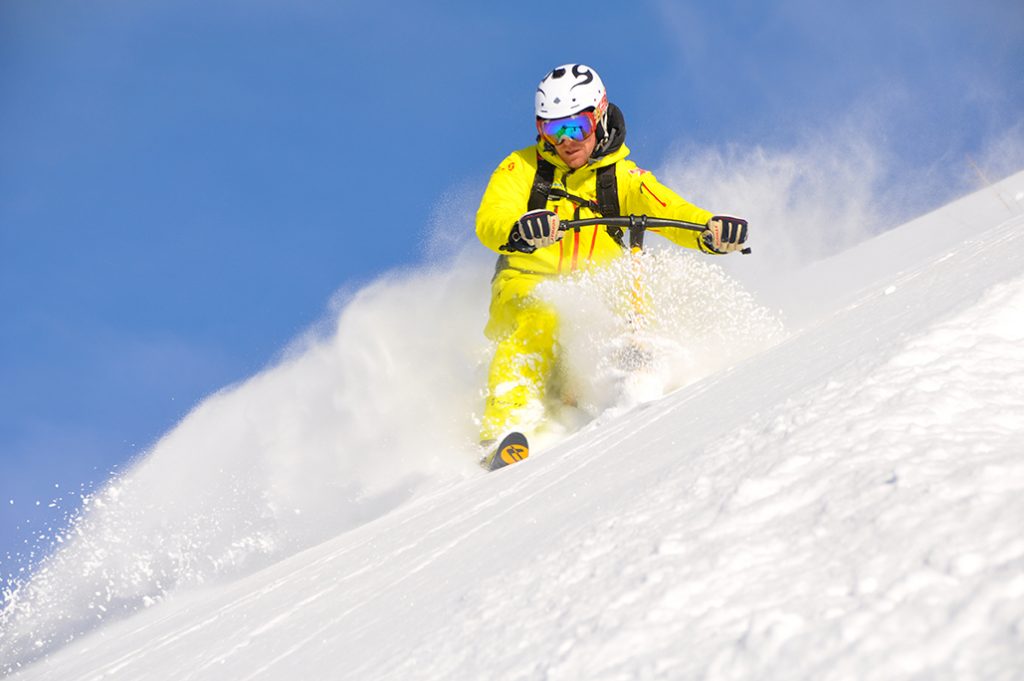 ULLR, THE GOD OF SNOW, is revered by Scandinavians. But they aren't alone in their adoration for the mythical figure who is credited with creating snow covered trails in mountain resorts from Norway's Lillehammer to Breckenridge, Copper Mountain and Winter Park. As a snow sport enthusiast living in Colorado or just vacationing here, you may currently navigate the slopes on skis, a snowboard or cross-country skis. But there is another way to enjoy your time on the mountain: snowbiking.
SPORT INVENTED IN THE 1940S
Austrian Englebert Brenter is credited with designing the first snowbike in 1949 in his factory in Hallein, Austria. Comprised of a tubular frame, handlebars, a seat and a front and rear ski, the Brenter model resembles a bicycle, minus the wheels, chain and hand brakes.
"Snowbiking is different [from skiing and snowboarding] in that you are sitting on a bike. It only takes a few minutes to get started, and you can explore tree runs and other terrain types often on your first day. It's a new type of adventure for everyone," says Roger Hollenbeck, owner of Roger's Snowbike Rentals in Breckenridge.
EASY AS RIDING A BIKE
Essentially ridden like a two-wheel bike, the Brenter Snowbike steers primarily by the rider leaning slightly left and right while simultaneously turning the handlebars. Assisting in this effort are the small skis attached to the rider's boots, which also function as brakes.
Crafted in a similar fashion to the aforementioned brand, the Sno-Go ski bike also has a bicycle-style frame with handlebars and a ski-mounted front fork, but this design has no seat, instead having the rider place his or her boots on two rear-mounted pads attached to small skis.
Either of the two designs invite you to cruise the trails, controlling your speed and direction by keeping your feet and the snowbike's skis on the snow, repeating the left and right gliding action as you descend, carve new tracks in the powder or cruise through the trees.
Anyone who's ridden a bike should quickly get the hang of this new sport throughout the course of a lesson or, after watching an instructional video, experimenting first on the green or beginner slopes. As intimidating as it might seem, getting on and off the lift is rather easy.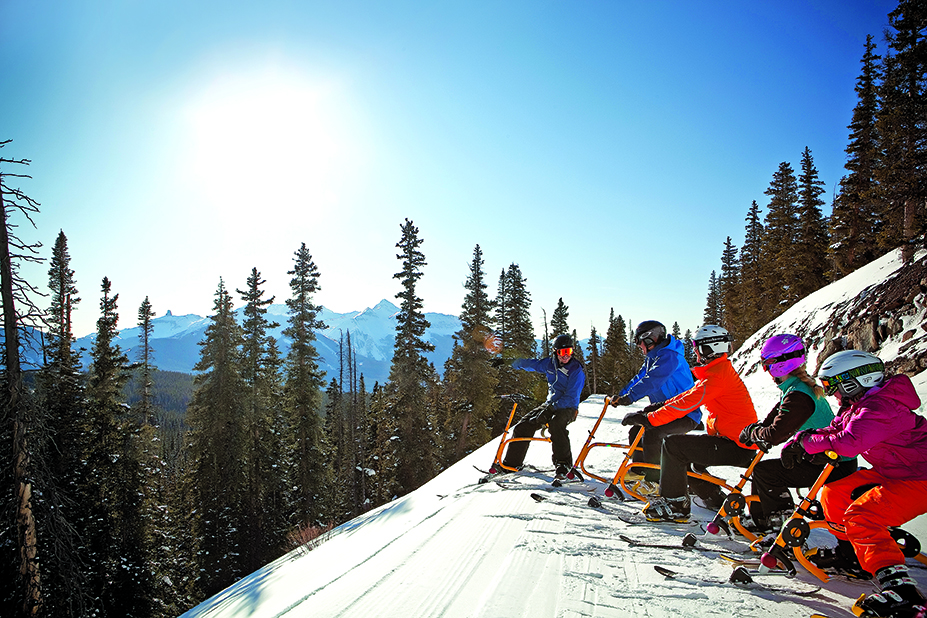 While shuffling through the lift line may feel like walking barefoot on a tile floor covered with olive oil, you'll quickly adjust as you prepare to hoist the bike on to the chair or have the lifty affix it to the gondola. However, boarding goes more smoothly than you anticipate, as does leaving the lift or grabbing the snowbike from the gondola.
At first, every action tends to feel foreign, and you envision roaring out of control, crashing into the unsuspecting people below. After 20 turns, your fears should be erased, and it becomes clear to you that snowbiking is easy. With every turn, you'll gain more confidence, even finding yourself letting out numerous woo-hoos all the way to the bottom.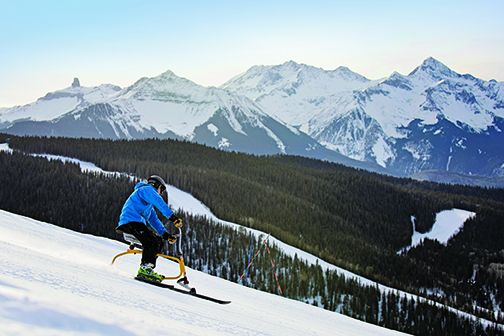 WON'T WANT THE ADVENTURE TO END
The more runs you take, the more your confidence is likely to increase, and it would be understandable if you considered upping your speed as you glide along. And after six or more round trips, you might even decide to graduate to slightly steeper and longer blue or intermediate level runs.
If you decided to try the sport with a group of friends that are also first-timers, don't be surprised to find yourself snaking down the mountain chasing each other in a game of cat and mouse. Or taking turns—literally—being the first to break trail in the fresh powder.
Those with skiing or snowboarding expertise have an advantage over those without it. But newbies to the slopes needn't worry: the learning curve isn't steep in the least.
"What's great about snowbiking is that people can ride together, regardless of their skills as a skier or snowboarder," says Allen Venier, owner of Front Range Snowbikes. "Whether you're riding as a family, school group or friends that hike in the summer together, gliding around the mountain has a new feel."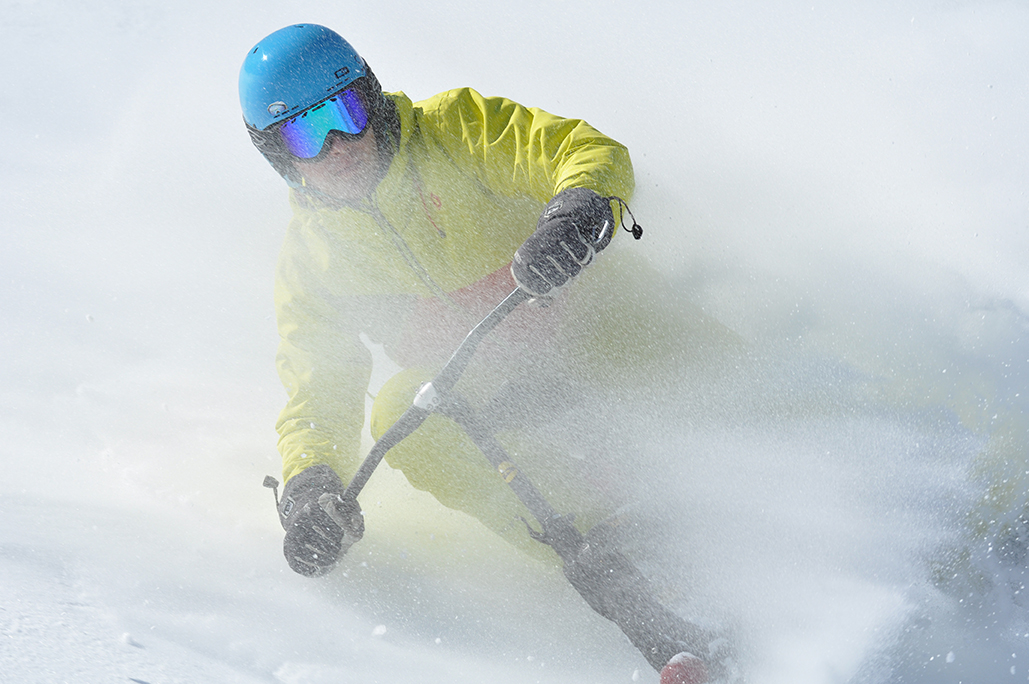 BRECKENRIDGE/COPPER MOUNTAIN rogerssnowbikerentals.com
FRONT RANGE SNOWBIKES (a Denver area mobile operation), rentsnowbikes.com
SNOWMOTO: Snowbike Colorado offers a motorized version of the sport in the backcountry near Steamboat on a timbersled, a modified dirt bike with a front mounted ski, handlebars and snowmobile-esque rear tread. snowbikecolorado.com

WHERE TO RIDE:
Snowbiking is permitted at these resorts; riders are required to have a lift ticket or season pass and the snowbike must have a leash:
• Arapahoe Basin • Aspen • Beaver Creek • Breckenridge • Copper Mountain • Crested Butte • Eldora • Keystone • Steamboat • Snowmass • Durango/Purgatory • Telluride* • Winter Park*
*Rental snowbikes and lessons or certification are offered